Receiving packages from Flipkart was an everyday affair for Aruna. Ever since her husband, Prasad, joined Flipkart in 2014, online orders had become a ritual. "When the doorbell rang and I saw the courier boy, I was expecting another package from Flipkart. But when I opened the box, there was something else inside," she recollects. To Aruna's surprise, it was a letter of appreciation from Flipkart CEO Binny Bansal. Even more surprising, it was addressed to her, and along with it came a box of special chocolates.
When Prasad got home that evening, he was equally amazed to see the letter from his CEO. Just a few days ago, his manager had interrupted him between meeting sprints. "Shamo (Prasad's manager) called me into a meeting room for a 'quick chat'. We spent about 30-45 minutes speaking about the team's performance and progress over the last few months, and about my own contributions. And then he broke the news about my promotion. Though, at the back of my mind, I was expecting it, in that moment I was completely lost for words," says the Associate Director in Flipkart's last mile delivery team. His beaming face told its own story. The moment he stepped out of the meeting, Prasad called Aruna and shared the special news with his wife. All of this had transpired just a week before Aruna received the surprise package from Flipkart.
The second week of August, 2016 was coming to a close. Anticipation brewed across Flipkart offices for two very good reasons. One was around The Big Billion Days, Flipkart's flagship annual sale. Conversations and decisions made after the last big sale had started to take shape and the dates for the 2016 edition were almost inked. Second, it was the week when the annual appraisal cycle came to an end — a much-awaited moment for Flipsters.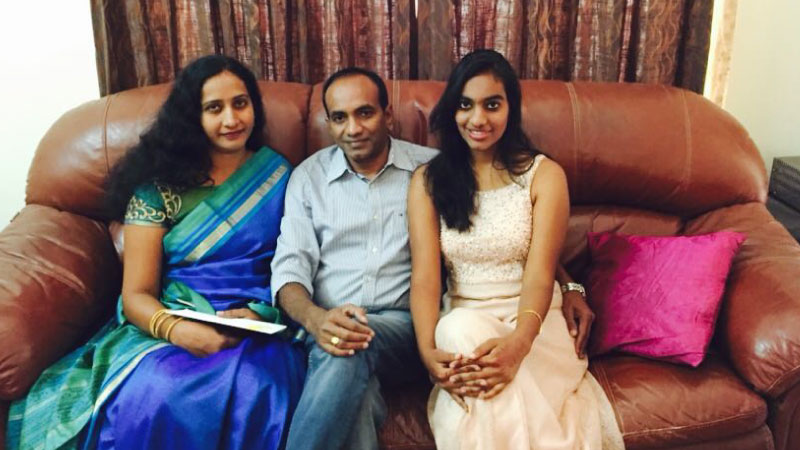 "Working in a fast-paced, customer-focused environment like Flipkart can be extremely challenging. Every job in here demands time away from loved ones and it's their understanding, patience and strength that drive Flipsters to excel. So this time, we decided to share a token of appreciation from our end," says Nitin Seth, Chief Administrative Officer at Flipkart.
April to June 2016 was perhaps one of the most nail-biting quarters in the Flipkart journey. With a new CEO at the helm, reorganization of leadership roles and a sharpening of organizational priorities added to the pressures of everyday work. To most Flipsters, a promotion at the end of these three months meant everything.
"This was conceivably one of the toughest times for the marketing team. We had to make sure that the return on every single advertising penny was spent for the right reasons," recalls Kartikeya Bhandari, now a Senior Director in Flipkart's marketing team. It only takes a few moments of dialogue to realize that Kartikeya's gentle and soft-spoken demeanor conceals a tough-as-nails attitude to work. Kartikeya has been a part of the Flipkart success story since the very first Big Billion Day sale. An aggressive and highly driven marketing professional, he successfully strategized the marketing initiatives for the 2016 Big Billion Days sale — the tallest feather in his cap.
"I received my first promotion at Flipkart this year," says Kartikeya. "My family got the letter and chocolates from Binny. That was a pleasant surprise that brought us all together for a little celebration. They were extremely pleased with the gesture."
---
Flipster Rahul Koul shares his excitement on Twitter:
Family recieved this today out of no where.. everyone Still surprised ? at home, incl me. Absolutely Completely Totally ❤ @WorkAtFlipkart pic.twitter.com/fS3cH0X7xX

— Rahul Koul? (@rahulkoul_rk) September 24, 2016
---
Sayak Chowdhury joined Flipkart in February 2015 as a Senior Business Analyst in the Inventory Planning Cell. But before he knew it he was moved to the Decision Sciences team where he worked on demand planning. The shift also required him to change his role to that of a Level-1 Decision Scientist. "Initially, I was a little apprehensive about the change in role. But then the support of my managers has always been encouraging. I've transitioned through many roles and have worn multiple hats in Flipkart and this experience has definitely made me stronger and more dynamic as an individual," says Sayak.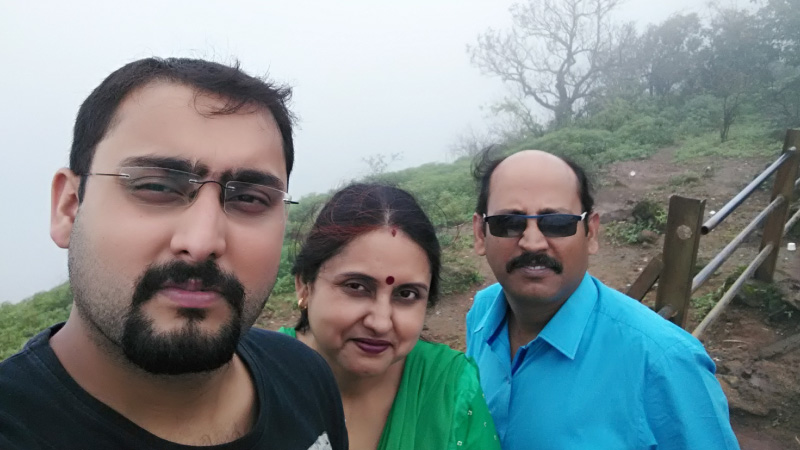 "I was extremely excited when I heard about my promotion. My manager asked me to keep it to myself until the news was official, which was a bit difficult for me. Later I let my parents know and they were extremely happy," confesses Sayak who is now a Level-2 Decision Scientist in the Planning Engineering team. A few days after the news of his promotion became official, Sayak received a call from his mother about a letter and a box of chocolates. "My parents were thrilled about the personal letter they received from Binny," he says with a smile.
Satheesh KV, who heads the Total Rewards practice at Flipkart, has a different take on promotions. "Getting a promotion is possibly the most memorable moment in anyone's career journey. It elevates one to higher level of professionalism and maturity," he says. Satheesh feels that this moment of elation should never be lost in time, but shared and remembered forever. "When we designed this initiative, we wanted to make sure that the communication sent to families came as a surprise for the promoted Flipsters as well," he adds. Satheesh and his team were instrumental in designing some of Flipkart's progressive benefits practices and policies. The industry-leading maternity policy that was launched in June 2015 is one of them.
It was no surprise that the Flipkart Rewards Team had something different planned for the newly promoted Flipsters. Breaking the norm has always been a part of Flipkart's DNA. This time, it was a personal note signed by Binny Bansal thanking the employee's family members for supporting his or her journey at Flipkart. A gesture of gratitude, it was delivered to the family of the Flipsters who got their promotion. Packed along with it was a box of chocolates to celebrate the momentous occasion.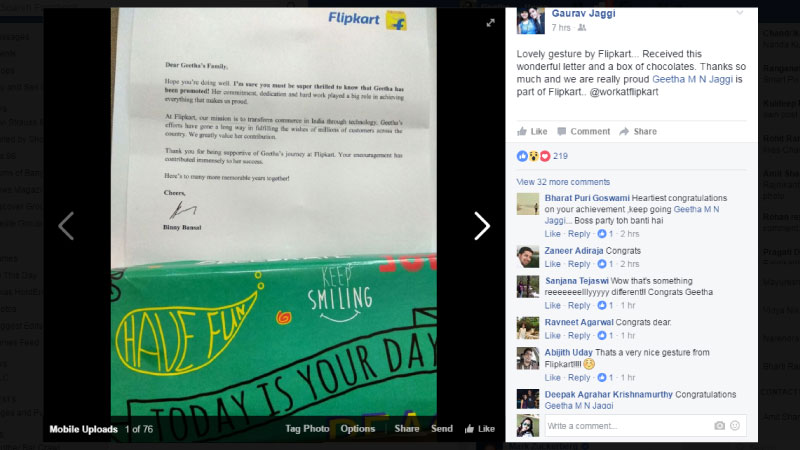 For Megha Bewtra, the journey to Flipkart has been far longer than her tenure on paper. Originally from Delhi, Megha moved to Mumbai to pursue her Masters at S P Jain College, when an internship offer from India's largest homegrown ecommerce company landed on her lap. "In December 2014, I received a pre-placement offer from Flipkart. Even though it meant I had to move to Bengaluru, I didn't even blink to take up the opportunity" she recalls. The move was a tough one and in a month, Megha had shifted further away from her family in Delhi. But, according to her, the decision was worth the bargain.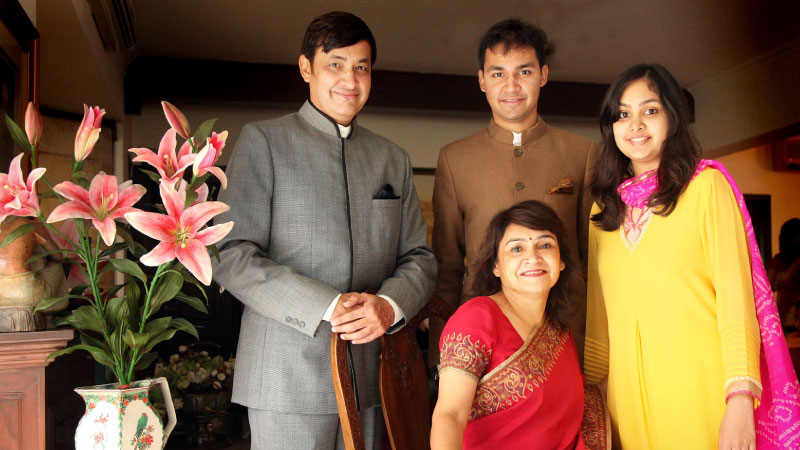 In July 2015, Megha joined Flipkart as a Management Trainee in the Strategic Brands Group. In the last two years, she pursued the opportunity to explore several business functions within Flipkart. She currently works with the Consumer Research and Insights team in Brand Marketing.
"From then to now, my journey has been an exciting one, which involved multiple team changes, interesting projects, interactions with the leadership, and an immense amount of learning," says Megha. "I was on cloud nine when I got to know about my promotion. A lot of hard work and dedication had gone into it and I was happy with the outcome. To top, my parents received a personal letter from Binny congratulating them for helping me reach where I am today. This gesture by Flipkart was touching and moving. My parents were overjoyed and felt extremely proud of me and the company I work for."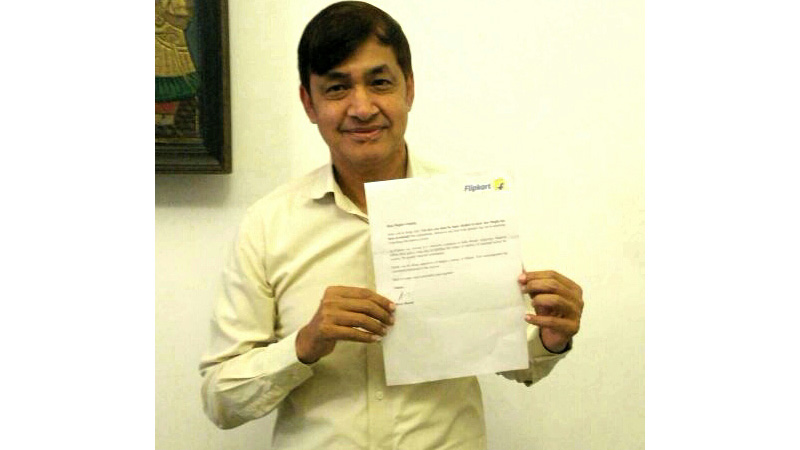 But the culture of being an agile, employee-driven environment is not a recent development at Flipkart. "The roots run much deeper in time," says Utkarsh B, whose affair with Flipkart has been quite different from Megha's. In 2010, a historic moment when Flipkart introduced Cash-on-Delivery India's growing base of online shoppers who did not use cards, Utkarsh stepped into the world of Flipkart. "We (Flipkart) had just 35 employees at that time, to what is now a much larger and stronger workforce," recalls the recently promoted Vice President of Platform Architecture.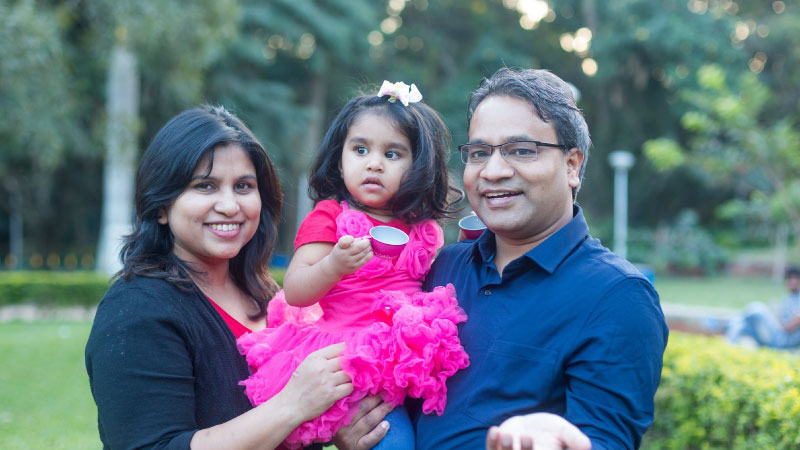 In September 2016, nearly a thousand Flipkart employees were promoted. Flipkart celebrated the moment not just with these lucky Flipsters but with those who mattered most to them — their loved ones who stood by them through their toughest grind. In Flipkart's world, where every day throws new opportunities and challenges, every Flipster hits the ground running. It's the strength and confidence of their loved ones that makes sure that they breast the finish line each time and grow from strength to strength.
…