Editor's Note: Padmini Pagadala, Associate Director – Design, reflects on being a dinosaur at Flipkart four years since she designed her first Fulfillment Center. Padmini, the finalist of the CEO For A Day contest conducted among Flipsters, was selected by CEO Kalyan Krishnamurthy to take over the reins of Flipkart for a day.
---
"How long have you been here?" asks a colleague at the vending machine.
"Close to four years," I say, filling my coffee cup.
"FOUR Years!" the voice in my head sounds shocked. "That's a freaking long time, Padmini!"
My inner voice is almost screaming at this point.
"She's a dinosaur, dude," says another colleague. Four years does seem awfully long when you think about it. As I walk to my desk, my mind does a Kollywood-esque Throwback Thursday.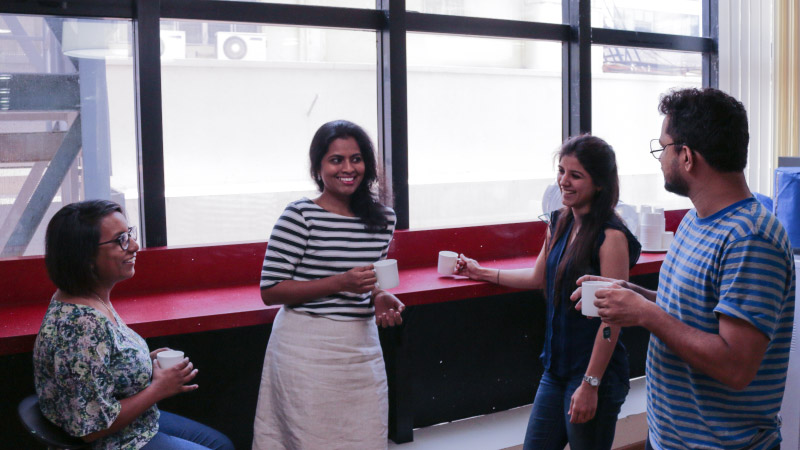 The Quantum
I designed the first Fulfilment Centre (FC) of Flipkart. I remember its docks, the welding marks on its columns, and its grainy floor. In quick succession after this, there were 17 FCs more, plus about 20 Transport Centers – which my team designed. To me, this feels like having my name etched on every star on the Walk of Fame. When I go to any of these FCs, I cannot help but think that it was once a tiny AutoCAD file on my computer.
I have had the chance to apply my brush on over 30 buildings across asset types — which is about 15 lakh sq ft, about ₹100 Crore in capital investment. Only a company like Flipkart could present this mammoth of a canvas to an artist-engineer.
I joined Flipkart for a reason. I wanted to be part of this juggernaut that was at the cusp of breaking buying paradigms. As a company, we have changed the way a country makes purchases. We have made an impact on the Indian economy. We have helped sellers. And to know that I have been part of this — contributed to delivering a product to the customer at the least cost possible. I have had a chance to experiment with technology. I have been part of business unit launches. I have been there for the launch of Consumer Durables – both times (2012 and 2014). I am now also part of the larger teams that are working on Grocery and Furniture. Four years. More like forty-five hundred butterflies.
Women at eKart
About two years ago, I met a bunch of wonderful people who came together for the cause of promoting women in the organization. Of the crores spent and the crores saved, if I were to look back, the one moment that I would be the most proud of is the day we launched the Returns Center at the Hyderabad FC in September 2015. We hired women on the warehouse floor for the first time. It felt like a small step for the FCs, but it sure felt like one giant leap inside my head. (Inner voice, you are already inside my head.)
The People
A huge part of what I will forever cherish at Flipkart is the people I have met. People who have made me stop and re-evaluate. Good bosses who have challenged me, and bad bosses who have helped me become smarter. I have seen Flipkart's founders — the poster boys of Indian e-commerce — ride auto-rickshaws. I have learnt the sharpest of things from the youngest of the brains. I have met people who I have come to trust so much that I seek advice on personal conflicts. I have cracked endless nerd jokes and found endless nerds to laugh at them.
I have mentors telling me to fight hard. I have mentors telling me to fight calm. I know phenomenal people who play in bands, who seek joy on mountain-tops, who pack a return punch in street fights and the ones who unflinchingly rescue the return punchers. Most important of all, I have formed friendships here that I hope will last a lifetime. Altogether, a world of people who have made me open my eyes wide and fathom axes I didn't know existed.
My coffee is still steaming as I place it down. Did I even remember to add sugar? My desk is strewn with papers full of doodles as ever. I smile as I recall… the walk to my desk did have a background score… the theme song from Jurassic Park. This is T-rex checking back into work.
On April 25, 2017, Padmini Pagadala was selected by Flipkart CEO Kalyan Krishnamurthy to be CEO For A Day as part of an initiative to encourage leadership among Flipsters.
Excited to hand over the reins of @Flipkart to #CEOForADay, Padmini Pagadala! #FlipkartBIG10 #Talent @FlipkartStories @WorkAtFlipkart pic.twitter.com/60RrDmMVnd

— Kalyan Krishnamurthy (@_Kalyan_K) April 25, 2017
What a day it's been for @Flipkart #CEOForADay Padmini Pagadala! Finally, @_Kalyan_K gets his chair back! #FlipkartBIG10 #Talent pic.twitter.com/xRmJztfHW9

— Flipkart Stories (@FlipkartStories) April 25, 2017
---
Padmini Pagadala designs Fulfilment Centres for Flipkart. Feminist, Warrior, Dog-lover are other titles that apply. She works diligently, wins effortlessly, flirts passionately. On April 25, 2017, Padmini was invited by Flipkart CEO Kalyan Krishnamurthy to take over the reins of the company as #CEOForADay.
Coordinated by Katheren Asuntha
Photographs: Arjun Paul