There's little doubt about OPPO's strategy and success in the Indian market, making it one of the most-loved brands in the country. Now, as smartphones become a necessity the world over amid the pandemic, the global smartphone maker's partnership with Flipkart is enabling it to reach deeper into the diverse Indian market. Damyant Singh Khanoria, Chief Marketing Officer for OPPO India, talks about the launch of OPPO Reno 6, the strengthening partnership with Flipkart, and its positive impact on both the brands and customers across the nation.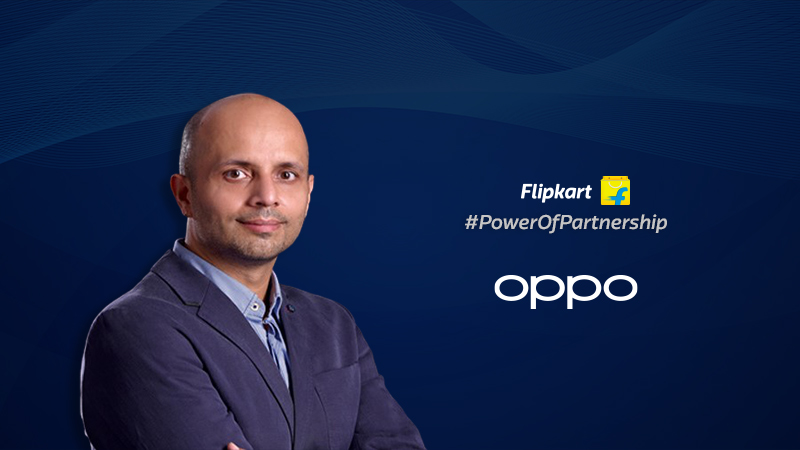 With a growing market share, OPPO is a household name and among the top 5 smartphone brands in India – and the world. The brand's top-selling models include the F17, and the Reno 5 Pro. OPPO is best known for its camera technology, delivering and consistently innovating on the portable studio experience it promises customers.
The brand was first to revolutionize the selfie experience with a built-in beautification feature that is now quotidian in smartphones. OPPO also pioneered the way for motorized camera technology, which has since been adopted by several high-end players in the market. Building on this head of steam and continuing on its path to the top of the leaderboard, OPPO has now strengthened its partnership with Flipkart to better deliver top-tier technology to the Indian consumer. 
On the back of the success of the Reno 5 and Reno 5 Pro, this partnership brings with it the launch of the new OPPO Reno 6, made even more promising with the Flipkart Smart Upgrade initiative. Sharing his thoughts on this beneficial union for both the customer and brands involved, here's what Damyant Singh Khanoria, Chief Marketing Officer for OPPO India, had to say about the power of partnership with Flipkart. An industry veteran with an in-depth understanding of the smartphone industry, Damyant has guided OPPO through various initiatives that ensure it remains a beloved brand to the Indian customer.
Excerpts from a Q&A
---
Can you shed light on the evolution of OPPO over the years?
Our journey in India started in 2014, and our North Star has always been to become one of the leading brands in the smartphone space. We've strived to bring our innovation, technology and research to India, and mould it for the vibrant and diverse Indian market. Even in the early years, it was crystal clear that the Indian market was no ordinary market, and provided ample opportunity based on the scale alone.
Fast forward almost a decade, and our objectives for the Indian market haven't changed. We want to give Indian consumers the best technology across all price bands. Our commitment to the market is steadfast, and we're actively investing resources to showcase how OPPO is working towards its 'Make In India' story.
---
Enjoying this story? Check out the accompanying podcast!
---
What makes the new OPPO Reno 6 smartphone so special?
Overall, the Reno series has been loved by the Indian consumer, checking all the right boxes, even those in their hearts! The Reno 6 builds on that legacy of creating meaningful products that make a difference in people's lives. It's loaded with amazing chipsets, and is the first device in India to feature the MediaTek Dimensity 900 chipset.
Besides performance, the Reno series is loved because of our camera technology. We help capture life's special moments and give users the option to record them in extraordinary quality and clarity. The OPPO Reno 6 is, by every definition, a portable studio and comes with another industry-first feature known as the Bokeh Flare portrait video. No other smartphone has such technology, and it is otherwise only available with professional-grade DSLR cameras. All of this from a device that sits snugly in your pockets — that's what we wanted Reno 6 to offer.
Over to the design, Reno 6 features the globally patented Reno Glow effect. It is premium, stylish, mesmerizing, and showcases just how much we're willing to push boundaries to deliver quality. Lastly, the device is equipped with 65W SuperVOOC 2.0 fast charging, capable of giving users a fully charged device in just 32 minutes. Everything we do, even the optimization to ColorOS 11.3 is to prioritize the customer experience at every touchpoint.
How did the OPPO-Flipkart partnership come into effect?
During the pandemic, we decided to adopt an omni-channel strategy, inviting partners aboard who could take our products to consumers at scale. Naturally, Flipkart made good sense. Flipkart's supremacy in the industry has empowered us to access a vast consumer base, perfectly catered to by the robust delivery channels.
To add to these factors, the power of partnership is felt greatly by our customers. The amazing affordability initiatives help us get technology to the hands of those who need it, no matter where in India they may be!
What were the market opportunities that reaffirmed the OPPO-Flipkart partnership?
With Flipkart, it wasn't a hard sale. That said, the innovation in affordable shopping and logistics to ensure vast reach is incredible. Our goal was to build an online presence and enrich the customer experience. Flipkart was the perfect fit for that as they ensure a premium shopping and delivery experience right from the comfort of home.
Further, through the partnership with Flipkart, OPPO now has better access to tier-3 and tier-4 markets in India. We have full faith in Flipkart, and it has been a revelation in how well things can work when you engage in a powerful partnership.
What challenges does OPPO face and how does Flipkart address these? What is the impact felt by customers?
Thanks to Flipkart, purchasing an OPPO device online makes for a great shopping experience. Flipkart makes the entire process easy, simple, and accessible. The network and infrastructure help deliver on the promise of simplicity and convenience, which is hard to achieve. As a result of this, our customers are better served, and can affordably and easily get OPPO devices. Another noteworthy aspect is the sheer open-mindedness of our Flipkart partners. Willing to go the extra mile, experimenting with marketing, and doing it all with the gusto needed to succeed are traits that are needed in a partner, and Flipkart delivered.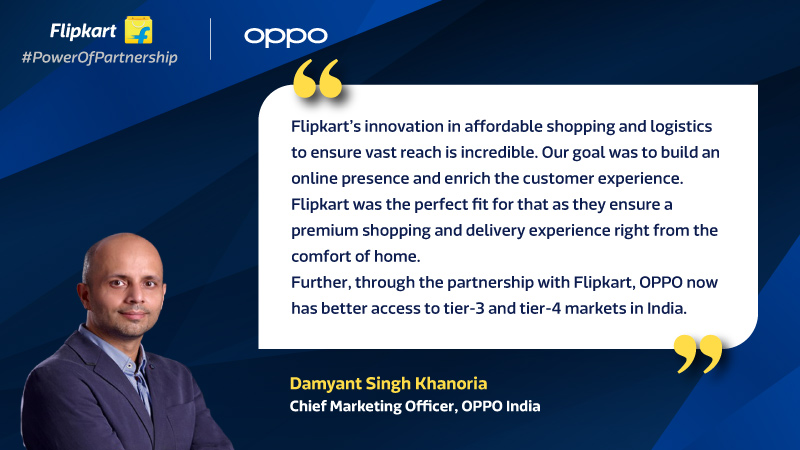 What are the key milestones of this partnership?
Taking OPPO online was definitely one, but another is that Flipkart does it while offering a premium shopping experience. For OPPO, not only did we get access to a large consumer base, but also offer them an experience that aligns with our quality standards.
The mobiles segment, even the premium category, has become the new essential. How has this partnership addressed the growing and changing demand?
There's no doubt that 2020 was challenging, and we spent 14 months finding ways to ensure customers have access to the technology they need, while staying safe all through the process. We had multiple initiatives to ensure that this connection with our audience wasn't severed and Flipkart is now helping maintain it for the foreseeable future. To make things better for our consumers, Flipkart also has the Smart Upgrade offer. This is a truly inspired affordability scheme that minimizes the upfront cost, requiring a payment of 70%, with the remaining 30% being payable after a year. It is truly incredible how easy this much-needed feature makes the purchase decision and helps OPPO get technology to where it needs to be.
In these difficult times, smart, powerful technology is a necessity. OPPO and Flipkart aim to deliver on this need together, making sure everyone has access to the technology they need to learn, educate, contribute to their livelihood, inspire, be inspired, and most importantly, stay connected.
Learn more about OPPO products on Flipkart.