After losing her husband in a tragic road accident, Menaka S struggled with depression and financial constraints. But she continued trying to find her independence and progress in life. She moved to a hostel, and soon, observing a Wishmaster, she decided to become one herself. Today, Menaka is proud to be a woman Wishmaster at Flipkart's Mysuru hub. Here's her story.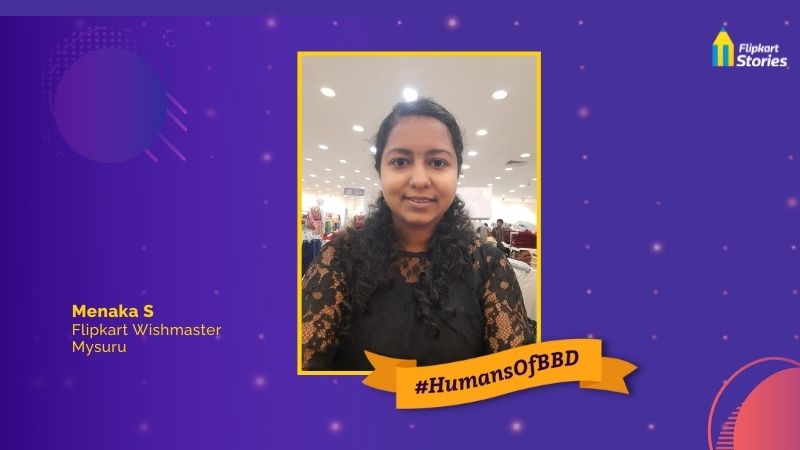 My name is Menaka, and I am a Flipkart Wishmaster. I was born and raised in Bengaluru, where my mother and father still work. I had begun a pre-university course (PUC) but I couldn't complete it. My life was beset with challenges, but I am proud of how far I have come. Today, I am one of the few women Wishmasters operating out of Flipkart's hub in Mysuru.
I got married a few years ago, but I lost my husband in a tragic road accident. Then started my long battle with depression and anxiety — I moved back in with my parents but we had many financial constraints.
To aid the family financially, I decided to open a beauty parlor, and also took a beautician's course. Just when things were looking up, the pandemic struck and I had no customers. Money was tight, and eventually, I had to shut down the beauty parlor too. I did not like sitting at home and not being able to contribute.
Although my family members were supportive, they are quite traditional. They were not completely on board with the idea of me taking up a job and traveling to work daily. But I was determined to be independent. So I moved to Mysuru and put myself up at a hostel while I looked for work.
One day at the hostel, I saw a postwoman, and other women working in delivery jobs. And I wondered if that could be a suitable choice for me. When I saw a Flipkart Wishmaster delivering products at the hostel, I asked him how he became a Wishmaster. He told me that Flipkart makes it easy for people to be hired as Wishmasters and they give opportunities to women too. He told me about some openings too. I visited a Flipkart hub and spoke to the manager, and was soon hired as a Flipkart Wishmaster.
I remember the anxiety on the first day — I couldn't even step into the hub. But I found the courage and started making my deliveries. I now make almost 100 deliveries and facilitate product returns for Flipkart. All my peers and managers at the hub are very supportive. They ensure that I don't have to struggle with bulk shipments. And the customers too are very happy to see me at their doorstep with their products.
I don't face financial constraints like I used to. There was a time I would be scared to even spend Rs 100. But my situation has improved considerably and I have built myself up to face life's challenges.
I have learned something about myself over the years. No matter how life tests me, my resolve cannot be broken. And I have a lot of patience. These qualities have helped me do very well at my job. And I have found success.
---
Also read: This Big Billion Days, celebrate the spirit of resilience with the #HumansOfBBD