Sandeep A D, 25, joined Flipkart three years ago as a Wishmaster (a fond moniker for our delivery executives) after hearing about an opening from his friend. Attached to a hub in the forested tracts of Kodagu, Karnataka, he is often required to make deliveries to customers in remote locations. After he won praise for crossing the Kaveri river to fulfill a customer's wish, we spoke to Sandeep and discovered the man behind the wishmaster. As he continues to support himself and his family, Sandeep is making an impact on the lives of customers.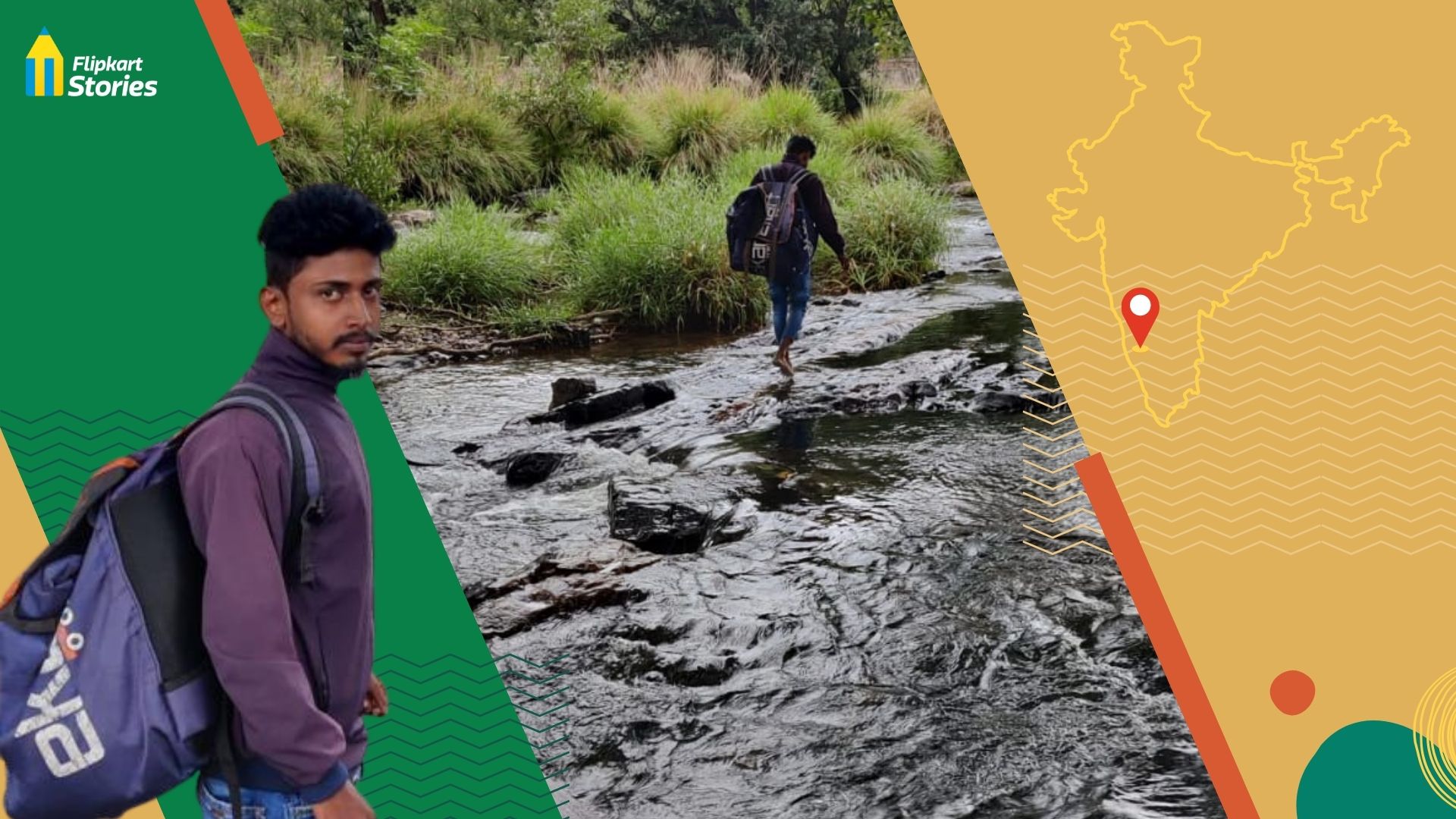 Located in the rugged forests of Karnataka's Kodagu district, Dubare Elephant Camp is a place of scenic beauty. Tourists frequent the jungle lodge here to marvel at elephants as their mahouts bathe them in the Kaveri river. Crossing the river to visit the camp is a fulfilling activity for many tourists and, interestingly enough, for a Flipkart Wishmaster too. For him, though, the joy comes from making deliveries to customers employed at the camp who have now become his acquaintances.
Wishmaster Sandeep AD lives in Hebbale and travels 45 kilometers daily to reach his workplace at the Flipkart hub in Kushalnagar, a town along the Kaveri River. "My day starts early," he says. "I go to the hub, where the packages will have already been divided, and then I head out for deliveries."
"There are difficulties in my route. So I check all the routes I have to go on, deliver my packages, and come back," he adds.
Sandeep's daily schedule includes making deliveries at the Dubare Elephant Camp, 25 km from the nearest Flipkart hub. "I go there daily. We have about 15-20 parcels every day that need to be taken across the river. I deliver my packages by bike, except when I have to deliver to the camp, which requires me to take a boat, or wade across the river if the water is low," he explains, adding that the boatmen who ferry him to the camp also place orders on Flipkart, which he delivers to them.  Sandeep is familiar with the currents of the river and wades only when it is safe for him to do so. When it is tricky to cross the river on foot, he always resorts to a ferry.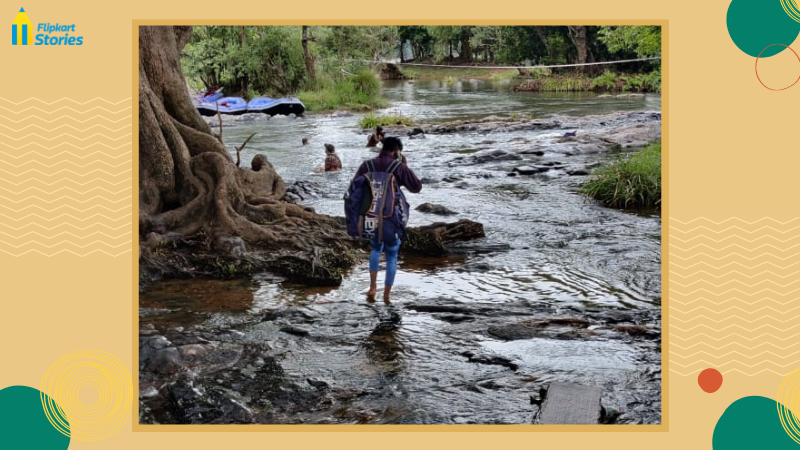 During the monsoon from June to September, which brings more than 2500 mm of rain to Kodagu, things get more challenging for the Wishmaster. "Taking parcels intact during the monsoons is a challenge," he says. "I take the parcels in a bag with an added layer of protection. Otherwise, the parcels will be damaged. And I protect myself with a raincoat."
Sandeep's managers at the hub are proud of his commitment.
"Sandeep has been with us for three years now. He's a hard worker and very prompt," notes his manager Sunil M T, Senior Executive, Flipkart Hub Operations, Kushalnagar.
Sandeep also credits his managers at the Flipkart hub for their support, especially during the monsoons. They help him and other wishmasters with packing and deliveries, which eases the workload during challenging times like this, as well as ensuring safety at every step.
"It is usually Sandeep who goes to deliver to the elephant camp. Only in case he's on leave do we rotate the other wishmasters," says Gavish J, Senior Executive – Operations, City Logistics, Kushalnagar, adding that while the wishmasters don't face too much of a challenge on regular days, monsoons are a whole different scenario. "But they are familiar with the weather here and mentally prepare themselves. We are also always here to support them, and make plans keeping the monsoons in mind, and the wishmasters also work accordingly."
For Sandeep, his journey at Flipkart has also enabled him to navigate financial hurdles. "After I joined Flipkart, I've been able to take a loan, which I've since cleared. I was also able to contribute to my sister's wedding," he explains.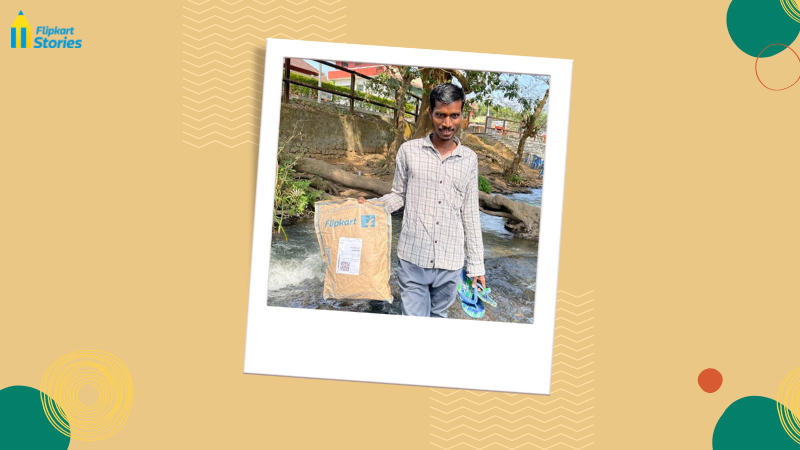 Making new friends through his work has also made him happy, and his affability makes him something of a Flipkart ambassador. "My friends' circle has grown. Our customers have also become my friends. This includes the boatmen who take me to the camp and back. They stay in touch with us when they are expecting parcels and they book orders quite often."
Sandeep lives with his parents, who are proud of his achievements as a Flipkart Wishmaster. "They are happy about my journey at Flipkart. I start my work at 7 am and wrap by 2 in the afternoon. This allows me to spend time with my family. However, there's work waiting for me back home too — I drive a tractor on the farms. I enjoy working. My happiness lies in it."
Whether on the farm or on his delivery route, Sandeep means business — even if he has to cross a river to make his customers smile. "Work well. If customers are happy, we will have more work, and will be able to grow more," he says.
---
Also read: