Flipkart Watch Exchange, the first-ever online exchange offer on watches in India, helps you make a difference. Now you can exchange your old watch for a new watch of a brand you've always desired. And we will make sure your old watch goes to charity. Choose your favorite timepiece from this selection of brands here, exchange your old watch from as many 27 brands, and feel good in your heart for more than one reason!
Here's everything you need to know about the Flipkart Watch Exchange.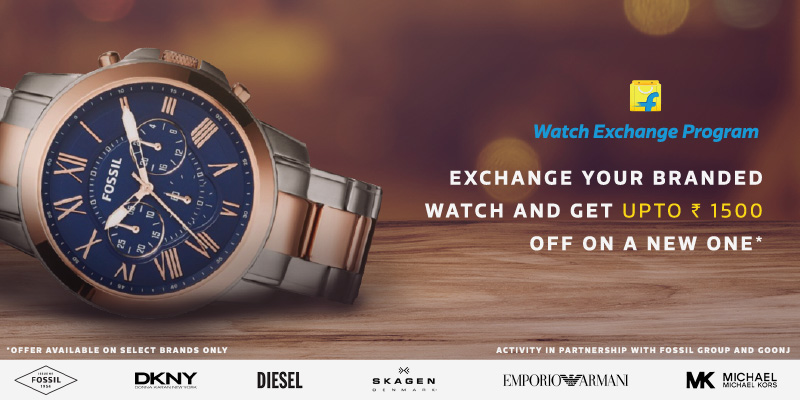 How does Flipkart Watch Exchange help charity?
Remember the contribution you made in 2015 through Flipkart for our relief effort towards the Nepal earthquake? Flipkart had joined forces with Goonj, an award winning, pan-India voluntary organization, to rebuild hope for the survivors of the quake. Once again Goonj has come on board to channel Flipkart's efforts (and those of our partner, Fossil Group, one of America's top manufacturers of accessories) towards contributing to humanitarian aid and community development of those in need. And that's exactly what you would be doing when you opt for Flipkart's first-ever watch exchange program while shopping for your favorite branded watch.
Big discounts on Flipkart Watch Exchange
Flipkart Watch Exchange brings you an after-exchange discount of up to Rs. 1500 when you buy and exchange watches from select brands. But what if your old watch is not from any of the 27 brands listed on the exchange drop-down menu next to your chosen purchase? No worries! We will still give you a discount of Rs. 500 on exchange of your old watch!
Brands, brands and more brands
We have a selection of 1.7 lakh watches for Flipkart Watch Exchange. Flipkart's first-ever watch exchange program brings you offers on the top brands including Fossil, Skagen, Emporio Armani and DKNY, including numerous others.
How to exchange your old watch online
Log on to Flipkart, search and select the watch that suits your lifestyle and personality, then click on the box that prompts you to exchange your old watch.
Once you tap there, you'll see a drop-down menu that lists all 27 brands that are available for exchange. Here you'll see options like Aspen, Daniel Klein, Esprit, Fastrack, Maxima, Timex, Titan, etc. If the brand of your old watch is not listed, simply click 'Others'.
Once you select the brand of your old watch, you'll also see the discount amount appear.
Enter your pin code in the space provided below to check if the exchange offer is available at your location.
Don't forget to check the box next to the words, 'I agree to the terms and conditions'.
All good so far? Simply tap ADD TO CART (Exchange Offer) and you'll see that the discount has already been applied to your order!
Place the order and choose your payment mode.
Now, keep your old watch ready for the exchange. Please note that the delivery of your new watch and the pickup of your old will happen simultaneously (hand-in-hand).
What's left? Answering the door! When your new watch is delivered, our delivery staff will check your old watch for its condition and the brand name you'd mentioned in the exchange form.
Remember: If your old watch does not match the specified conditional requirements, you will not be able to exchange it for the new watch that you have ordered. To purchase the new watch, you will then be required to place a new order (without exchange) and then be able to buy the product.
You would be charged an amount mentioned as pickup charges towards shipping of your old watch.
Time to exchange your old watch for a new one, and spread some happiness in the process. Make the most of Flipkart Watch Exchange and help your old watches live happily ever after.