As a trans man, Ashu faced multiple challenges from family and society. He is new to Bengaluru, and to his role as a team lead at Flipkart. Yet, his determination to create a place for himself has him looking forward to one of India's most-loved online events. Read on to know more about his journey, and how he is preparing for his first-ever experience with The Big Billion Days festive season.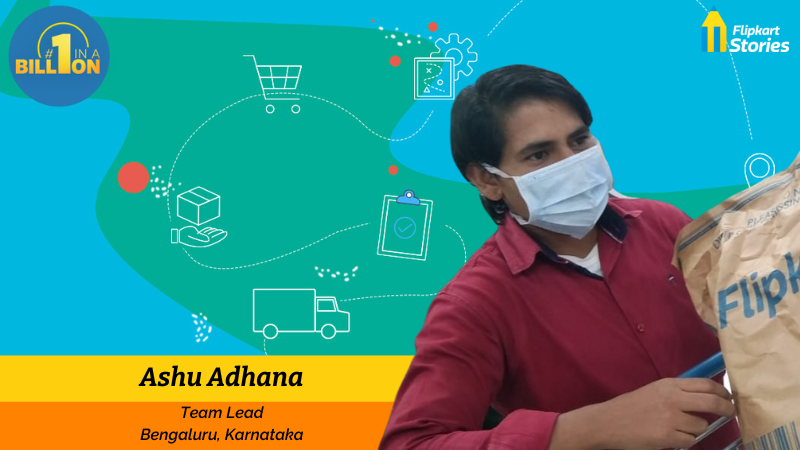 Adversity to acceptance: Team Lead Ashu Adhana's #OneInABillion story. 
---
I am from a village in Palwal district, Haryana. I studied there till 10th standard, went to Palwal for 12th, and graduated with a BA in physical education. My mother is a homemaker, I have two older brothers who are married and working, and my younger brother is still studying.
I am from a small village. The culture there is to accept the body that you are born in and stay in it. It's about studying, getting married, and going to a different house. But even when I was as young as 4th or 5th standard, I began questioning this system.
I began feeling different, but I couldn't understand why this was happening to me. This continued all the way till high school. I wasn't allowed to go outside the village much, and wasn't even on social media. So when I was in the 12th, I slowly began to find answers to all the questions I had — why I was attracted to girls, why I wanted to dress like a boy, cut my hair short, and play cricket. My family could not understand this.
It was only in 2020 that I found out that one could transition. I decided to, and told my family about it. But they began forcing me to get married. It was difficult for me, especially because in the village, the first thing they assume when you say you don't want to get married is that you're in a relationship with someone else.
Things got quite chaotic at home. My mother said she wouldn't help me go through the procedure because she already had sons. When it got really bad, I left home. That was in 2021. I was in a shelter home in Delhi for about 2-3 months. Then I came to Bengaluru to get trained, and was sent to Lucknow. But I didn't like it too much and I quit. I came back to Bengaluru, and found a job with Flipkart.
I don't talk to my family anymore. Sometimes my mother calls me and tells me to come back. But I know that if I go back, I will never be able to get out.
It is difficult to live alone, so I spend as much time as possible with friends. One of them works with me in Flipkart. I have a routine here now. I wake up at 7 am, go to the gym, do pooja and have a meal, and leave for work.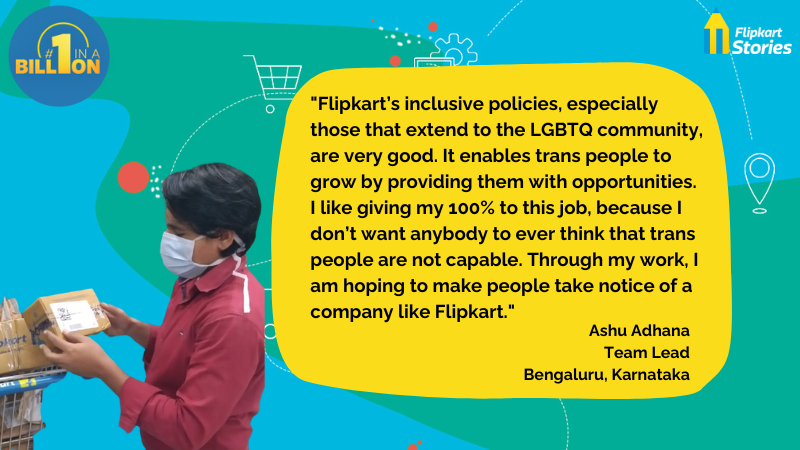 I have been here for four months, so I am still learning the ropes. I am enjoying learning the different aspects of my job, and I like the people in my hub. I like Flipkart because the processes here are good, and customers are really taken care of. This is actually my first Big Billion Days sale. I have heard about what work will be like from my colleagues. Everyone is really enthusiastic about it, and the preparations are going on in full swing.
Flipkart's inclusive policies, especially those that extend to the LGBTQ community, are very good. It enables trans people to grow by providing them with opportunities. I like giving my 100% to this job, because I don't want anybody to ever think that trans people are not capable. Through my work, I am hoping to make people take notice of a company like Flipkart.
I am just like anybody else. Sometimes, people think twice before approaching me or talking to me. But I am just another human being.
---
Also read: #OneInABillion: On a road less traveled, Tahaseen proves her doubters wrong