When Flipkart launched its SuperCoins rewards program in June 2019, it also led to the rewards currency having a far-reaching impact on underserved communities. As part of the Flipkart Foundation's vision to create an inclusive, equitable and sustainable society, SuperCoins were adopted as a medium for Flipkart customers and employees to donate to causes they resonated with the most. Read more to know how the rewards currency is bringing people together to #BuildForIndia.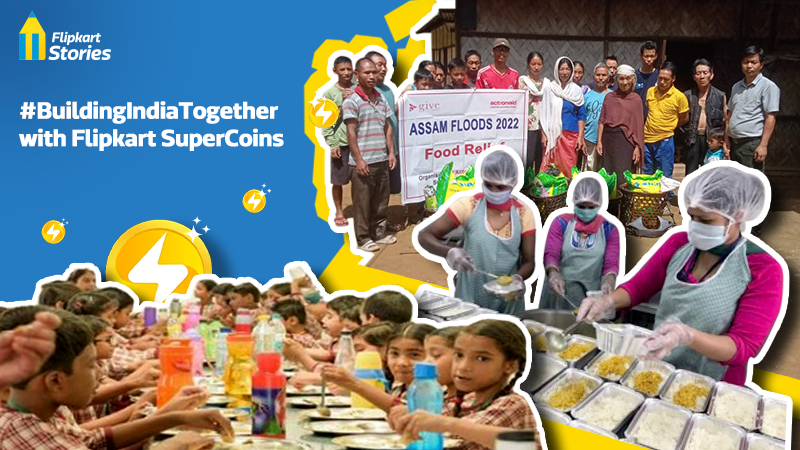 Everybody loves a good reward. Cash, points, a referral. You name it.
Committed to this idea and to enable customers to have the best rewards experience, Flipkart launched SuperCoins, the platform's own rewards currency, in 2019.
Addressing the customers' needs to have a seamless and versatile rewards experience, Flipkart SuperCoins give customers access to a pool of benefits – from flight tickets, OTT subscriptions to food, lifestyle products and more every time they shop.
Treading a new path
A year into the reward ecosystem's successful innings, in 2020 and in the midst of the COVID-19 pandemic, a novel thought transformed the way the program evolved. What if rewards weren't just about what one receives? What is more rewarding than giving? What if SuperCoins could become the SuperHeroes that we needed? It was this thought that led to SuperCoins becoming a medium for customers to participate in the upliftment of underserved communities.
Debolina Bhattacharya, Senior Manager, Marketing, Loyalty, Flipkart, says "We realized that SuperCoins along with Flipkart and its customers could give back to society. This (speaking of COVID-19 crisis) was also a crucial time when India needed us all to be together to help each other out. SuperCoins donation was just one more way we could do our part for society."
"Given the various development challenges that the country is grappling with, it calls for collective action. With this intention, SuperCoins were envisaged as a simple, yet effective means for all our customers to engage with socially conscious causes," says Puja Trisal, Director, Flipkart Foundation.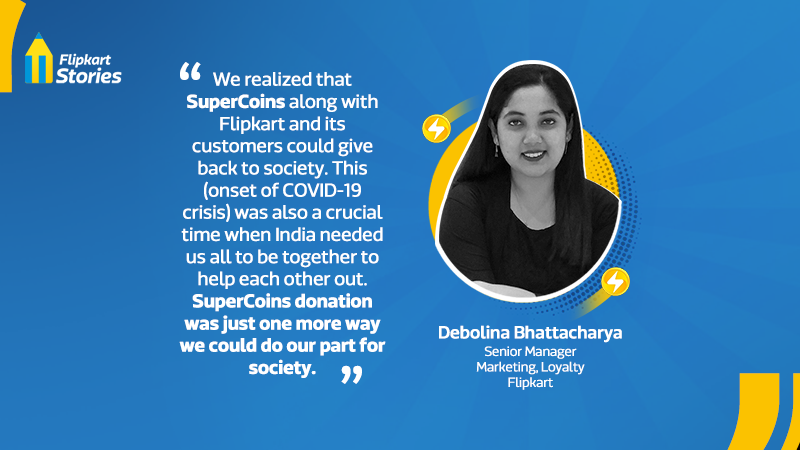 Till date, the SuperCoins donated by Flipkart customers have helped make a significant difference as elaborated below.

"SuperCoins have an inherent superpower and we decided to channelise the same towards making a difference in the lives of the underserved through the Foundation," affirms Puja.
Speaking on the impact made by customers so far, Vasisht Saketharram, Director, Loyalty, Flipkart, says, "Flipkart's SuperCoins has empowered customers to make a positive social impact, fostering a sense of community while driving donations to various social causes. Our customers' enthusiastic response reflects their appreciation for the opportunity to contribute, showcasing the transformative potential of businesses embracing social responsibility."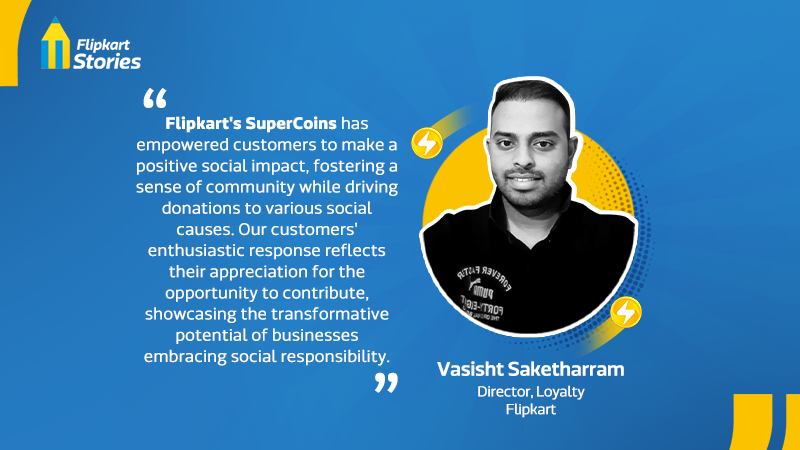 SuperCoins donation – the customers' superpower
Simple and effective – SuperCoins donations enable Flipkart customers to give back to society. Based on preference, customers can choose a cause they want to support. Donations are made in 15, 30, 50 or more SuperCoins batches.
A superhero who protects lives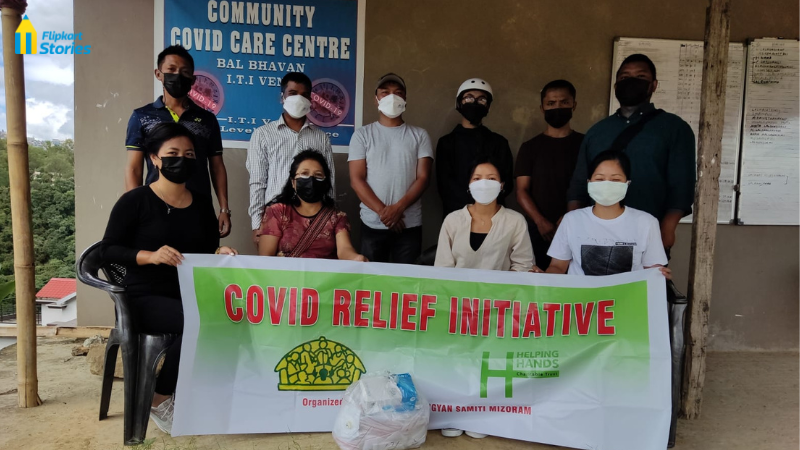 The SuperCoins donations first made its way to beneficiaries during the first wave of the COVID-19 pandemic. With people struggling to access healthcare facilities, the Flipkart Foundation and on-ground NGO partner Give India worked together to provide life-saving equipment and host vaccination drives to support patients from underserved communities.
Through Give India's partner NGOs ActionAid, Doctors For You, Project Mumbai and Helping Hands Charitable Trust, medical equipment and supplies, and oxygen tanks were donated to beneficiaries from 11 Indian states and 2 Union Territories.
"Customers responded the most towards the cause of refilling oxygen tanks during the COVID-19 crisis. Thanks to their donations, we were able to help around 7 lakh patients in their time of need," adds Debolina.
A superhero who fights hunger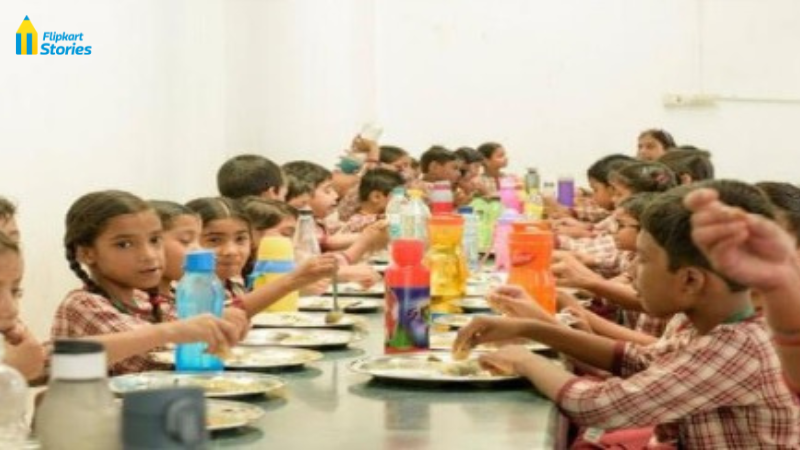 Even today, there are many people who are affected by hunger in India. To mitigate this issue, the Flipkart Foundation is collaborating with NGOs to provide them not just with nutritious meals, but also enable them to have better lives as a result. Foundations such as Rise Against Hunger India (RAHI), Annamrita Foundation and Lotus Petal Charitable Foundation work passionately every day towards this goal.
As part of the SuperCoins donations program, the Flipkart Foundation pledged to fight hunger. Via its collaboration with the NGOs, vulnerable groups of people were identified from Bengaluru, Karnataka; Gurugram, Haryana; Faridabad, Haryana; Mumbai, Maharashtra, and Delhi. Over 1.6 lakh people were served nutritious meals.
The Flipkart Foundation teamed with the NGOs under different initiatives.
RAHI's Nourishing Lives: Meals for Needy People tended to the needs of people from underprivileged communities in Bengaluru, Faridabad and Delhi. A victim of domestic abuse, Chandru, a 11-year-old, was deeply malnourished, weighing only 20 kilos, when he was admitted to Sneh Ghar, Bengaluru. Regular healthy meals provided by RAHI to the residents of Sneh Ghar has helped Chandru to not just gain his ideal weight but live his life with more zest.
Karuna – Food for Life by Annamrita Foundation provided meals for underprivileged communities in villages and economically weaker areas, and addressed meal needs of relatives of patients from underserved communities in Mumbai. For Champadevi, her regular visits to the hospital to take care of her husband left her tired and weak. It was during this time she got referred to the Annamrita Foundation's meal program. She says, "Annamrita provided healthy meals – it was a great relief and a blessing for me."
The Lotus Petal Charitable Foundation provided meals for underprivileged communities and children in Gurugram. Antra, a student at Lotus Petal's in-house school, says "If a student hasn't eaten breakfast before coming to school, it gets difficult to concentrate on the lessons covered in class as well as actively participate in outdoor activities. My school acknowledges this, and ensures students' food security, addressing it in a dignified manner."
A superhero who safeguards people in crisis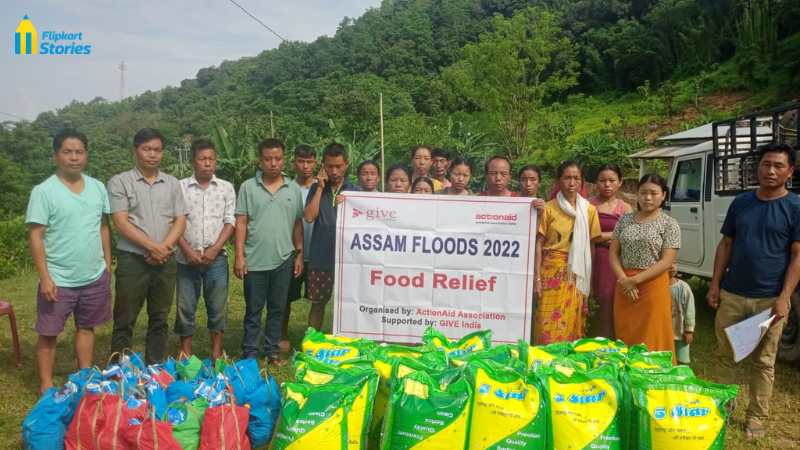 Assam lost many lives to floods in June 2022, and left survivors devastated. ActionAid, an NGO that works tirelessly to meet the basic needs of people in flood-affected areas, sprung into action to support those in need.
Recognizing the need of the hour, the Flipkart Foundation joined hands with ActionAid to deliver dry-food kits and dignity kits (hygiene products for girls and women) to ensure food security, and hygiene for girls and women.
For Lalzawmi, her home was filled with the memories of her late-husband. "It was built by my husband with his hard-earned money," she says. As she grieves her painful loss, Lalzawmi is also touched by the support she has received from the ActionAid team. She adds: "Being taken care of the basic needs during such a difficult time brought a huge relief to me and others in the community."
Jacob Changson lost his dream home to a landslide. He says: "Last night's landslide destroyed our home, our lives and our spirit. Thankfully, I could get my 2 children and wife out in time." As he recovers from this deep loss, he also acknowledges the support he has received during this difficult time. He adds: "ActionAid Association's support with dry food items and hygiene kits in our hour of crisis has helped ease our hardships."
For each SuperCoin, there's a life reborn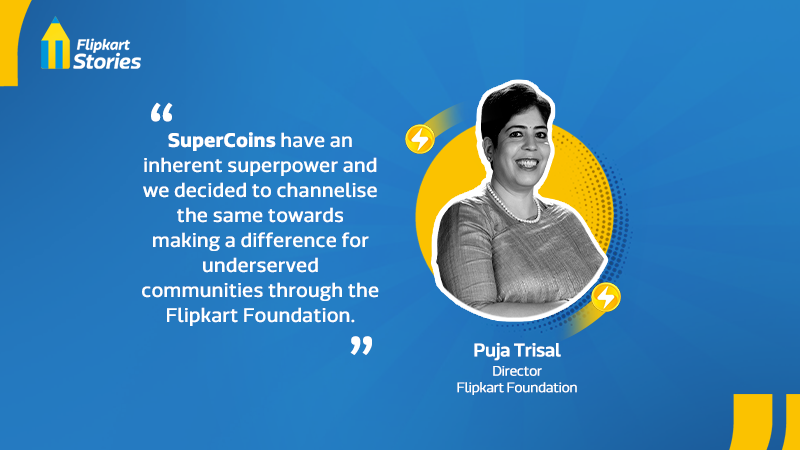 Through the SuperCoins donations program, the Flipkart Foundation envisions an inclusive society where each person has the opportunity to give and receive for a better future. As Puja puts it: "SuperCoins offer a convenient and safe avenue for Flipkart customers as well as employees to act for the greater good."
Aligned with the Foundation's goal to positively impact over 20 million lives by 2032, the donations by customers continue to create significant impact in underserved communities across India.
Also Read: In Uttarakhand, an online game on Flipkart is enabling a regenerative future