We're celebrating a birthday! It's one year since Flipkart Stories went live. During the past year, Flipkart's own storytelling platform has been written about in the press and short-listed for two prestigious communications awards. We are inviting you to read our stories, learn a little more about Flipkart, and win cool prizes for your efforts!
This quiz requires you to click the relevant links given for each question and answer the questions. To be chosen a winner, you must get all answers right, you must like our Facebook page, and tweet the link to the contest after you are done playing. Contestants who complete these steps stand a chance to win Flipkart electronic gift vouchers (EGVs) worth INR ₹500.
---
THIS CONTEST IS CLOSED. Here are the lucky ones! Don't let that stop you from playing. It's fun!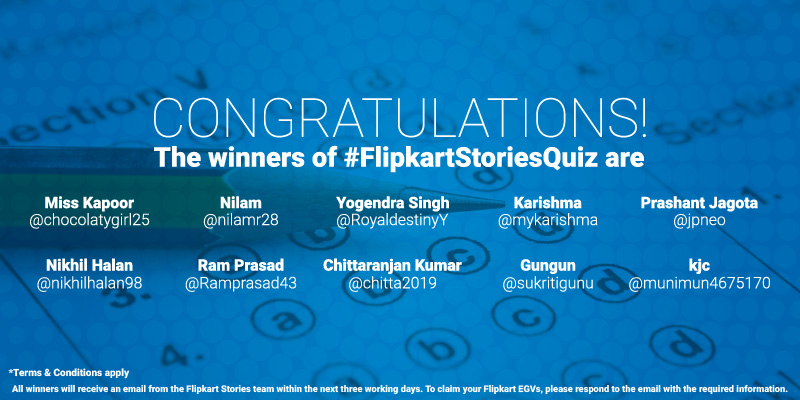 ---
By playing this contest it is deemed that you have read and accepted the terms and conditions.
The #FlipkartStoriesQuiz contest is closed as of Monday, October 10, 2016 and is no longer accepting entries for prizes. If you wish to play for the fun of it, you are welcome to do so.
---
Contest Terms and Conditions