With Flipkart by his side, Rahul Kumawat won the support of his family and their belief in his business. Today, they don't want to just sit on the fence watching his progress. They are there with him every step of the way and are committed to helping him achieve his entrepreneurial goals. Read his story and find out how he went from working late hours to taking charge of his future.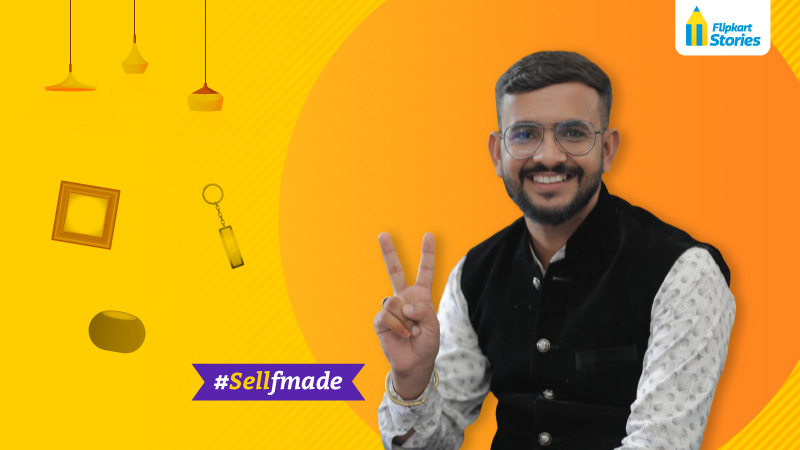 My name is Rahul Kumawat and I run Kathu Krafts as a #Sellfmade Flipkart seller. We operate in the home decor category selling photo frames, wall clocks, key holders, wall hangings, and other home decor items. I started selling on Flipkart in 2013. I started with pharmaceutical instruments, but by 2014, I changed my category and started selling home decor products. My family members help me in the manufacturing of these handmade products.
I used to work in a medical shop after graduating 12th standard. I used to earn ₹3,000-₹4,000 which was not enough. I wanted to do something more in life. I had dreams of purchasing my own house and a car with my hard-earned money. I used to work during the evenings so I started working on selling online during the daytime.
I used to make personalized frames and designs and turn them into products I could sell. I started selling on online portals, but there were not many learning materials available for online selling back then. So it wasn't easy. But I needed to get access to necessary resources such as machinery, workforce, marketing and more to generate more orders, and Flipkart was the way to go. Compared to the other portals, they were the most reliable. We started with processing three orders per day and during the festive season, we sell close to 2,000 orders on a daily basis.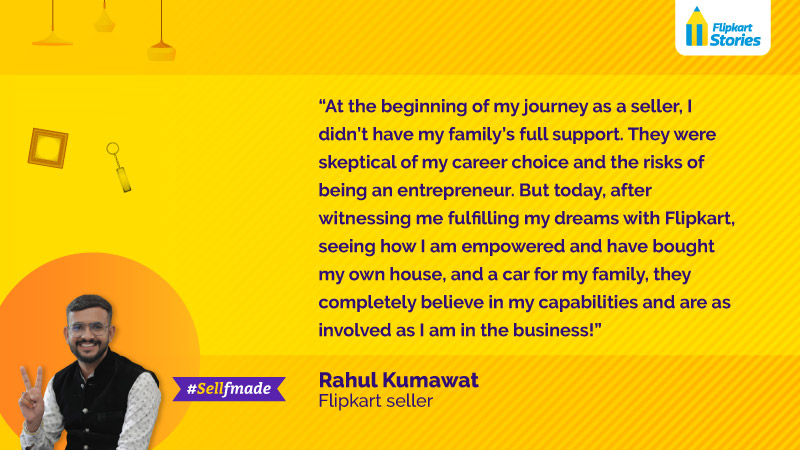 My account managers at Flipkart have helped me reach my target sales by opting for various promotions. They also gave me insights on which designs were working and which were not, helping me increase my profits. And my business growth has been amazing! Flipkart helps us learn a lot about online selling and they keep on improving their processes.
My experience with The Big Billion Days sale so far has been enriching. About 70% of my targets were met last year. Currently, we are well prepared for the upcoming sale and are eager to deliver the best to our customers. Flipkart has also given us data and a comprehensive analysis so that we may understand and achieve our goals for the upcoming festive season. We also have dedicated teams for each type of product in our inventory, tasked with manufacturing and packaging, and they are raring to beat our sales numbers from last year!
At the beginning of my journey as a seller, I didn't have my family's full support. They were skeptical of my career choice and the risks of being an entrepreneur. But today, after witnessing me fulfilling my dreams as a Flipkart seller, seeing how I am empowered and have bought my own house and a car for my family, they completely believe in my capabilities and are as involved as I am in the business!
I have completed 8 years with Flipkart now and my faith in myself is stronger than ever. I am sure I will reach heights of success beyond my dreams in the near future.
As told to Jishnu Murali with additional inputs from Rahul Gupta Roy