On the journey to building a sustainable business ecosystem, Flipkart advances toward the goal of a cleaner planet. In allegiance with the Climate Group's RE100 commitment, we aim to meet 100% of our electricity requirements from renewable sources by 2030, phasing out the use of fossil-based electricity. Read on to find out more about this and other milestones achieved during this journey.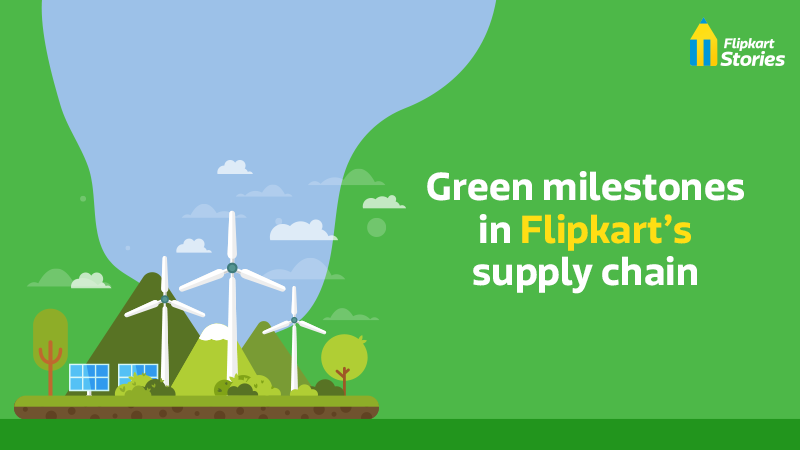 With great power comes great responsibility. And Flipkart's view towards power, and its sourcing through renewable means, is a way to fulfill the responsibility that it holds in the Indian e-commerce ecosystem.
In 2022, the Government of India took huge strides towards achieving India's long term goal of reaching Net-Zero by the year 2070. Announced at COP 26, the updated Nationally Determined Contributions (NDC) seeks to enhance the nation's allegiance to a global response to the threat of climate change as agreed under the Paris Agreement.
In the country's e-commerce landscape, the Flipkart Group led the way by focusing on the Net-Zero emission cause, and our commitment to the Climate Group's RE100 goal – a zero-carbon, sustainable economy that serves the planet – aligns with our Net-Zero target and our mission to drive positive climate action. With ongoing efforts, Flipkart's RE100 commitment aims to align and transition the pathway to clean, non-fossil energy by 2030.
"In alignment with achieving our Net Zero targets, we have adhered to the Climate Group's RE100 commitment and announced our commitment to sourcing 100% of our electricity needs from renewable sources for our entire operations by 2030," underlines Hemant Badri, Senior Vice President of Customer Service & Supply Chain.
Having pioneered innovations in various other aspects of e-commerce, including supply chain and technology, the RE100 commitment is a journey of pride that reinstills our resolution to enable a greener India through greener commerce.
The RE100 initiative spearheads the shift to renewable energy for electricity needs. Flipkart, one of the members of this initiative, is India's first e-commerce marketplace committed to the cause.
The RE100 group aims to achieve carbon free grids by the year 2040. The Flipkart group aims to achieve this target a decade earlier, in the hopes of inspiring the industry to join the cause and leading by example.

The total renewable energy footprint across 44 of our sites currently stands at 19MW. Together, they have the potential to generate 34 million units, resulting in 28,000 tons of carbon reduction annually. This includes the recent installation of rooftop solar power plants at 17 fulfillment centers that contribute to 11 MW, an installation of 200 KW at the Myntra corporate campus, and also sourcing renewable energy for the Flipkart corporate campus in Bengaluru, Karnataka.
Flipkart maintains focus on developing its infrastructure with adherence to the Indian Green Building Council's (IGBC) guidelines. The 'Big Box' facility in Haringhata is a testament to the green milestones in our supply chain innovation. With a Platinum rating, it holds the record for scoring the highest rating on the IGBC Green Logistics Parks and Warehouses rating system.
Along with this, the Flipkart Group has also undertaken several other initiatives like eliminating plastic packaging in its own supply chain, adoption of electric vehicles under its EV100 commitment, and the Flipkart Green Store that offers sustainable, organic and cruelty-free products.
The Flipkart Group has embarked on the RE100 journey with committed efforts to make a difference by adopting existing instruments like Rooftop Solar (RTS), Open Access, and evolving market instruments. Besides this, it is focused on resource efficiency, having introduced projects to increase its overall energy productivity.
Climate Group, in partnership with CDP, is rallying the world toward a greener tomorrow. The Flipkart group is on the RE100 journey with committed efforts to add RE portfolio from distributed as well as grid-scale projects through collective responsibility and collaboration. This is with the vision of enabling every Indian access to affordable, safe and convenient commerce, while ensuring a cleaner, greener ecosystem for customers, and the planet.
For more stories on sustainable commerce, click here.