There is a very good reason why the tagline for the Moto C Plus reads 'yes, it's that cool.' Here's what you need to know before putting your money into this #OnlyOnFlipkart smartphone.

It's truly remarkable how one of India's best-known smartphone brands, Motorola, manages to bring something new to the table every time it launches a new phone. The Moto C Plus is yet another stunning revelation, and it's available solely on Flipkart. So be ready for the sweetest deal on the cool and captivating Moto C Plus.

Prior to the Moto C Plus, Motorola's latest launch was the Moto Z2 Play. Powered by a 2.2GHz octa-core Qualcomm Snapdragon 626 processor and 3GB of RAM, this smartphone was for those ready to shell out the big bucks for better features. It included an advanced camera, one-button navigation, turbocharge and a number of impressive modification options. With the Moto C Plus, however, the company has accounted for the most important factor of all — competitive pricing. Starting today, this brand new Moto will be available for ₹ 6,999 — on Flipkart and nowhere else.
Before you read the review, check out this quick review by 91 mobiles to get a sense of the Moto C Plus:
---
All-metal, premium-feel compact design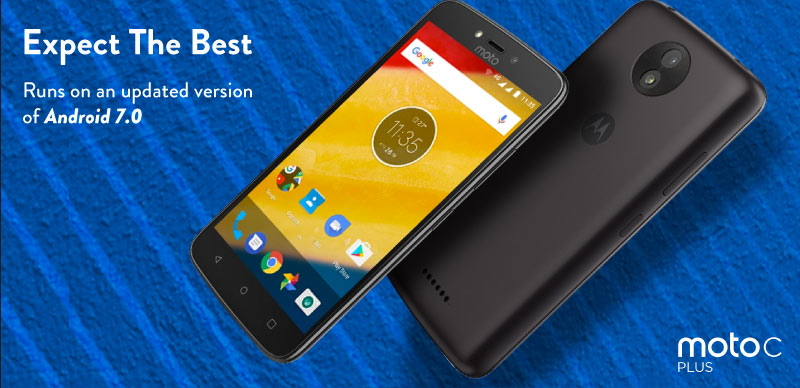 The Moto C Plus showcases a crystal-clear 5" HD (1280 x 720) display to elevate your viewing experience to new heights. The smartphone is sleek, streamlined, and all 162g of its metal body is designed for sheer pleasure. The micro-textured back covers come in three vivid and eye-catching colors—Starry Black, Fine Gold, and Pearl White. So, no matter who you are or what you like, there's a color that complements your style!
Feature-packed for seamless performance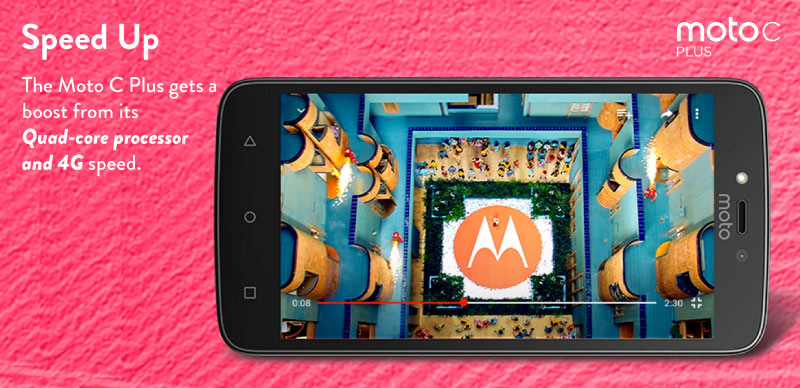 The Moto C Plus contains a MediaTek MT6737 64-bit quad-core 1.3GHz processor, which is surprisingly powerful for a low-cost smartphone. MediaTek is often thought of as the best mobile processor for smartphones under Rs.15,000, and true to form, the Moto C Plus shows no signs of slowing down even if you run multiple apps. It comes with an admirable 16 GB internal memory and up to 32 GB expandable memory support. What's more, its 4G capabilities make surfing the internet for your favorite content an absolute breeze. Keeping with Motorola's tradition of delivering only the best, the Moto C Plus comes with the latest Android 7.0, Nougat, pre-installed and ready to go with a single tap!
Battery to back up uninterrupted work and fun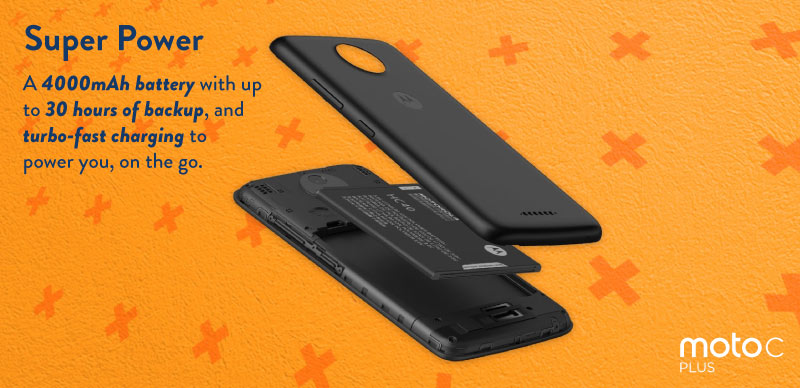 You can finally stop carrying your charger everywhere you go. The Moto C Plus has a best-in-class 4,000 mAh battery, which is worth up to 30 hours of uninterrupted performance. When you do need to recharge, the Li-poly removable battery can be quickly powered up with a 10 W charger that supports quick charging on the go. Trustworthy beyond measure!
Smart features to puts no end to possibilities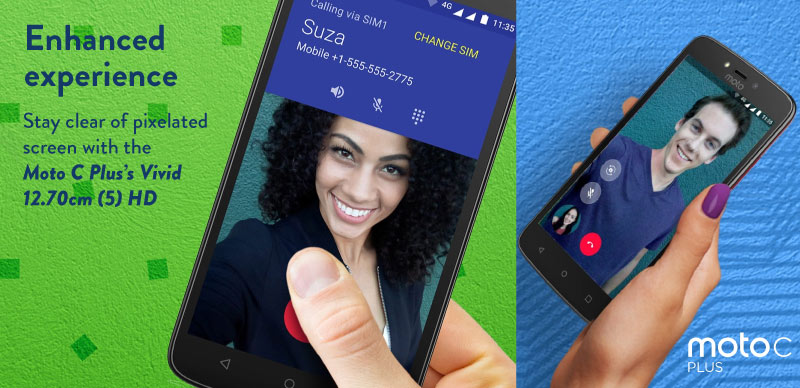 Motorola's Moto C Plus is a truly versatile smartphone. Power, style, speed, and flexibility—nothing is off-limits for this budget-friendly device. It even sports dual SIM slots for effortless efficiency, 3D audio with FM radio, state-of-the-art wireless technology including Bluetooth version 4.1 LE+ 3.0, and ambient light plus gravity sensors.
Dark or bright, get those photographs right with the Moto C Plus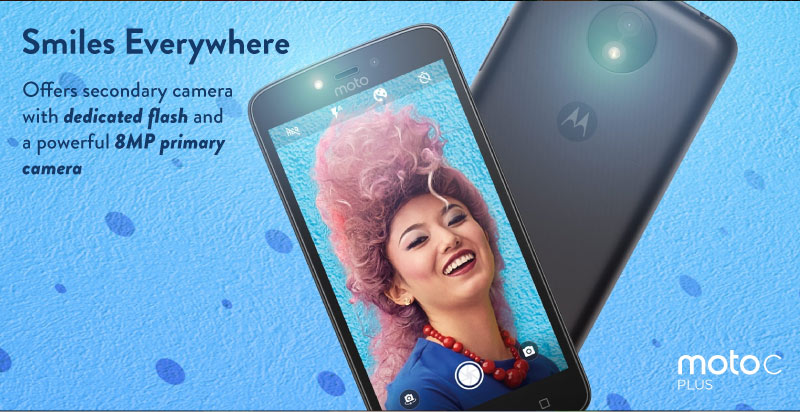 Night-time is usually when you can snap the coolest photos—provided your smartphone has a great camera. The Moto C Plus comes with an 8 MP rear camera that is equipped with an f/2.2 aperture and a 71-degree lens. It offers a Panorama and Burst mode, LED flash, and Autofocus to help you click the best pictures. Add the facilities of High dynamic range (HDR) and 720p videos at 30 fps along with beautification options, and you get the complete package!
The 2 MP front camera is a powerful tool as well—especially if you're into taking selfies. Apart from retaining most of the rear camera's properties, the f/2.8 aperture and 63-degree lens of the front camera come with a built-in LED flash, so you never have to worry about missing a perfect night-time selfie again!
The Moto C Plus seems like the perfect choice for those looking for cost-efficiency. It even makes sense for those looking for an extra device that lasts long and caters to all your essential needs. Motorola also seems confident about the smartphone's extraordinary capabilities! So what are you waiting for? Get your hands on the coolest new smartphone and make your purse strings sing! Available only on Flipkart, buy the Moto C Plus starting today at 12 Noon.
To view other smartphone reviews on Flipkart Stories, click here.