It is now the era of Made in India smartphones. After all, according to a report by Counterpoint Research, 3 out of 4 smartphones sold in India during the last quarter were manufactured in India.
If you are looking to treat yourself to a new smartphone and add some patriotic fervor to your purchase, take a look at our list of purebred Indian smartphones. Browse through the top Made in India smartphones that is sure to tick all the right boxes when it comes the price and features, and will have you feeling proud thanks to their inherently India manufacturing too.
Swipe Elite Star for the utilitarian

The first in our list of top Made in India smartphones is the Swipe Elite Star. If you're looking to buy your first feature phone replacement on a budget, or perhaps, even a secondary phone that you can use to manage your social media accounts, the Swipe Elite Star is sure to hit the mark. Priced at INR 3,333, the smartphone is among the lowest-priced 4G LTE-capable smartphones in India right now. It also offers 4G VoLTE (voice over LTE) support, which allows better and clearer voice calls and the ability to use voice and data at the same time. VoLTE routes voice traffic over 4G LTE networks that carriers use to transmit data, instead of the generally used 2G or 3G connections. This smartphone is also eligible for Jio's Happy New Year Offer, which means you can get free voice calls, video calling, messaging and data access by using a Jio SIM!
In fact, many Flipkart customers, including Vinay Kumar, have been happily using this phone with a Jio SIM. "Better to buy this instead of JIO fi device which cost 2000, and can be used for internet only… I got this phone for [Rupees] 3333 and this is the cheapest 4g + Volte enabled phone in the market, its perfect secondary phone…"

What also matters is that it's a Swipe smartphone, and therefore, is relatively easy to use. Perfect if you want to buy a simple phone, just like Flipkart customer Nula Russikant, who bought it for his father. He says, "He [my dad] is not much into gaming but is quiet recently an avid net surfer. This phone handles quite well some of the apps…"

For just INR 3,333, the Swipe Elite Star packs in value-for-money specs like a 4-inch WVGA display, a 5MP rear camera and a 1.3MP front camera. It is powered by a 1.5GHz quad-core processor, 1GB RAM, 8GB internal storage, expandable to 32GB via a microSD card, and a 2,000 mAh battery.
---
Watch the unboxing video of the 'Pocket Dynamite' in Hindi by Data Dock here:
[yt4wp-video video_id="qPnh-Cqzprg"]
Check out the Swipe Elite Star here.
---
Xolo Era 1X for the shutterbug

Next up in the Flipkart Made in India smartphones list is a contender from Xolo. What makes the Era 1X (priced at INR 5,149) a strong player on our list? It's the fact that its 5MP front camera is complimented by dual LED flash, which is a rare find on a phone of this price range. Thus, you can click great selfies and videos in low light too, which, if you're looking to become the next selfie star in your locality, is probably just as important as the rear camera's capabilities. Many Flipkart buyers who bought this phone were happy with this feature, including this customer, who says, "The front dual flash is an extra gift for Diwali."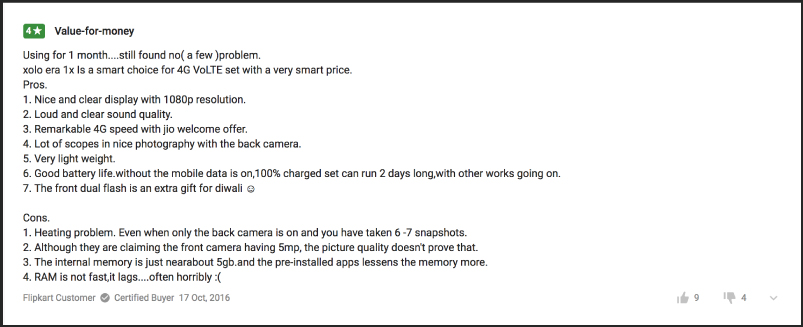 The primary 8MP camera is capable of taking good pictures too and works brilliantly in both low and bright light settings.
The Era 1X features a plastic body that is sturdy enough and comes with a matte-finish, removable back panel. The 1.3 GHz quad-core processor and 1GB RAM makes the smartphone a fast and responsive phone: apps open quickly, and games and multi-tabbed web browsing doesn't lead to creating any lag time whatsoever. The 2,500 mAh battery has no trouble getting through 14 hours of use.
This Flipkart customer sums up the best features of this phone with this review:

---
Get an initial impression of the Xolo Era 1x by watching DashTech's review here:
[yt4wp-video video_id="CMmApoFWHRE"]
Buy the Xolo Era 1X here.
---
Swipe Elite Power- 4G with VoLTE for the prodigious user

Multitask without hesitation and be connected in a jiffy with the Swipe Elite Power. Priced at a budget INR 6,999 on Flipkart along with additional bank offers and exchange discounts, the phone makes an impression right off with its smart yet tough exterior.
Flipkart user Divya Krishna Varshney is in awe of its elegant design and says, "This mobile is so stylish…"

Powered by a Qualcomm Snapdragon MSM 8909 Processor and 2 GB RAM, the phone can easily switch between multiple tasks and allows for a lag-free experience that high-end users will love. The 5.5-inch screen offers a high-definition IPS display that celebrates detail and color with 1280 x 720 pixel resolution. The dual SIM phone also comes with a fingerprint reader to protect your personal data. Lightweight and durable, the Swipe Elite Power lets you store all your files—be it music, movies, videos or photos—on its 16 GB onboard memory, which is expandable up to 32 GB using an SD card. One of the phone's most attractive features is its 4,000 mAh battery, which ensures that you're entertained and connected for as long as 48 hours of daily usage. On the move? The phone allows up to 8 hours of continuous use, so you can watch movies online and keep yourself busy until you get wherever you needed to go!
Its 8MP primary camera and 5MP front camera makes sure every photo is beautiful and blur-free, with added features of flash and video recording. Running on Android Marshmallow 6, the Swipe Elite Power also gives audiophiles the option of listening to FM radio apart from ensuring super fast speed with 4G VOLTE.
---
See the unboxing of the phone here by Gadget Diary here:
[yt4wp-video video_id="X77QpoIuLUI"]
Buy the Swipe Elite Power – 4G with VOLTE here.
---
Xolo Era 2X for the privacy-lover

The Xolo Era 2X is another device to watch out in out Made in India smartphones list. Behind the frame of this newly launched smartphone, priced at INR 7,199, are high stakes features that make it a premium device for your pocket. The smartphone comes with a 5-inch HD IPS display that's sharp and bright. Its 1.2GHz MediaTek processor and 3GB of RAM ensure snappy performance. It has an 8MP rear and a 5MP front camera, 2,500 mAh battery and 16GB of internal storage with the ability to expand that to 32GB via a microSD card. Flipkart customer Tarun Nagesh is impressed by the under-the-hood specs of the Era 2X, and says, "The phone is an] awesome product which you must buy now. Great processor with 3GB RAM and Android Marshmallow 6.0."

The smartphone has a fingerprint scanner on the rear that can be used for authentication as well as serve some more functions such as tap to talk or capture a photo. In fact, the Era 2X is easily among the most affordable fingerprint scanner-toting smartphones that you can buy in India right now. And Flipkart customer Sunil reiterates this by saying, "There is no phone with such amazing features in this price."

---
Take a look at the overview of the phone's specs and get an idea of the camera performance in this video by Gogi.in:
[yt4wp-video video_id="xFa_XnGyUFM"]
See more about the Xolo Era 2X here.
---
Micromax Canvas 5 Lite – Special Edition for the nature lover
Does it make you feel good to be around nature? Then we're sure that as technology becomes more personal, you'd want it to become more familiar, more natural. If you're looking for a smartphone that feels natural yet is technologically-endowed, the Micromax Canvas 5 Lite-Special Edition is a good bet. The highlight of this smartphone is its rear panel, which features a beautiful walnut wood finish for warmth and a natural feel. The wood-finish back gives the Micromax Canvas 5 Lite-Special Edition an upper hand amongst smartphones in India, most of which are crafted from aluminium and plastic.
Performance is also a strong suit of the phone, thanks to the 3GB RAM along with a 1GHz MTK6735P quad-core processor. These ensure the smartphone is capable of handling multi-tasking with no noticeable lag. You will find videos a joy to watch, thanks to the vivid and punchy colours and crisp display of its 5-inch HD IPS screen.
The 8MP rear and 5MP front cameras take good shots even inside rooms or in bright light. In terms of camera speed, Micromax Canvas 5 Lite-Special Edition is one of the faster smartphone cameras priced at INR 7,999 on Flipkart. You will also find that the focus works quickly and that there is no shutter lag.
Flipkart user Omkar Pandey is in awe of the phone and says, "It is world's best phone, the camera is nice…"

Looking for a smartphone with a battery that lasts long? The 2,000 mAh battery in this phone easily offers you several hours of usage on a single full charge. The phone boots to Android 5.1 Lollipop and like most Micromax smartphones, comes bundled with a bunch of pre-loaded apps.
---
See the unboxing of the phone here by Tech Ministry here:
[yt4wp-video video_id="9750ln5sDfs"]
Buy the Micromax Canvas 5 Lite-Special Edition here.
---
Micromax Canvas Mega 4G for the style icon

Featuring a stellar design that gives it an edge, the Canvas Mega 4G is priced at a pocket-friendly price of INR 9,799 on Flipkart. The phone scores brownie points for its faux leather back panel, which lends it a sense of style. The back panel, along with the curved metallic frame, ensure that the phone offers a decent grip while looking trendy in your hands. Plus, the volume rocker and power buttons are well within the reach of your thumb when you hold the phone. Overall, the Canvas Mega 4G hits the right spot if you're looking for a smartphone with stylish looks and sturdy construction.
It is not often that a smartphone in this price range has a 3GB RAM, and that makes the Canvas Mega 4G great for multi-tasking. The Mediatek MT6735 processor clocked in at 1.3GHz delivers a lag-free app performance and ensures your favorite games run without a hitch.
Flipkart user Srinu loves that the Canvas Mega 4G performs everyday duties admirably and says, "Nice and fast…"

The Canvas Mega 4G has a 5.5-inch HD display that performs well even in bright sunlight, with its high pixel density ensuring there's no blur around text or icons. In terms of battery life, the phone offers you nearly a day's worth of moderate usage with its 2,500mAh battery. The phone offers 16GB of internal storage and comes with a microSD card slot.
The 13MP rear camera manages to shoot detailed close-ups and landscapes in daytime and low-light conditions. The 5MP front camera with its LED flash does a decent job of clicking selfies, both indoors and outdoors.
This Flipkart user was pleasantly surprised by the phone's good camera performance and says, "…runs very good camera quality…"
---
See the unboxing of the phone here by egadgets4u here:
[yt4wp-video video_id="pIIJwsqP9nU"]
Buy the Micromax Canvas Mega 4G (Blue, 16 GB) here.
---
Swipe Elite Max for the power user

Want a phone that doesn't run out of juice for well over a day? Then the Swipe Elite Max is the best bet in our list of Made in India smartphones. The phone comes with a 3,000 mAh battery that does an admirable job of pushing through a full day of heavy usage. Whether you run on data the entire day or travel a lot, the Elite Max offers great battery power for a bargain price tag of just INR 9,999.
This Flipkart customer found himself very satisfied with the phone's battery and says, "… Gr8 battery and Dash charging is amazing…"

With its 5.5-inch Full HD display, the smartphone steers away from the spell of compact smartphones with only basic features. The Elite Max runs on a 1.4 GHz Qualcomm quad-core processor, and is backed by 4 GB of RAM to ensure multi-functionality and minimum lag.
Flipkart customer Jagdish Dandgawhal is satisfied with the overall speed of this phone, and says, "This phone is one of the best phone in Indian mobile history. Great phone and great speed with 4 GB RAM with full HD…"

To help you capture those perfectly Instagram-able moments, the Elite Max packs in a 13MP rear camera with phase detection autofocus and an 8MP front fixed focus camera. There's ample storage of 16 GB internally, in addition to 32 GB expandable memory.
---
Watch the unboxing of the sleek Swipe Elite Max by Intellect Digest here:
[yt4wp-video video_id="pTTIkefNsi4″]
Buy the Swipe Elite Max here.
---

*Note to customers:All product prices listed or indicated in this article are subject to change without notice. For the latest prices, we encourage you to visit the Flipkart store links from your desktop, mobile site or mobile app