In September 2016, Flipkart crossed the milestone of 100 million registered customers. Flipkart Stories began this series with a story of the unique relationship that women in non-metro cities share with Flipkart. We follow up with a story of the most loyal customers who have stuck with India's premier online shopping destination through thick and thin. These customers define Flipkart's success, and we are proud to have played a small part in making their lives happier. Learn about how these loyal customers discovered the experience of shopping on Flipkart, and why they chose to stay faithful since their very first transaction.
---
Books, books everywhere. Every shelf, every ledge, every nook is piled high with books. Even the sight of a couple of them sitting in the washroom is nothing new. His house is somewhat legendary among his circles for his collection of over 15,000 books, stacked on every possible surface. Meet Meerut-based physician Dr Niren Trivedi, whose home library is a testament to his voracious reading habit and the delight he takes in introducing books to others. Even in his clinic, you are sure to see an extensive collection of books pertaining to his profession.
"My appetite for books has exceeded my shelves," Dr Trivedi says with an expansive sigh. With plans to leave his library as legacy for his children, Dr Trivedi is an ardent reader. His passion for the written word constantly inspires new readers.
However, his penchant for collecting books hasn't always seen smooth sailing. Many books that he desired to read were hard to find in his city and visits to many a bookstore in Meerut yielded no results. All that changed in 2012 when Dr Trivedi ventured online and crossed the threshold into the world of Flipkart.
His voice is laced with excitement when he says, "It was a dream come true for me when I saw the mind-boggling variety of books that Flipkart had. There were books across all genres. Flipkart was importing foreign books too!" Over the years, Dr Trivedi has purchased thousands of books from Flipkart and today, he is one of the most loyal customers.
Dr Trivedi's passion finds an echo in Satyam Dwivedi, managing director of Dwivedi Medical & Research Centre, Allahabad, and another one of Flipkart's most loyal customers. He too had been down on luck when it came to finding books on his wishlist. Even the best booksellers didn't stock the one book he craved — What to Ask the Person in the Mirror by Robert S Kaplan. It was then that he came across an advertisement that introduced him to Flipkart. The online shopping site, he discovered to his delight, stocked the book he wanted. Despite misgivings on ordering online, he tried his luck and placed the order. The book was delivered to him in mint condition — a fact that forged his relationship with Flipkart for years to come.
For both Satyam and Dr Trivedi, Flipkart became their own ever-expanding bookstore and a means to fuel their passion. For others, like Navi-Mumbai based Prashant Oze, it was Flipkart's sheer convenience that made him a customer for life. A computer hardware engineer at Levicon Computers, Panvel, Prashant's ride as a Flipkart shopper began due to the discounted price Flipkart was offering on a portable hard drive he was looking to buy. But it was his curiosity to understand the whats and hows of e-commerce that prompted his initiation into the sphere in 2001, when he started shopping online with Rediff.com.
"In 2001, people in India could only access the Internet via a modem, and the surfing speed, for households and regular users, was not more than a mere 33 KBPS," he explains. "Online shopping was then very new in the country. Indians had not caught up with the benefits of buying a product over the Internet. I thought I should give it a try and check out how they deliver my order, how many days they take to deliver it, and whether the quality is as good as what's available in any physical store."
Over the next year, he bought t-shirts, shirts and books from Rediff.com. However, in 2002, he stopped buying. "There wasn't anything new happening in the sphere of e-commerce at that time." Eight years later, he embraced online buying with renewed enthusiasm, this time with Flipkart. He had come across Flipkart when browsing online, and through Wikipedia, gathered all the information he could about the online shopping site. "I liked what I was reading, but the thing that clinched the deal for me was the ₹500 discount that Flipkart was offering on the 500GB Transcend disk drive that I wanted to purchase."
And that's how, in September 2010, Prashant Oze placed his first order on Flipkart. He remains another of Flipkart's most loyal customers, buying computer hardware and electronics almost every week over the last few years.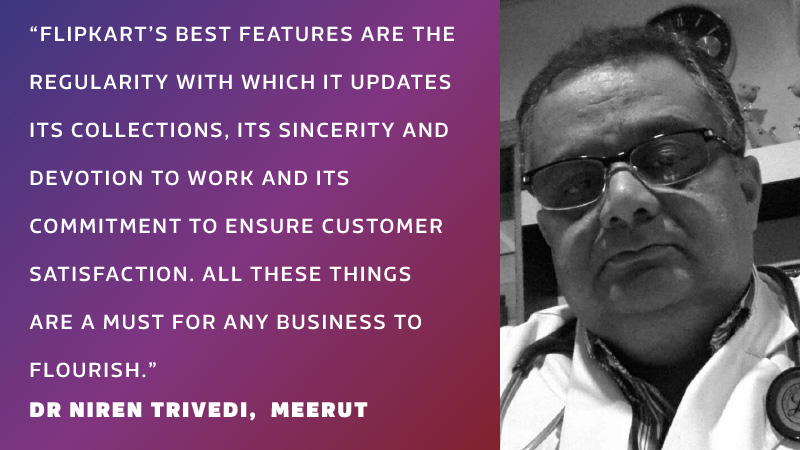 Why Flipkart attracts loyal customers
It was books or fabulous deals on electronics that made Sebastien Narsing, a visual effects artist at Famous Digital Studios, Mumbai, get started on Flipkart. It was a friend's recommendation. Sebastien and his friend worked in the same office and, during a conversation, talk turned to the shopping portal.
"My friend, who often bought books from Flipkart, asked me to shop once and see for myself whether it worked for me. I am mostly into video games, and there was a particular PlayStation game that I wanted to buy but which wasn't available anywhere." He checked out Flipkart at the very next opportunity and found, to his delight, that the game was in stock. He liked that the website was easy to use that it wasn't difficult for him to search for the game. Sebastien placed his first order on Flipkart in 2012.
In the same city, around the same time, another customer-in-the-making was toying with the idea of trying out Flipkart. Leslie Manners, General Manager at Seamec Ltd, had always been aware of the comfort and convenience of online shopping. But he worried whether the product delivered would meet his expectations in terms of quality. What if it was defective or damaged? The solution came to him when he was surfing the internet in 2012, for that is when Flipkart's easy product returns process caught his eye.
"At that time, I guess no other online shopping portals provided cash on delivery and product returns. By shopping with Flipkart, I could opt for both, if need be, or even opt for product cancellation and replacement," he says. He was looking to purchase a smartphone back then, and his happiness grew when he realized he could get it at a cheaper price through Flipkart. He says with a smile, "That particular phone was available in physical stores, but Flipkart was offering it at a discounted price. So I wasted no time in placing my first order." The value-for-money factor is what makes him come to back to shop on Flipkart at least three times a month. Little surprise that Leslie is one of Flipkart's most loyal customers.
"It was all about convenience and attractive offers," says Sonathan Paul, the 32-year-old manager of Silicon Infotech, Mumbai, recounting his first purchase with Flipkart in 2012. A typical metro-based professional, he's short on time and invariably seeking convenience. So, shopping from Flipkart seemed an ideal fit since he could have everything delivered to his doorstep. "Moreover, my sister, who used to work with Flipkart back then, advised me to try it out," he says.
Ask Santhosh Palaniswamy, proprietor of Coimbatore-based CPS Prompt Industries, what was the first thing he purchased on Flipkart, and pat comes the reply, "A smartphone". That particular model, he says, was available with both offline retailers and other online shopping portals. However, he chose to buy it on Flipkart in 2012 because it offered "an attractive price and a 30-day returns policy on the product." Moreover, Flipkart delivered to his PIN code. He says, "But you know what caught my attention first? Flipkart had a user-friendly interface on its website and it offered cash-on-delivery service — useful for a first-time buyer such as myself."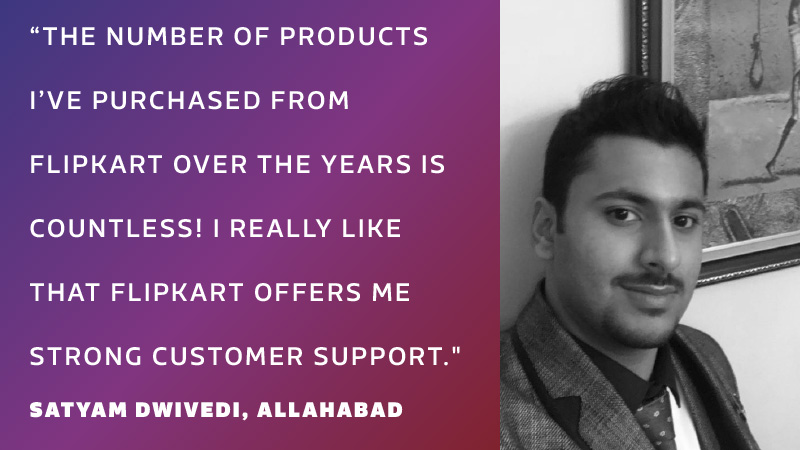 The secret to loyalty is in the details
Santhosh's observations find resonance with other Flipkart customers too. When he logged onto Flipkart's website for the first time, Satyam Dwivedi was impressed by the sheer simplicity of the interface. The categories were presented upfront, and there were a lot of easy decision-making tools for users, such as compare buttons, top product features, and easy-to-see placement of the buy button. He adds, "The specifications of a product were all there for me to see. The process for placing my order was stated clearly enough, without compromising on my satisfaction level. I could place my order successfully without much effort."
Flipkart's first impression became the last impression for him, and Satyam has "shopped countless times on Flipkart since then."
A techie by choice and profession, Prashant Oze says that "Flipkart's website had a finer layout than any other online shopping portal." Reminiscing on his very first visit to Flipkart, he says, "Everything was displayed in a clear manner on the website — especially the information a user wanted regarding a product. I also remember the tagline that Flipkart had used on its site back then. It said that Flipkart delivers only hundred percent genuine products."
In fact, it was Flipkart's genuine delivery that convinced Kolkata resident Sevanti Roy Chowdhury, Director at Achievers' Circle Private Limited, to become a loyalist. Being first and foremost a teacher of biology for competitive exams, she was always on the lookout for books pertaining to her subject. Very often, the bookstores in her locality would fall short of requirements. She remembers searching for a book on Google, and Flipkart's name popped up in the search results. "There was one book in particular, on biology for competitive exam preparation, which I wanted to purchase. It wasn't available in any physical store, and online, even Infibeam had stopped stocking it. Flipkart, though, not only had the book available at a lower price but was also offering free shipping on it."
Still, her husband and she had their apprehensions; after all, they had never shopped online before. But Flipkart was also offering a cash-on-delivery option to provide comfort to customers — something that prompted the couple to click the 'Buy now' button. She says, "The book was delivered on time and had no defects. We were happy!"
Flipkart's easy CoD eased Dr P K Dixit's apprehensions too when he shopped on Flipkart for the first time four years ago. A retired government officer from Ghaziabad, Uttar Pradesh who runs Shikhar IAS Academy, a coaching institute for civil service exam preparations, Dr Dixit reveals how the first few purchases he made on Flipkart were all music album CDs by his son, Anurag, a singer, songwriter and composer. Anurag had told him that his new music CD had released and was only available on Flipkart, and the excited father sought to promote his son by purchasing 10-20 of them on Flipkart. "I wanted to keep him in the dark about this. But then, when I logged on to Flipkart to buy the CDs, I had my doubts about purchasing online." All that uncertainty vanished when he found out about Flipkart's CoD service. "It brought in that trust factor for me," he says. The fact that his first purchase was "delivered very fast" sealed the deal.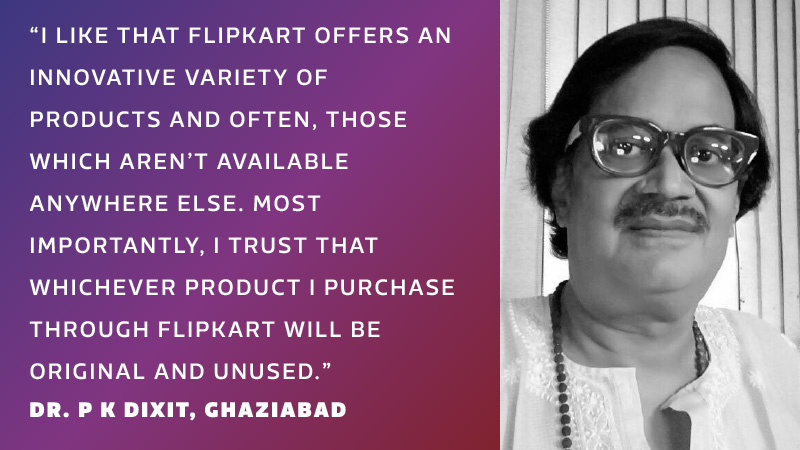 Flipkart keeps the promise
Dr Dixit shops for electronics, gadgets, books, CDs, etc., on Flipkart nearly 200-250 days a year. But what makes him come back to Flipkart again and again? "I like that Flipkart offers an innovative variety of products and often, those which aren't available anywhere else," says one of Flipkart's most loyal customers. "Most importantly, I trust that whichever product I purchase through Flipkart will be original and unused."
Pavan Katakdhound, an engineer at a Mumbai-based PSU, likes Flipkart's ever-increasing selection of products. But more than that, he loves that Flipkart, compared to "other retailers who often add extra taxes to the cost of a product", offers prices that are inclusive of VAT and other taxes. So much so that he's recommended Flipkart to more than 500 people so far! He has a preference for Flipkart's Deals of the Day, and has, over the years, opted for quite a lot of the attractive discounts and products offered through these deals. He says, "Most of my orders on Flipkart are through Deals of the Day only. Recently, I've placed an order for riding gear through one such deal."
Sebastien Narsing swears by Flipkart's timely delivery. He reveals, "I usually shop for everything from video games to electronics and furniture, and till date, Flipkart has delivered all of my purchases on time, or rather before the estimated time. Many times, products have reached my doorstep the day after I placed the order with Flipkart."
In all his years as a Flipkart customer, Leslie Manners has made a point to purchase most of the products on his wish list from Flipkart's leading seller, WS Retail. He states, "Back then, since WS Retail was Flipkart's in-house vendor, I was more comfortable with making my purchases through it. After all, nothing can go wrong with buying from Flipkart's own, right?"
That trust on Flipkart continues today. This is evident when, after mentioning that he generally opts for online transactions with Flipkart, he adds, "I have a lot of confidence on Flipkart and the quality of its products. In fact, since I was short on time, I haven't yet unboxed a smartphone which I'd ordered from Flipkart and which was delivered to me last weekend. I'm sure that it will be 100 percent original as usual."
Dr Niren Trivedi also avers that his trust in Flipkart is what makes him a frequent buyer. He says, "From the time I started shopping on Flipkart, I have never been sent a wrong product. What I see on screen and placed an order for, is exactly what Flipkart has always delivered to me."
While Dr Trivedi is partial to ordering books, movie DVDs and music CDs from Flipkart, his wife — who runs a beauty parlor — orders cosmetics and apparel.
Like most Flipkart customers who appreciate Flipkart's diverse variety of products, the one thing that Santhosh Palaniswamy always make a point to do before purchasing anything from Flipkart is check the product reviews. He says, "Almost no one blindly buys things anymore. Everyone wants to see his or her hard-earned money go towards something good and worthwhile. And it is the sheer number of published product reviews that makes Flipkart stand out from other online retailers."
For Satyam Dwivedi, shopping countless times on Flipkart has always driven home a strong message of excellent customer service and ease of product returns or cancellations. Both these features, he says, have been "the silver lining" on his transactions with Flipkart.
"Recently, I'd ordered a Godrej Goldilocks Personal Locker from Flipkart," he says. "But there were some issues with resetting its password, and so I decided to return it and opt for a refund. Flipkart was quick to process the refund."
Feedback and loyalty go hand in hand
From CoD to on-time delivery, from genuine products to fuss-free refunds, what do our customers expect of Flipkart? Leslie Manners hopes that Flipkart extends its delivery services to all remote cities and towns too. He says, "I feel that Flipkart tends to deliver well in metros, but whenever I seek to get something delivered to my hometown of Shillong, Meghalaya, I often find that the product is not eligible for delivery to that PIN code."
His worries have been addressed by the Flipkart Assured, the speed and quality assurance program that ensures that customers can get on-time delivery on and a high quality experience without the need to pay a subscription fee for these benefits. More and more smaller towns are now in the ambit of Flipkart Assured.
Sonathan Paul, on the other hand, feels that Flipkart should review delivery charges by certain sellers. Again, Flipkart Assured comes to his aid. Orders valued above ₹500 are delivered absolutely free of charge.
Prashant Oze believes that loyal customers deserve to be rewarded. Satyam Dwivedi seconds his opinion, and says, "Loyal customers are any business's best friend, and I feel Flipkart should value its customers who are loyal and have a clean purchase record, because it is they who made Flipkart the brand that it is today."
Are you, too, one of Flipkart's most loyal customers, too? Leave a comment to tell us why.
---
Customer data analysis by Pushpendu Kumar