Catering to the vibrant and flourishing startup community in India, the Flipkart Leap Ahead program is underway for its second cohort. This Flipkart startup accelerator program provides entrepreneurs with all the tools they need not only to succeed in their own domain, but also positively impact the ecosystems in which they operate. Keep reading for insights from the promising band of entrepreneurs selected during the first cohort. Entries to the upcoming second cohort remain open until January 10, 2023.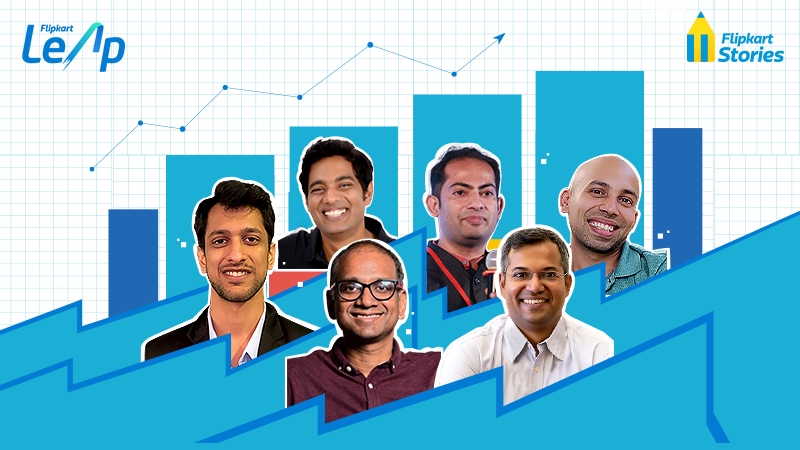 The world's third-largest startup ecosystem, India is irrefutably an innovation hub.
Enabling the vibrant startup community of the nation, initiatives like Flipkart Leap Ahead are key contributors, encouraging and supporting entrepreneurial innovation that ultimately propels the nation forward.
Flipkart Leap has two programs tailored to suit the needs of different startups. Flipkart Leap Ahead makes investments into pre-seed and seed stage companies through the Flipkart Ventures fund. Flipkart Leap Innovation Network enables commercial partnerships with startups building innovative products.
Flipkart Leap Ahead focuses on nurturing startups with not just equity investments, but also by opening doors to market access opportunities and acting as a catalyst for tech-powered advancements from India.
The founders who do make the cut truly share Flipkart's vision to build for India. Besides an investment in their enterprise, the program includes mentorship by Flipkart's top leaders, guided by a curriculum by Bain&Co aimed at helping them scale up.
Read on for insights from the founders of the first cohort of Flipkart Leap Ahead.
LogisticsNow – Raj Saxena, Founder & CEO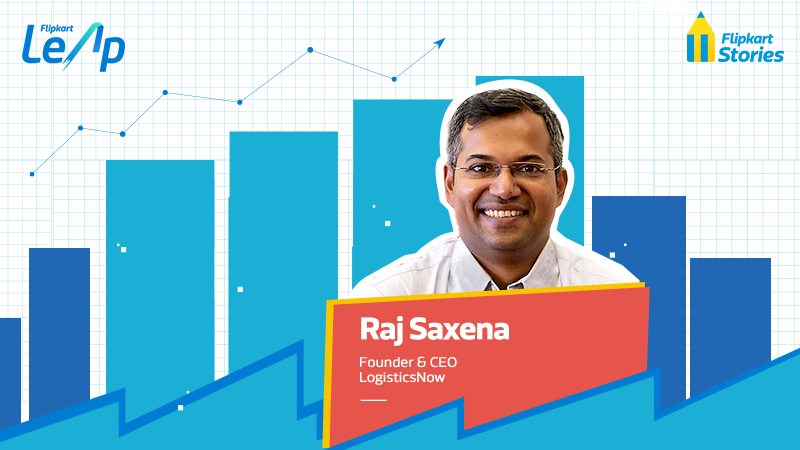 Intended to serve as the digital backbone of logistics, LogisticsNow is technology-enabled transportation and logistics business. LoRRI, its flagship product, aims to revolutionize the B2B transport value chain powered by a vision to build a national logistics grid. "LoRRI's deep, data-based freight, intelligence and procurement solutions save on costs and time while enabling sustainability for shippers and carriers," explains Raj.
"Net Zero is not just a phrase for us. It is what has driven our business. Our intelligence platform provides the right truck type to the right network and capitalizes on market opportunity to not only transform this unorganized industry into one that reduces carbon emission but also unifies and optimizes transport movement.
With Flipkart understanding this problem and appreciating the magnitude of what a platform like LoRRI can do, we have received significant support and amazing encouragement from leadership."
LivWell – Nikhil Verma, Co-Founder & CEO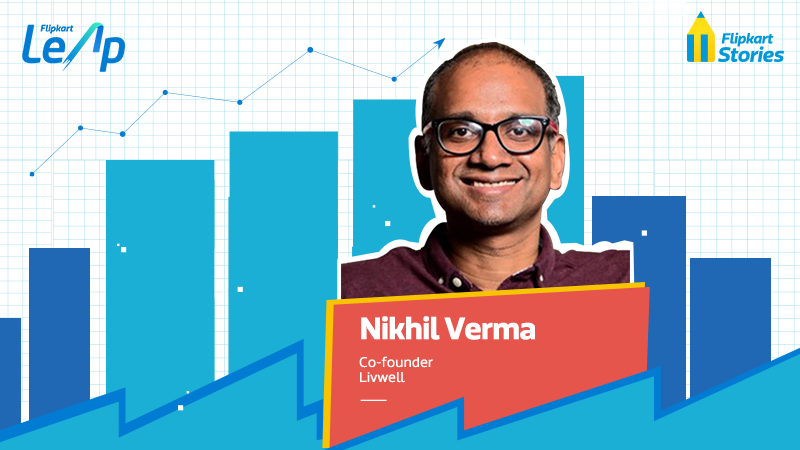 A revolutionary insurtech platform, LivWell offers micro-insurance policies and is a blockchain-based gamified health ecosystem. "LiveWell was created to make health, wellness and insurance relevant for Gen Zs and millennials so they could see the actual value of it," says Nikhil. "LivWell is going to be an insurance company that reduces your premium as long as you remain healthy.
Before joining Flipkart, we were a part of two accelerator programs, and I must say that the Flipkart program was by far the best in terms of context, structure, mentors and experts. The extensive selection process was thoroughly enjoyable for us. Sometimes when you go through the grind and then make it, you realize the value of the opportunity. With insights from the Flipkart team, we've altered our approach towards the Indian market. Flipkart and the legal team have actually helped us set our house in order and set us up for success in the long term."
---
Listen to the podcast with Raj Saxena and Nikhil Verma below:
---
RightBot – Anurag Datta, Co-founder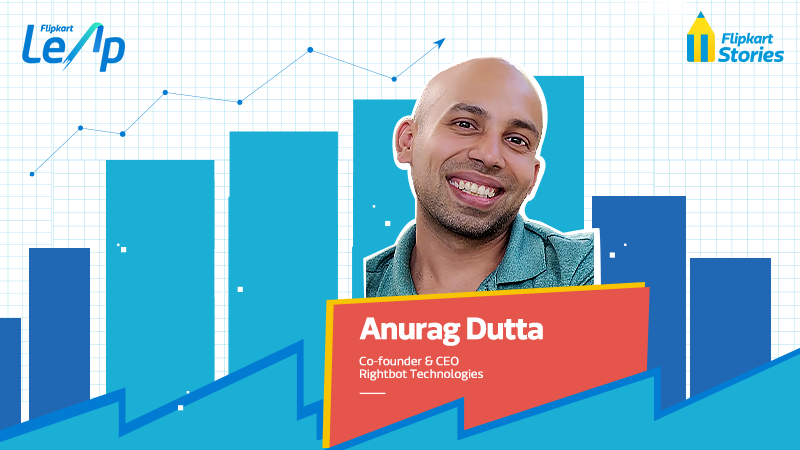 A startup focused on robotics and warehouse automation, Rightbot is a modern plug and play solution for commerce players. "RightBot robotic automation is essentially designed to improve effectiveness and productivity in warehouses. We are a full-stack solution which considers warehouses of different shapes and sizes," says Anurag. "We make sure that we are not looking to replace warehouse workers but at increasing their productivity so that they can do their work more efficiently.
We are believed to be one of the very few companies who are trying to address some of the absolute core barriers to the adoption of robotics automation and emerging economics. Flipkart, similarly, is a pioneer in multiple ways and being a part of Leap Ahead has helped us immensely. We gained access to Flipkart's tech, business and commercial teams to discuss and explore synergies. We have got access to phenomenal mentors; for instance, the head of supply chain for Flipkart is our mentor and being able to sound out ideas with him is amazing."
Dopplr.digital – Sresht Agarwal, Co-founder & CEO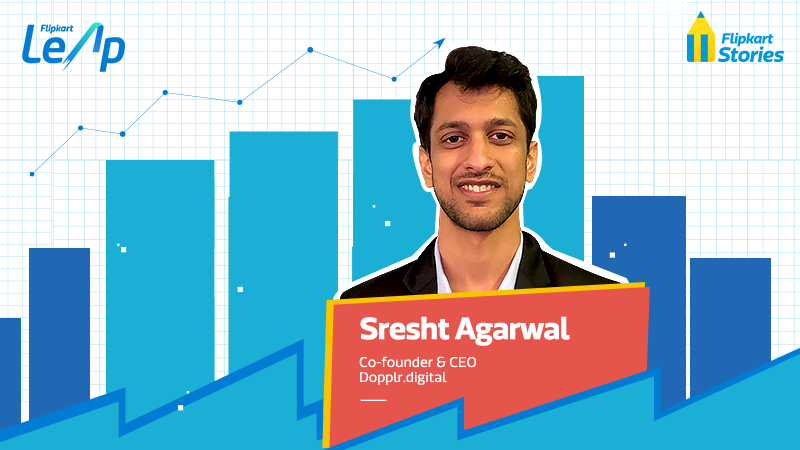 Providing virtual immersive stores as service for brands, Dopplr is a fashion metaverse company. "While ecommerce has a lot of reachability and convenience, it takes away that experience of physical shopping, especially in the fashion segment. What we are doing with Dopplr is enabling shoppers to create their photorealistic digital twin and see how they look with digital copies of clothes," explains Sresht.
"This particular experience will then extend down into virtual stores with seamless integration. Here, you can be in the same place with your friends, see each other, check out how clothes look on each other and then decide if you want to make a purchase. The entire in-store experience is online, enabled by the connectivity that the web provides.
Flipkart Leap Ahead has exposed us to leaders who are building for this diverse ecosystem. Making sure we are exposed to them helped me think right and with the right mindset. We're a young startup and we need to be pushed to use a lot of tools. All this, when paired with the mentorship program, helped us see the future more clearly and set us on a direction towards growth.
---
Listen to the podcast with Anurag Datta and Sresht Agarwal below:
---
SellerApp – Dilip Vamanan, Founder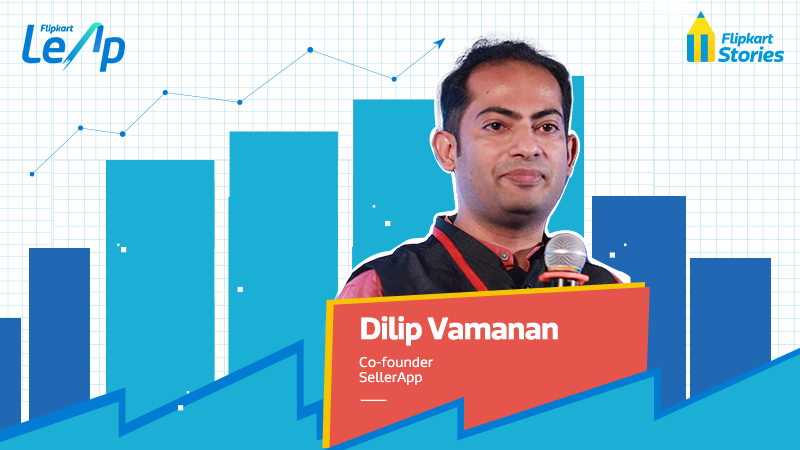 SellerApp is a seller centric intelligence platform that empowers sellers to manage, optimize, and scale their businesses. "I think market intelligence is all about giving insights into a lot of critical metrics, which are important for sellers in terms of growth and scaling up," explains Dilip. "Brands should give supreme importance to all these metrics and business monitoring. As SellerApp, are working with more than 30,000 sellers to make sure that all these data points are available at their fingertips.
The Indian ecommerce story pretty much started with Flipkart, and we all are very inspired and proud of its success. Our journey with Flipkart Leap entailed relevant training and introduced us to members of the leadership team, so we could learn from real-life examples. We had very huge in-depth discussions related to ideation, market fit, business expansion. For me, the session which was on product market fit was really eye-opening. We are looking forward to implementing these learnings and grow more with insights from Flipkart."
NeuroPixel.AI – Arvind Nair, Co-founder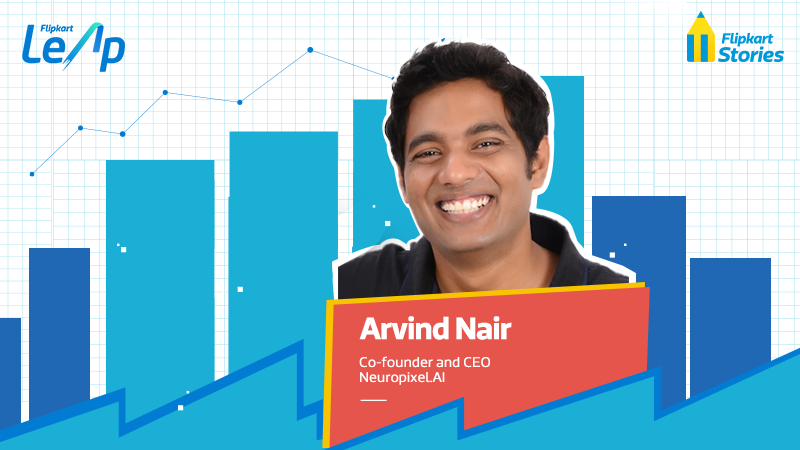 NeuroPixel.AI is a deep tech startup at the intersection of fashion e-commerce and computer vision. "We offer the consumer the opportunity to see the apparel on a model that resembles them closer in terms of skin tone and size. It could meaningfully reduce return rates and has a whole lot of other benefits like increasing conversion rates on platforms," says Arvind.
"That's the idea of NeuroPixel.AI – to automate cataloging, which makes the whole process of enabling catalog, image-based personalization, and increasing the level of diversity and inclusivity on platforms a lot more cost-effective and affordable for brands. Flipkart leap has actually been incredible to us in terms of the expertise that they provided from various mentors within their ecosystem.
Between Flipkart and Myntra, we're able to start working with the very best and biggest in India and this really sets us up well for our global ambitions. So, I think Flipkart Leap Ahead and programs like it are the reasons we exist and we're so grateful to them for taking a bet on us."
---
Listen to the podcast with Dilip Vamanan and Arvind Nair below:
---
Serving as a platform to catalyze growth and share knowledge, the journey of the Flipkart startup accelerator program is just beginning. As we welcome the new year, the second cohort of Flipkart Leap Ahead is underway, and applications for game changing startups in the digital space are open until 10 January 2023.
Entrepreneurs looking to build for India by being a part of cohort 2 of the Flipkart Leap Ahead program can click here to access all the details.
---
Also Read: Flipkart Leap Ahead is building an ecosystem of growth and disruptive innovation: Q&A with Ravi Iyer