For Flipkart, Grocery is one of the fastest growing businesses, currently serving more than 1,800 cities and 10,000 PIN code areas across India. The category has strengthened its operations over the past two years by establishing fulfillment centers nationwide to meet the growing demand. As we continue to attract consumers from non-metro cities, especially tier-2, tier-3 and smaller markets with our accessibility and affordability features, Smrithi Ravichandran, Vice President, Head of Grocery, Flipkart, shares insights into how the business is creating a positive impact for local farmers, enabling greater inclusivity, and assisting customers in their shopping journey.
The e-grocery market continues to see increased demand as consumers from tier-2 and tier-3 markets get access to high-quality produce and household items from reputed brands at great value. At Flipkart, we are committed to bringing an inclusive shopping experience to consumers all over the country, as we strengthen our selection, invest in FPOs and fresh produce, and scale up our supply chain to meet the grocery needs of the nation. In the past year, Flipkart Grocery has opened over 20 fulfillment centers and have ramped up their operations to service 1800+ PIN codes across the country.
In conversation with Flipkart Stories, Smrithi Ravichandran, Vice President & Head of Grocery, Flipkart, shares her insights on the growth of the business, the expansion of our agri supply chain, and the positive impact created for our partners in the ecosystem.
Excerpts from a Q&A:
How are we looking at fulfilling the demands of consumers and ensuring that high quality grocery products are delivered to them?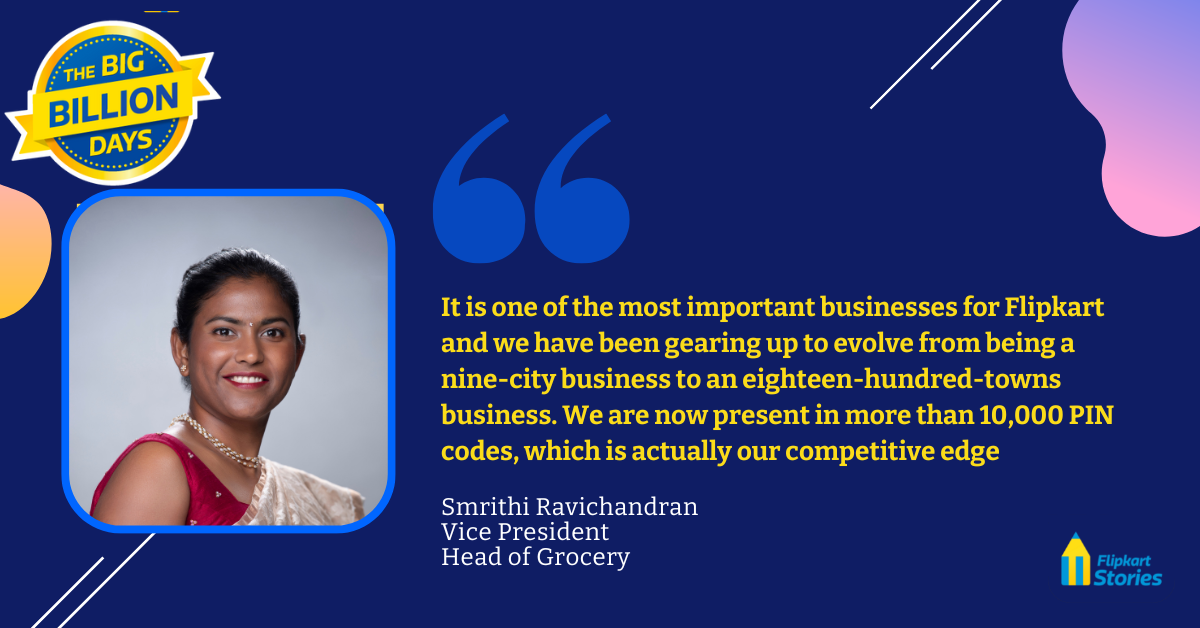 The last one and a half years have been very interesting for Flipkart Grocery. It is one of the most important businesses for Flipkart and we have been gearing up to evolve from being a nine-city business to an eighteen-hundred-towns business. We are now present in more than 10,000 PIN codes, which is actually our competitive edge.
There is so much diversity in India, and servicing 28 states is no mean task. Understanding what our customers need from their household requirements on a day-to-day basis and stocking that up, and working with local sellers and farmers to ensure that we are geared up for The Big Billion Days (TBBD) across the entire ecosystem ー it's all very exciting! We have also ramped up our number of facilities to about 23 fulfillment centers over the last one and a half years to service these 1800+ towns.
We have upgraded our features focused on user experience. Today, we have a vernacular app interface, we are offering Open Box Deliveries, and because grocery is a staple need for the customer, we also have several credit offerings.
Those are the kind of innovations that we have been able to bring to the online grocery shopping market and we are really excited to see how this will pan out during the TBBD sale.
Tell us about the growth and expansion of the fulfillment centers and how exactly Flipkart is keeping pace with the demand.
We recently opened a fulfillment center in Vijayawada, Andhra Pradesh. That center alone will be handling more than 1 lakh orders during the festive season. Over the last two to three months we have also launched fulfillment centers across the country. Our FCs in Guwahati and Coimbatore are completely women-led fulfillment centers.
So we are also enabling the communities to actually participate and generate a lot of livelihoods for Farmer Producer Organizations (FPOs). We have been partnering with FPOs to enable the growth of local farming as well as enable market access.
#FlipkartNews: @Flipkart launches its first grocery fulfillment center in Vijayawada, #AndhraPradesh

– Will help bring market access to thousands of small businesses & farmers and offer grocery services across 400 PIN codes in the state

Read more: https://t.co/VnX8FMUKPe pic.twitter.com/JYCVwMuLbF

— Flipkart Stories (@FlipkartStories) August 22, 2022
How has this brought in business and strengthened the association with the farming community?
One of the biggest priorities, when we started this business, was to actually build a very resilient and inclusive agribusiness supply chain. We have accelerated our efforts in the last year and started working with about 300 FPOs across all states in the country, because grocery is a very local business.
Getting turmeric from Meghalaya or chillies from Guntur, all of these are very essential for us to be able to do local businesses in each of those states and provide market access all over the country for these farmers from different states. And that is something we've been actively doing. We have trained and built capacity for over 10,000 farmers so far, where we're able to bridge the gap between the farmers' produce and the consumers' needs. For products like staples the end product actually needs some processing, so we work with food processors. And our sellers in turn work with these market players to create a holistic ecosystem. This actually ensures efficient delivery of produce from farm to fork.
Read more Q&As on Flipkart Stories and browse relevant news coverage in our Newsroom section