Think you are God's gift to gaming? Been waiting for that moment to prove your strategic game skills? Gear up and battle it out during the Flipkart Gaming Online Championship (FGOC)—The first ever online gaming tournament hosted by Flipkart.
The online gaming tournament from Flipkart will take place from June 3 – July 11, 2016. Participants across India can register for free. The FGOC platform will bring established and upcoming gamers across the country to a common arena. Contestants can game their way to win great goodies.
ABOUT FGOC

At FGOC, participants have to battle it out in the top four eSports games — FIFA, Counter Strike – Global Offensive (CS:GO), League of Legends (LOL) and Defense of the Ancients 2 (DotA 2).
Gamers will be provided access to play one game every week. Three out of the four games must be played with two teams of five players each. Participants who play FIFA can enrol as individual gamers.
Refer to this schedule banner for details: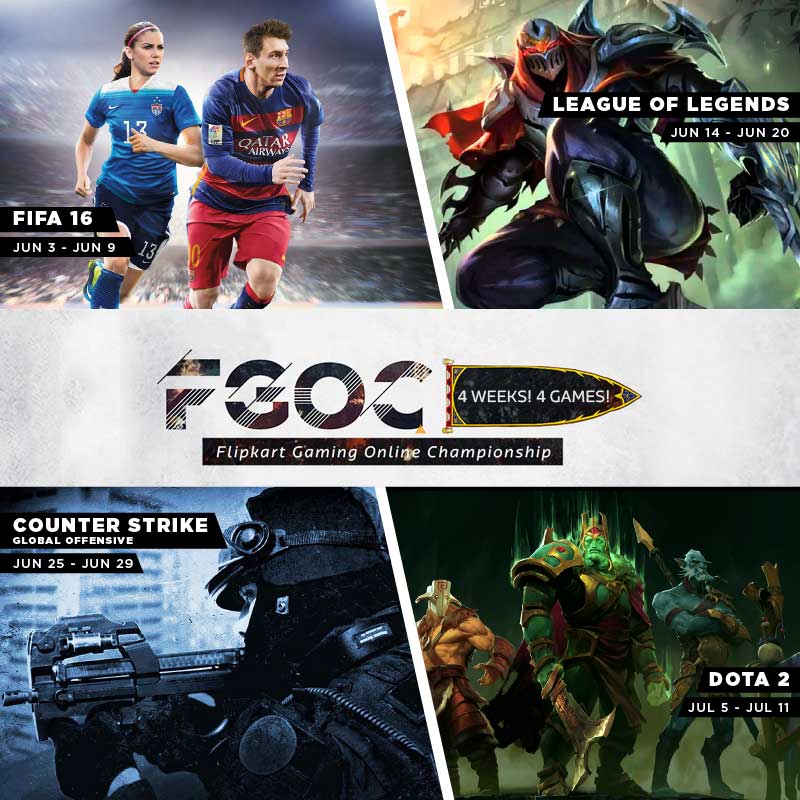 GETTING STARTED

Flipkart opened the registration gateway for the Flipkart Gaming Online Championship (FGOC) between May 31 and June 1, 2016 without an entry fee. The first 128 gamers got access to game for FIFA. There were 64 teams chosen to play LOL. The first 64 teams have enrolled for the Counter Strike battle and DotA 2 has 64 teams contesting. The first tournament bracket — for FIFA PS4 — was announced on June 2. If you are among the lucky 128 participants for FIFA, then you must have received the good news here.
THE RULES OF FLIPKART GAMING ONLINE CHAMPIONSHIP

The Flipkart Gaming Online Championship comes with a strict set of rules. Follow these instructions as a first step to prepare for your qualifier and read ahead to know what you stand to win.

FGOC rules
The tournament bracket for each game will be announced every week. Once the qualifier brackets are out, you will know who your opponents are and their PSN IDs, or the screen names they're known by online.
Before you begin playing the game, make sure all your gaming gear is in working condition. If you are competing in FIFA, ensure that the power cable of your PlayStation 4 is fully functional, and that you've charged its DualShock 4 controller using a micro-USB cable. And don't forget to power up your wi-fi for the best connectivity.
Sorted? Good! Now you can start the game by adding your opponent on PlayStation Network (PSN) — the digital media entertainment service provided by Sony Interactive Entertainment.
In FIFA, the player who scores the best of three against his opponent will be the one to go ahead. A word of caution here: Every team game of 5 players will be having 2 substitutes. A game will not progress without 5 players. If a team has 4 players and opponent has 5 players, then the team with 4 players gets automatically disqualified.
You can check out the dates for the just-announced FIFA qualifiers, quarter-finals, semi-finals and finals, and the detailed rules here.
If you've won the match, all you have to do is provide the screenshot or picture of the result and we'll do our job of updating it.
That's it for the instructions. Give the Flipkart Gaming Online Championship your best shot and qualify for the next round!
TO THE VICTOR GOES THE SPOILS

Now for the most exciting bit — the prizes! Flipkart, India's largest online marketplace, will award the winners electronic gift vouchers (EGVs) worth thousands of rupees (see details in chart). Shop to your heart's content from our ever-growing catalog of gaming titles and accessories — or just any other product you want!
Attention gamers! Here's what you stand to win at FGOC: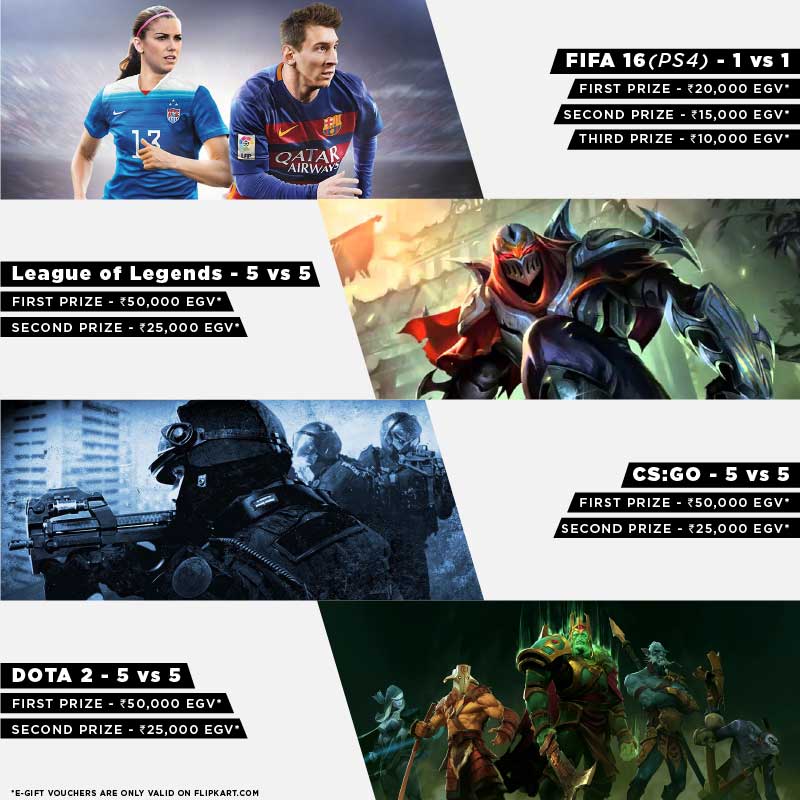 Couldn't find the tournament bracket for the upcoming League of Legends or the soon-to-follow CS:GO and DotA 2 qualifiers? Don't worry, we haven't announced them yet, but will surely do so before the game! We suggest you watch the Flipkart Gaming Facebook page for details.
Grab your gear and get battle-ready!
…