Worried about fake perfumes on Flipkart?
---
Indians love to shop for perfumes online. The pride of owning premium fragrance brands and the joy of smelling good offer a big boost to personal confidence. However, some shoppers have recently complained that online sellers are selling fake perfumes.
We analyzed customer reviews and ratings, and identified that 1 in 5 reviews had concerns of the perfume smell not lasting long, leading them to believe that the perfume they had purchased was fake. The perfumes market across the world suffers from a problem of fakes. Distributors who are not brand-authorized take advantage of this and tend to mix diluted models along with authentic ones. And the products closely resemble the original brand in packaging and trademarks.
Fake perfumes are a big concern among discerning online shoppers. To address this concern, Flipkart has started procuring straight-from-the-brand products signaled through a logo on the product image.
Read this Q&A to address your concerns regarding fake perfumes on Flipkart.
What are fake perfumes?
First, it is important to understand what is a fake perfume. Fake perfumes are counterfeits or imitations of branded original products. In terms of packaging and bottling, even in the design and lettering on the packaging, they may closely resemble the original brand with which you are familiar. In terms of aroma, too, the fragrance may resemble the original. However, it is usually of inferior quality and not as enduring or long-lasting as the original.
How can I know if a perfume is fake?
Counterfeit products are not manufactured by the brand but by imitators who wish to exploit the goodwill, mind-share and brand recall upon which the original manufacturer stakes its reputation and quality assurance. While shopping for perfumes in a supermarket or an offline retail store, your trained eye will be able to understand the difference between original and counterfeit products. In general, while shopping online, it pays to be extra vigilant since you cannot examine the bottle or the packaging.
Here's a tip sheet to help you while shopping for perfumes online:
Check the market price of the product you wish to buy and the cost at which it is available with the online seller

Check the Certified Buyer reviews. On Flipkart, such reviews are clearly identified by a dark green banner with the words 'Certified Buyer' across it. These reviews are left by validated Flipkart customers who have actually purchased the product and are therefore more reliable than other reviews

Check the buyers' ratings of the product

Check the seller's ratings and reviews
Please be assured that Flipkart has put in place all the required steps to make high quality products available to our customers at the most competitive prices.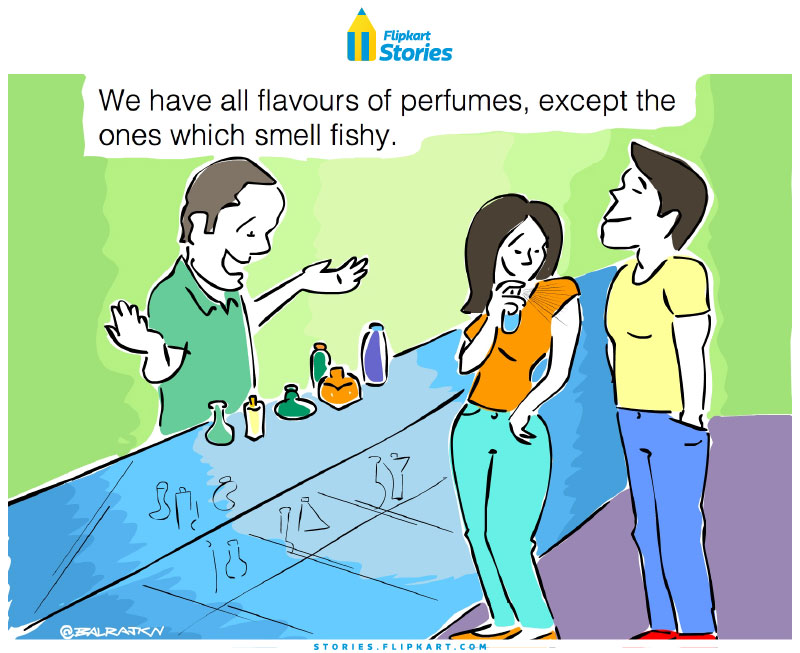 Where does Flipkart source perfumes from?
All perfumes sold on Flipkart are 100 percent original branded perfumes. Flipkart sources its perfumes via brand-authorized sellers who are custodians of the distribution of perfumes across India in both online and offline retail. Look out for the Flipkart Assured (F Assured) tags next to the perfume you are browsing on the Flipkart website or app — this tag ensures that the perfumes are from the authorized sellers. If the perfumes do not have the F assured tags and it is brought to our attention that any seller is selling fake perfumes on Flipkart, our team will log your complaint and investigate the issue. If the charges are found to be valid, strict action will be taken against the seller.
What does Flipkart Assured mean on a Flipkart product?

When it comes to perfumes, the F Assured tag means that the perfume has been sourced by Flipkart via brand-authorized sellers.
Why are perfumes sold online at a lower price than in offline retail stores?
Perfumes are sold at a lower price online as compared to offline retail because sellers avoid paying rental and staff costs in malls and stores, which may increase the retail price of the product. Sellers also get an additional margin for buying in bulk and those margins are extended to end consumers.
Is price indicative of the quality of the perfume?
Although price isn't always indicative of the quality of the perfume, if the fragrance you wish to buy is really cheap for the "brand" that it claims to be, exercise caution. It is likely too good to be true and it isn't an original branded perfume.
Do note that there may be exceptions to this rule, for instance in the case of stock clearance or end of season sales. However, on the whole, price is a good indicator of authenticity.
What can I do if I find fake perfumes being sold on Flipkart?
Timely feedback can play a vital role in making online shopping safe, reliable and satisfactory for customers such as yourself. If you find that the perfumes that you have purchased on Flipkart do not satisfy these criteria, please alert our customer support immediately by calling (toll free) 1800 208 9898 or by tweeting to @FlipkartSupport. Our team will swing into action and ensure that your concerns are addressed.
Shop for women's fragrances and men's fragrances on Flipkart
Cartoon by Balraj K N for Flipkart Stories