Employing over 2,100 people with disabilities across its supply chain, Flipkart continues to create a diverse, inclusive and equitable workplace with its eDAB initiative. On the International Day of Persons with Disabilities, and every day, their stories deserve to be seen and read. Here's what makes each of them heroes of their own stories.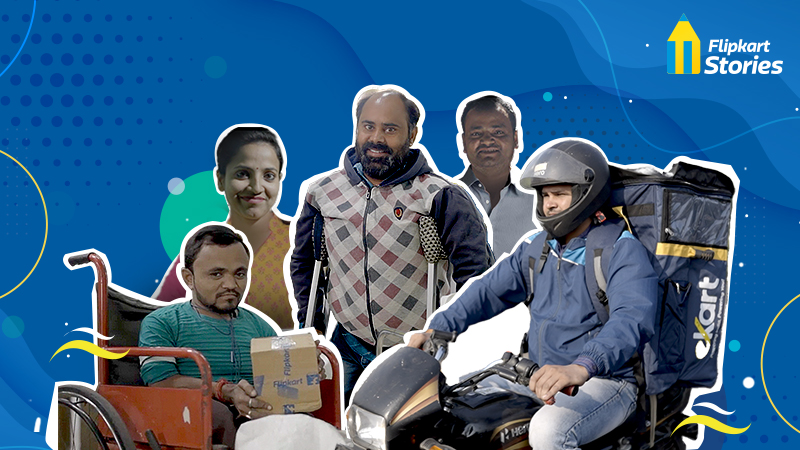 "I cannot talk and hear – maybe that's why the world cannot see me. But life is all about facing challenges," signs Ajay Singh.
---
Watch: Stories from Flipkart's eDAB hub 
---
"Even today in our society women with disabilities face a lot of challenges. Due to a wrong treatment, I was left with a defect in my leg. I still walk with a limp today. You can either believe it to be your fate or learn to fight it," says Sangeeta. "I chose to fight."
"Both my hands do not have fingers. But I have never believed myself to be disabled. I endured a lot to make a living. I used to carry stones and bricks at a construction site, and both my fingers used to get cut," says Shekar Kumar.
Seeking opportunities that would enable them to truly showcase their talents, all three of them found themselves at Flipkart's eKartians with disabilities (eDAB) delivery hub in New Delhi.
The future is inclusive and equitable
People with disabilities face numerous barriers restricting them from participating equitably and fully in society. While multiple programs and awareness drives seek to bridge the divide, social exclusion and lack of accessibility compound the trials that people with disabilities continue to face. According to the Census 2011, there are 26.8 million persons with disability in the country.
With workplace equality and diversity at the heart of its employee policies, Flipkart introduced the eDAB program in 2017 to ensure equal opportunity for people with disabilities within its supply chain roles.
In 2021, a hub run end-to-end by employees with disabilities, opened its doors in Delhi — the first in India to be run 100 per cent by people with disabilities. With an employee strength of over 50, the hub not only makes 2,000 deliveries a day, but also enjoys a 97% customer satisfaction rating.
From team leads to cashiers, delivery executives to packers and sorters, everyone in the hub is talented, capable and skilled.
"A friend told me about Flipkart, and soon I joined the company. I have never looked back since joining Flipkart. Today I believe I will be able to give all my four children a secure future," adds Shekar, a Flipkart Wishmaster and a father of four.
"I joined Flipkart after doing many small-time jobs. The happiness I felt in standing on my feet giving my first salary in my parents' hands is unmatched," says Ajay, also a Flipkart Wishmaster, recalling one of his proudest moments.
Sangeeta, who is now a team leader at the same hub, has worked at many jobs. "But at Flipkart, I have found my family," she insists.
A culture of support
By proactively encouraging and supporting diverse talent, the eDAB initiative today has over 2,100 people with disabilities strengthening Flipkart's supply chain.
Through the eDAB program, special classrooms and on-job training programs with the help of sign language interpreters nurture the employees' growth. The program also ensures sensitization sessions and empathy training for all employees as well as infrastructural modifications to make supply chain facilities accessible for all.
Special badges and flashcards designed for Wishmasters enable them to seamlessly communicate with customers.
At the eDAB hub, and across Flipkart, a culture of inclusion, continuous support and respect enables many others like Sangeeta, Ajay and Shekar to truly shine and belong. "Our struggles may be different, but we're all heroes of our own stories," says Sangeeta.
---
Also read: Voices of Inclusion: Stories from a progressive workplace