On a foggy November morning, volunteers from Flipkart headed to a government school in the Bengaluru suburbs. Their main aim? To spend a day with the students and help make the school campus, often vandalized and misused, conducive to learning. This effort, conducted in partnership with the NGO Nirmaan, is one of many initiatives of the Flipkart Cares CSR program.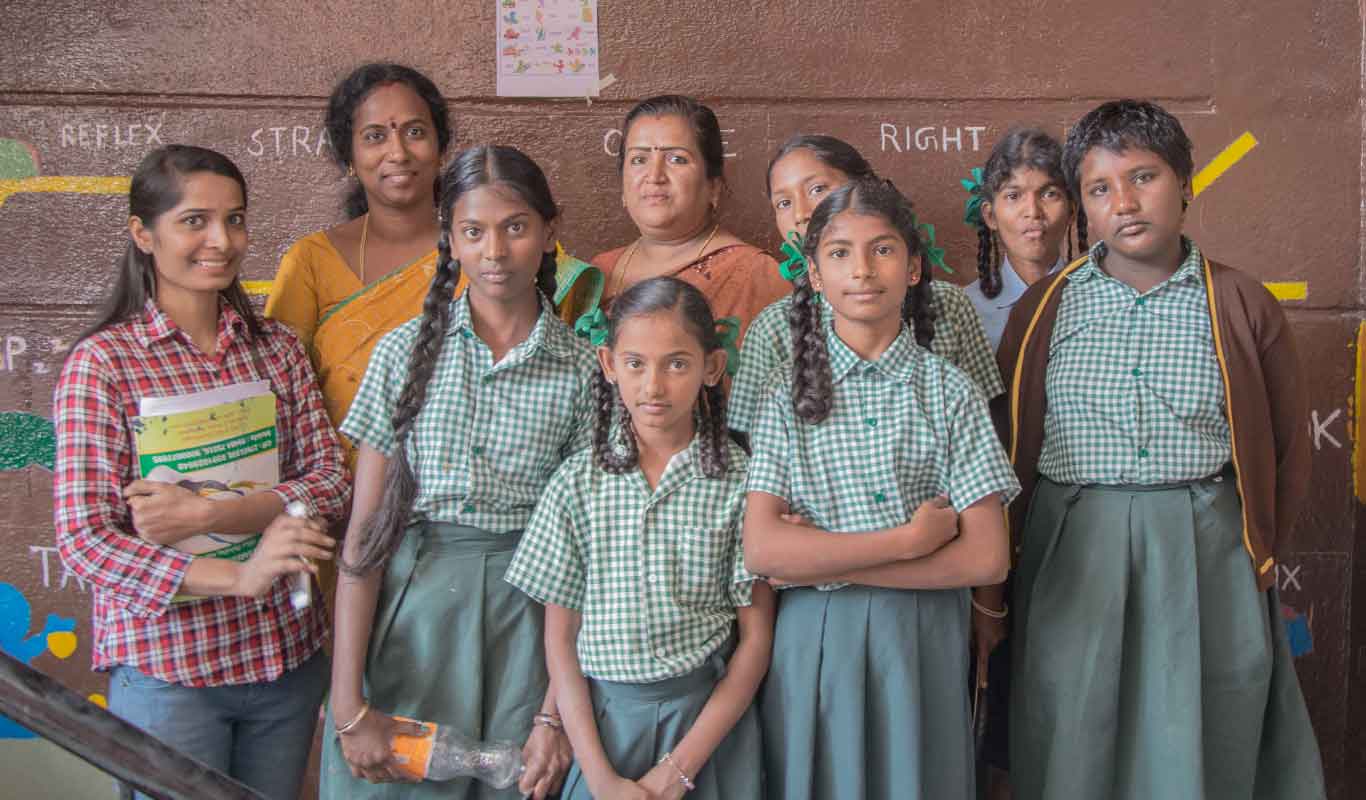 On November 16, 2017, Flipsters made their way to a vandalized school in a Bengaluru suburb to spend a day with the kids and help recreate a secure space for them with a fun school painting exercise. 
---
Vijanapura Government Kannada School, in a crowded locality off Bengaluru's Outer Ring Road, is a second home to over 200 students. Despite a tough fight from school staffers, the school had been long subjected to severe vandalism. Come dusk, it would become a local adda for miscreants looking for a private corner to drink and smoke.
The NGO Nirmaan had already taken measures to help secure the school premises, clean up the campus and paint the building, but more needed to be done to make the school a safer place for children and one that inspired learning. That's where Flipkart stepped in.
On a foggy November morning, volunteers from Flipkart headed to the school. Their aim? To spend a day with the students and help make the school environment conducive to learning, as part of the many initiatives of Flipkart Cares.  
Painting a wall is no big task, but the result also needed to be inspiring and educative for the children. So Nirmaan came up with an approach called "Building as a Learning Aid" or BALA. The idea was to paint the walls with learning material so that the children's minds would be imprinted with educative and fun visuals every day. The school painting initiative also served to act as a loud and clear message to miscreants — this is a school; stay out of the children's space.
---
Here's a sneak preview
[playbuzz-item item="ceacd3c2-23d2-4935-9330-d75d2812297c" format="story"]
---
When the kids are around, the school's atmosphere is lively and their smiles are enough to melt hearts. And the students are determined, their willingness to study apparent, and their innocence overwhelming.
It's time to begin, and the designers take to the school painting task first, giving the rest of the Flipsters something to work with. For the designers, who usually sit in front of their MacBooks, it's back to basics.
---
"It is great to relive childhood days. This is like taking a journey back in time," says Romeio John Paul. "Design is something that comes out of your heart and the purpose of today's school painting activity is important. When you are in the office, you are working on a system where the environment is clean and quiet. Here, you are actually getting down and dirty, like what we are doing today; it is a great feeling," he adds.
---
Speaking of how important the day's school painting activities are, Ramya Menon shares her views: "The paintings on the wall are materials children can use to learn. This is a learning aid. The children may not be able to afford books on every subject, so the idea is to give them visual aids and come up with as many as possible."
"Painting the stairs with numbers and drawing pictures of action verbs and angles will help children relate to subjects," she adds.
"It is painful to see children suffering and not being able to have their basic needs. Most of us cross such schools on a regular basis, be it on the way to work, back home, and in numerous situations," adds Ramya. "But we don't actually give a thought to difficulties faced by students in such schools."
---
Lissie George, another Flipster keen to participate in the school painting initiative, has managed to convince other colleagues too to be a part of the program. "I think gratitude in life is often taken for granted," she says. "Happiness is something that all of us need in our lives and looking at the children here, all that that I want is to give them happiness in some form, even with the paintings."
"What we learn from visuals stays with us for a longer period and I think the children here deserve this," Lissie adds.
---
"What we are doing will surely put an end to miscreants misusing the school premises. They now know that there are concerned people the school can rely on," says Sameer Hassan.
---
And to truly quantify how much of a difference something as simple as painting a wall makes, Swati Poliki from Nirmaan is the go-to person. Swati has been working closely with this particular school for a while now and she has seen to the much-needed changes.
"We support government schools in various ways and when we heard about this particular school, we jumped into action and came up something called BALA," says Swati.
"The school was used by miscreants to drink and smoke once it's dark. We wanted to make the school child-friendly and that's what the drawings have helped us achieve. Flipsters have helped us achieve something that we could not have without them. This is the first activity at this school and it has proven to be a success already," she adds.
Have a look all that unfolded at the fun-filled event on November 16.
---
---
---
---
---
---
---
---
---
ALSO READ