Open your Flipkart app and donate to support Kerala flood relief
---
The flood situation in Kerala has reached alarming proportions. According to official sources, over 160 people have lost their lives and thousands rendered homeless as incessant rainfall, the highest in a hundred years, wreaks havoc on the southern state. With rivers in spate, bridges washed away, airport runways waterlogged, and railways and road networks crippled, the relief challenge is a daunting one. Over 2 lakh people are living in 1,500 relief camps across the state. Even as NDRF and volunteer relief teams battle rising waters and the threat of landslides to rescue and rehabilitate the affected people, they need all the support they can get, not only for immediate flood relief but for rebuilding and rehabilitation efforts.
Let's join hands to support God's Own Country
Your contribution can go a long way in rebuilding the lives of flood-affected people in Kerala. Flipkart has enabled you to make your donation through our partner NGO, Goonj.
Goonj has been working to rush relief material to the affected areas. Your contribution will help Goonj in arranging for transport, logistic support and procuring essential supplies for victims of the flood. Your donation to Goonj will be used to procure materials such as blankets and woollens, tarpaulins/ old flex and ropes, mosquito nets, dry ration (rice, pulses, spices, rava, tea, sugar), toiletries, cooking utensils, cookers, buckets and mugs, water purifier tablets, candles and matchboxes, solar lights, kids' clothing, sarees, blouses, petticoat, lungis, bedsheets and curtains, new undergarments, slippers, toys and school material.
Kerala Flood Relief – Here's how you can contribute on Flipkart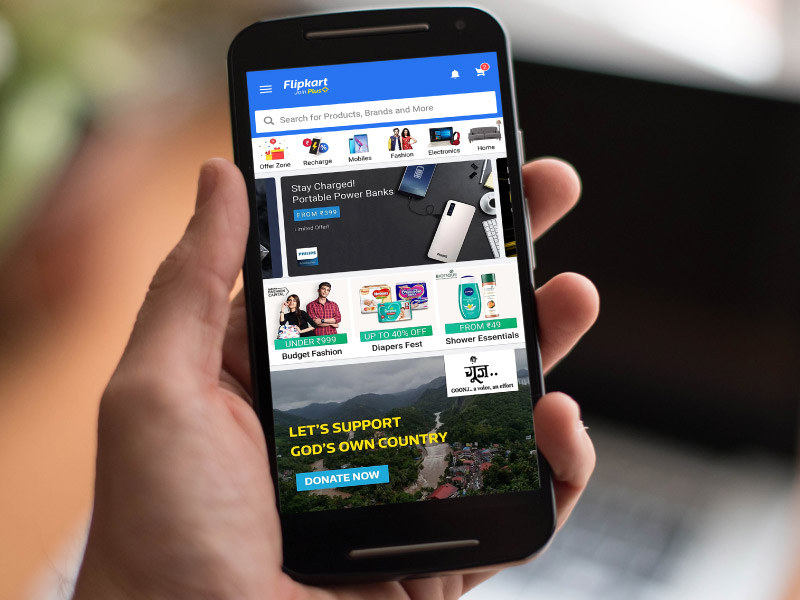 Open the Flipkart app and log in
On the Flipkart app home page, click on this banner
You will be taken to a page where you can make a donation to Goonj
All donations are eligible for 50% tax exemption under section 80G
Goonj will send you a tax exemption certificate directly in a few weeks
Kerala needs our help. Let's come together as one India and make a difference.
---
Read about other Flipkart Cares initiatives