Cardless Credit? Who would have even thought that's even possible? Read on to find out more about how Flipkart Cardless Credit makes your shopping more affordable.
---
Have you been putting off buying that new double-door refrigerator for mom because you're still waiting on your next month's salary? Do you need that new laptop for work but don't want to borrow money from friends again? You need not worry about the price tags or budgets any more!
Here's how Flipkart Cardless Credit works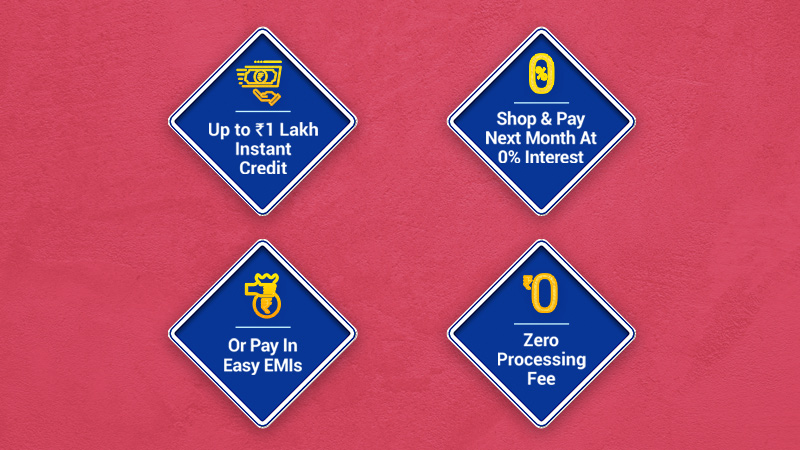 With Flipkart Cardless Credit, you can avail easy credit up to ₹1 Lakh to shop for anything that has caught your eye or you really need. Simply choose this as a payment option when you proceed to checkout and don't worry about making a down payment either! When it comes to payment, you can simply choose to pay the amount next month at zero interest, pay 3 months EMI at zero interest or pay in Easy EMIs upto 12 months. Apart from the credit, the simple digital KYC process, easy EMI options and zero processing fee will ensure that your shopping is even more affordable.
Cardless Credit offers credit to Indians with limited or no access to it
If you've kept your distance from applying for a credit card or a personal loan because it is cumbersome, time-consuming, expensive and quite honestly, because you're not quite sure whether you qualify, Flipkart Cardless Credit is just what you need. With Flipkart Cardless Credit, you can shop confidently.
How to apply for Cardless Credit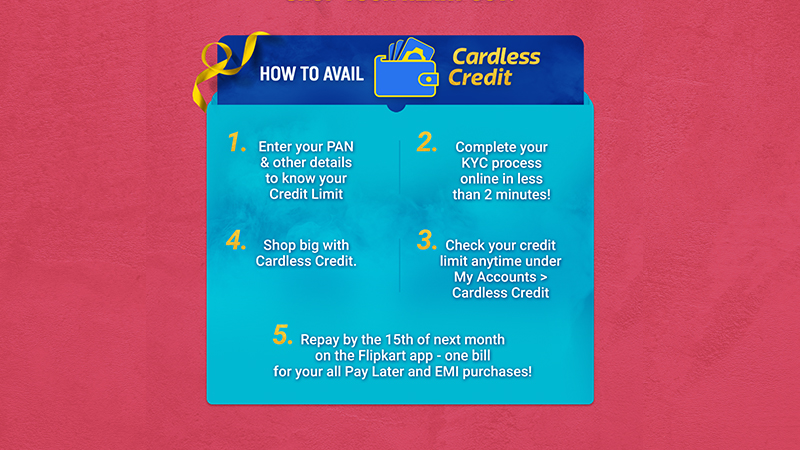 All you have to do is follow these easy steps:
Enter your PAN and other details
Check your Credit Limit
Complete your simple and quick digital KYC process
Shop on Flipkart using the Cardless Credit payment option
Repay by the 15th of next month on the Flipkart app
You can also check your Credit Limit anytime by going to My Accounts > Cardless Credit on the Flipkart app.
This innovative solution offers a smart, stress-free way to shop for Flipkart customers who don't have access to credit or aren't applying for credit. Now, armed with Cardless Credit, you can shop for everything you want or need without any niggling worries of budget.
Click here to get started now!
---
Also read: Affordable Shopping For All: What You Need To Know About The Flipkart Axis Bank Credit Card