Are you unsure about how to shop online? Walk into a Flipkart-authorized 'BuyZone' in your neighborhood and get a helping hand. Friendly representatives at more than 10,000 general stores in over 700 Tier II and Tier III cities in 20 states in India will hold your hand through the entire shopping process and ensure that you don't make any mistakes while ordering on Flipkart. Our assisted shopping initiative aims to help first-time online shoppers get comfortable with shopping on Flipkart. So go ahead and make the most of all the great offers and selection on Flipkart this festive season. If you have friends or loved ones in small towns in India, tell them about Flipkart's Authorized BuyZones!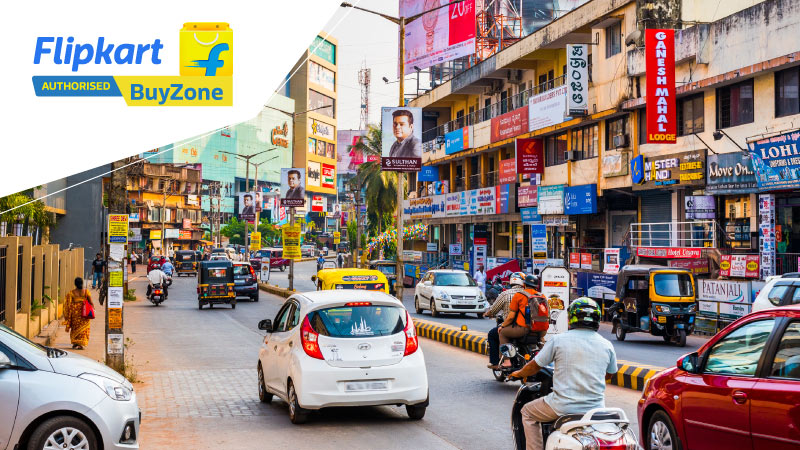 If you, or your friends and loved ones in smaller cities in India, are unsure about how to shop online, help is here. Flipkart's Authorized BuyZones will make your shopping smooth and convenient during the festive season. Visit a Flipkart Authorized BuyZone in your vicinity and get assistance to shop on Flipkart.
Millions of first-time online shoppers across India can now shop online with confidence. Over 10,000 general trade stores in over 700 Tier II and Tier III cities in 20 states in India are designated as Flipkart BuyZones. Representatives at these general trade stores have been specially trained to help you shop on Flipkart for your favourite smartphone, home appliances or electronics. Read on to know more about how to make your shopping easy and quick at BuyZones.
What are Flipkart Authorized BuyZones and how do they work?
Flipkart has tied up with thousands of general trade stories in India as part of its assisted shopping initiative. These registered general stores, known as BuyZones, will help first-time shoppers get used to the wonders of e-commerce and online shopping. Want to place a new order? Or track an existing delivery? You've come to the right place if you're at a BuyZone. 
How to get started:.
Visit a general store registered under Flipkart's Authorized

BuyZones

program and request assistance.

Currently, Flipkart's

BuyZones

comprise around 10,000 general stores spread across nearly 700 cities in 20 states in India, so you can visit one closest to you and shop for electronics, mobile phones and large appliances without any apprehension. If you have friends, relatives or loved ones in smaller cities in India, tell them about Flipkart Authorised BuyZones.

Ask your question — this could include help with creating a Flipkart account, identifying the best product as per your budget, or understanding different modes of payment.

Receive the delivery of your product through Flipkart's BuyZones.
Support available at BuyZones near you
Every family has that one tech expert who knows the ins and outs of gadgets and apps. Think of BuyZones as that expert in your family whom you can trust for advice. BuyZones offer solutions and answers for your questions on online shopping. 
Here's what you can expect assistance with at Flipkart's BuyZones.
Get help with creating a Flipkart account:

If you are new to shopping on Flipkart, creating an account is the first step to discovering thousands of products as well as the best deals. To simplify this process for you, experts at BuyZones will help you with creating your account.
Get help with using the Flipkart app:

The Flipkart app is designed to be user-friendly, but if you haven't used it before you may not know where to start. Fortunately, you can learn the basics at a BuyZone near you. Learn how to spot discounts, compare products and shop on the go in minutes!
Say goodbye to language barriers:

From product reviews to exchange policies, trained staff at BuyZones help you understand the fine print. This helps you  make a purchase decision after evaluating all the information.
Obtain assistance to make transactions:

To make digital transactions pleasant and stress-free, trained staff at

BuyZones

help you understand the process. They prompt you on the details you need to enter to complete shopping for your smartphone or large appliances, such as an OTP. Moreover, the trained personnel also tell you what to do in case your transaction does not go through for any reason.

Evaluate reviews and identify the right product:

The trained staff at BuyZones help you make an informed decision based on product ratings and reviews. Moreover, you can request assistance with finding the best product for your budget, be it a washing machine or an inverter AC. 
No more  security concerns:

Financial safety can be a major worry for you if you haven't shopped online, and you can find answers to all your questions at a BuyZone. The staff will help you understand the layers of security that protect each stage of a digital transaction to put you at ease.
Check the status of your order:

After placing an order or returning a product, you can get updates on the status of your purchase from

BuyZones

near you. You can also get details about the delivery process and what role the general store plays in ensuring that the product reaches you on time.
This is one of Flipkart's many initiatives to help more shoppers within India enjoy a seamless online shopping experience. Flipkart has also improved its logistics network in Tier-II and Tier-III cities by adding around 27,000 kirana stores to its last-mile delivery network. Similarly, through The Reach Project rolled out earlier this year, Flipkart has seen a 40% increase in serviceable PIN codes within the country.
With shopping on Flipkart made as easy as can be, this Big Billion Days, shop for the full range of mobile phones, select large appliances and consumer electronic products. Spruce up every aspect of your life by simply stepping into one of the many BuyZones near you.
---
Also read: Upgrades, makeovers or even tutorials – make inspired shopping decisions with Flipkart Ideas