Athleisure is where performance meets style — and no one straddles the two better than the stylish and immensely talented KL Rahul. 1DER by PUMA emerges from the power of partnership and with the IPL captain, Flipkart and PUMA are on a mission to meet the fashion needs of India's next-gen. 1DER is for the dreamers, specially curated for millennials pursuing fitter lifestyles. Here's why you don't want to miss out on this special launch during The Big Billion Days 2021.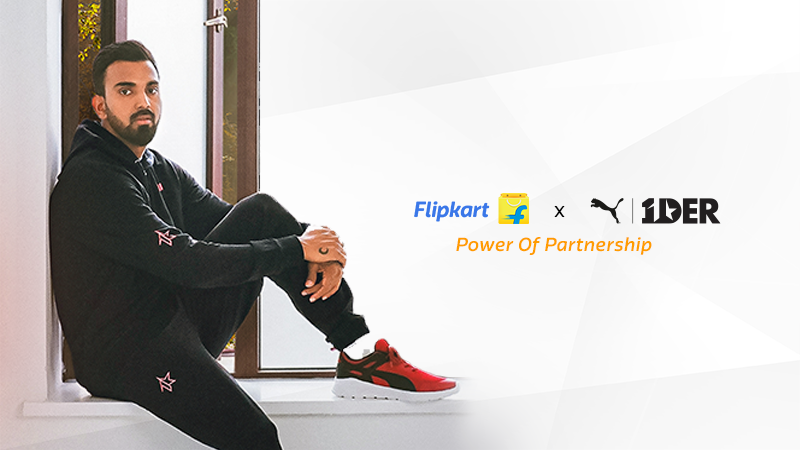 For a man who radiates elegance and style both on the pitch and off it, 1DER by PUMA is simply an extension of his personality. The athleisure collection, comprising hoodies, sneakers, sweatpants, flip-flops, and so much more, captures KL Rahul 's love for all things fashionable and street. He is, in the words of the legendary Sunil Gavaskar, "the next big thing in Indian cricket," and thanks to the power of partnership, you can be part of his world during The Big Billion Days 2021.
A nod to Flipkart and PUMA's commitment to democratizing fashion for all, affordable yet chic fashion is the name of the game here, and that's why KL Rahul fans have plenty to cheer about this TBBD. Here's all you need to know about the exciting new athleisure line – 1DER.
1Der by PUMA is for those who dream big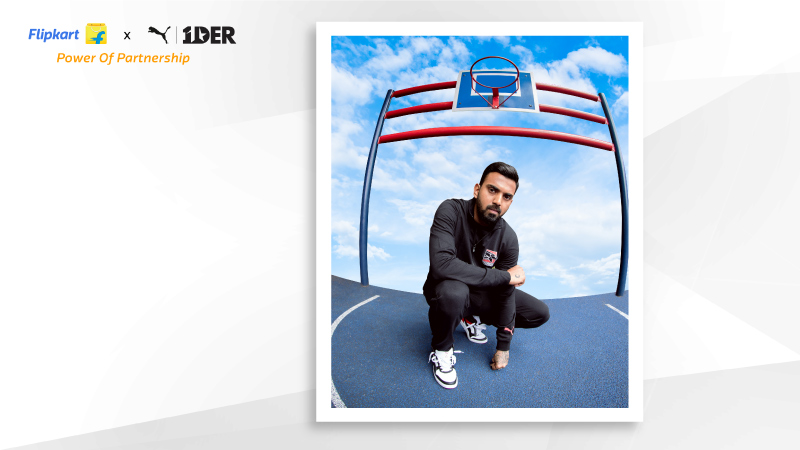 With the launch of 1DER, there's seemingly one less item on KL Rahul's bucket list. That's the power of partnership, and what happens when Flipkart and PUMA collaborate! "I always wanted to do something like this, and it's always been a dream of mine," says KL Rahul. "So when PUMA and Flipkart approached me to launch my own collection, I was thrilled! Then I sat down and wondered what it would be like. That's how 1DER came into existence."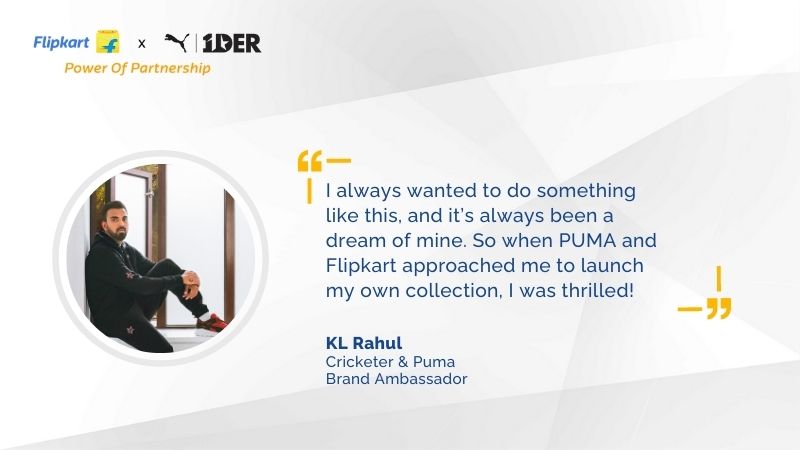 Make no mistake, 1DER is for those who wonder, and dream big! The athleisure line's logo features the number 1 wedded to a star, both symbols of immense significance for KL Rahul. "When brainstorming about the collection, the first thing that came to my mind is the jersey I wear," says the current Punjab Kings captain. "My jersey sports number 1—it's what I try to be as a cricketer and a person, and the '1' in 1DER comes from that." 
The first Indian to score a century on his ODI debut, KL Rahul would like his fans to believe that despite all odds, the sky's the limit! "The stars and the night skies are things I think about all the time. I have a lot of celestial tattoos on my body. They are reminders to achieve more, dream bigger, place no restrictions, and aim for the stars. My logo had to have these elements—they're things I strongly believe in."
A streetwear collection that sets you a class apart
KL Rahul is known to be different, be it amongst India's next-gen batsmen or in his fashion choices. While many athletes would identify themselves with performance clothing, this batsman sided with streetwear. 
"I am not the typical athlete," confides KL Rahul. "I love streetwear; it breaks all the stereotypical boundaries of fashion and makes you comfortable and stylish at the same time. You can be laid back yet make a statement with what you are wearing. That's how you will see me dressed off the pitch and that's why this collection draws a lot of inspiration from streetwear."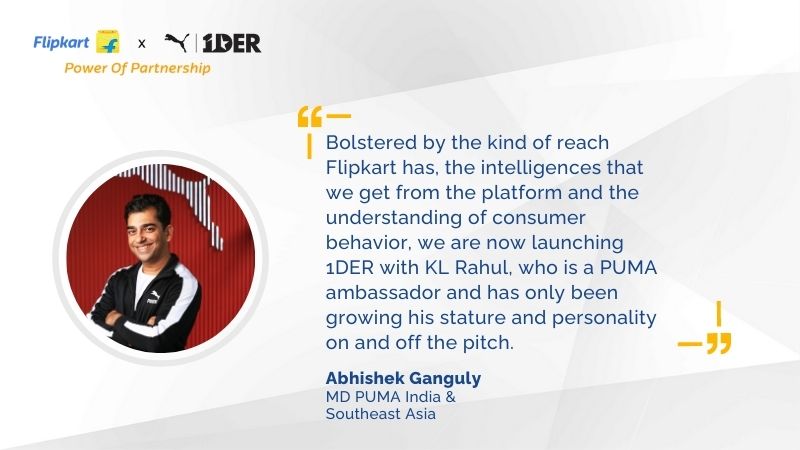 1DER by PUMA includes a wide array of apparel and footwear for men, priced in the range of ₹1,499 to ₹4,999. "We curated this range, a complete interpretation of his personality, which is cool and chill," reveals Abhishek Ganguly, MD PUMA India & Southeast Asia. "Rahul really gets inspired by streetwear, and so we designed 1DER to be quirky and fun. It's targeted towards a young audience and sports a very, very fresh approach with a lot of graphic play and tongue-in-cheek design."
The best of KL Rahul for every passionate fan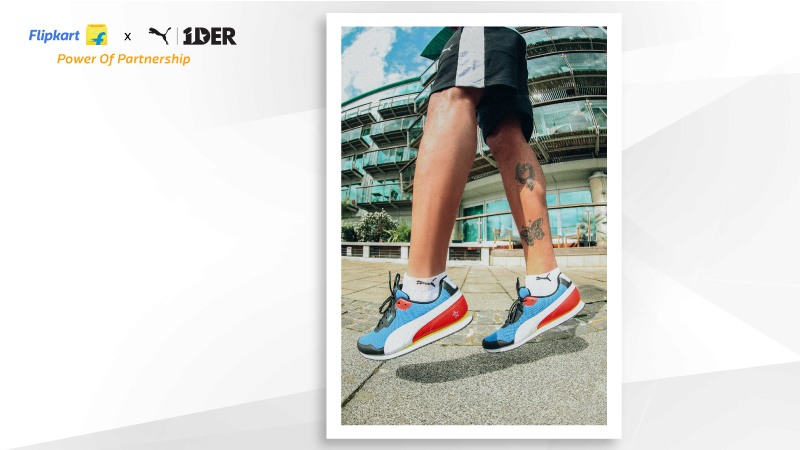 The launch of 1DER marks the 10-year partnership between Flipkart and PUMA. Both brands have leveraged the power of partnership to meet evolving fashion needs across the country. With consumers seeking more active lifestyles, the athleisure category is picking up plenty of steam and 1DER is specially designed for young working professionals and college students, who seek trendy yet affordable branded clothing. 
"It's been a phenomenal journey for PUMA on Flipkart," says Abhishek Ganguly. "I think the two entities have come together and helped grow fashion in India. Bolstered by the kind of reach Flipkart has, the intelligences that we get from the platform and the understanding of consumer behavior, we are now launching 1DER with KL Rahul, who is a PUMA ambassador and has only been growing his stature and personality on and off the pitch." 
"Over time, TBBD has become the biggest fashion event in the country. Initially we used to consider it as a sales opportunity; however, now it's a celebration of fashion in my opinion," Abhishek continues. "The power of partnership between PUMA and Flipkart is what I would like to call out: it has synergy and collaboration, future-centric and growth-oriented mindsets, and a productive culture of hustle."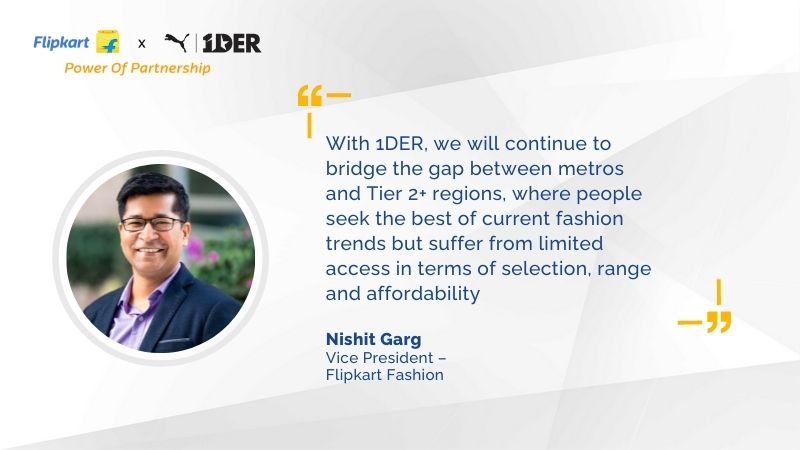 "With 1DER, we will continue to bridge the gap between metros and Tier 2+ regions, where people seek the best of current fashion trends but suffer from limited access in terms of selection, range and affordability," reveals Nishit Garg, Vice President – Flipkart Fashion. "PUMA has been a great partner, and who better than them to partner with on something like this: they with their brand pool and Flipkart with its distribution — it all came together very, very well," he says. 
1DER by PUMA is set for a big bang launch during The Big Billion Days 2021. To all KL Rahul fans and those who like their style with a dollop of comfort: Now's the best time to add to your wishlist, shop affordably, and get behind your captain!