As we celebrate 15 years of Flipkart - 15 years of innovating for India - we've crafted a fun contest for you! Do you have a favorite Flipkart purchase that's been by your side for years? Tell us about it and stand a chance to win Flipkart EGVs worth INR 500! Read on to know more.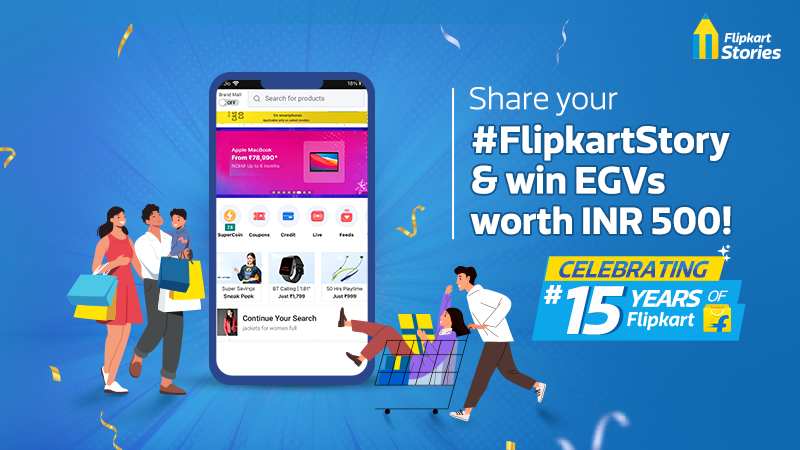 The year is 2007.
J. K. Rowling has just released Harry Potter and the Deathly Hallows.
The Transformers film has taken the Box Office by storm.
India has just beat Pakistan in a heart-stopping match to bring home the T20 World Cup.
And from a small house in Bengaluru, Flipkart has just shipped its first-ever book to a customer.
Fast forward 15 years, Flipkart today is India's beloved e-commerce platform, enabling access, value and convenience for millions of customers across the country. As we celebrate 15 years of innovating for India, we invite you to share stories about your Flipkart purchases and the value it has added, however big or small, to your daily life. Do you have a Flipkart purchase that you hold dear? Has it been by your side, making life just a little easier? Then do tell!
Here's an example: "In 2015, I bought a headset from Flipkart. It was one of my many purchases from Flipkart and it's been by my side ever since. When I am traveling, working out or even just enjoying some me-time, I always have my headset on. It's like an old friend that you can always fall back on."
Share your unique story and stand a chance to win an EGV worth INR 500!
Here are the steps to follow:
Head to Flipkart Stories' Facebook, Twitter or Instagram pages.
Submit your entries in audio, video or written format (along with an image of the product) to any of our aforementioned handles' inboxes.
Read the Terms and Conditions below to stay informed about the details of the contest.
Top 4 entries stand a chance to win EGVs worth INR 500 each!
All the best!
Read our Terms & Conditions below: