Just five years from inception, Flipkart fashion ventured into private brands that have, in a short time, gone on to become bestsellers on the platform. What makes these brands tick? An enviable stash of data that decodes just what today's Indian shopper seeks and a capable in-house team at its stylish Bangalore headquarters that has one single goal — to marry this data with creative expertise.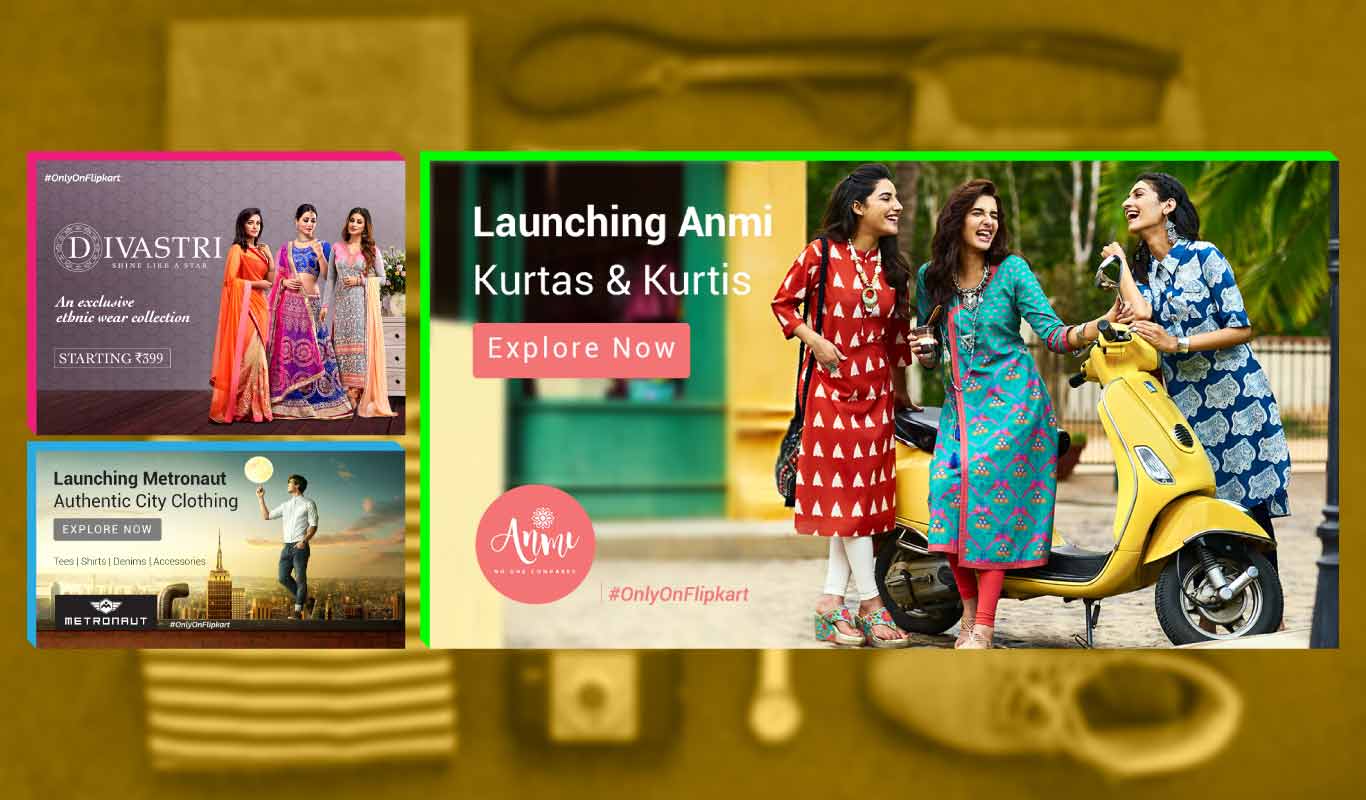 What makes Flipkart's fashion private brands a runaway success? Data and details. Lots of details. 
---
When you walk into the offices of the Fashion team at Flipkart, off a busy Bengaluru junction, the first thing you notice is just how stylish the workplace and its people are. It makes sense, seeing as this is the headquarters of a platform that a majority of Indians flock to and trust while shopping for fashion. Yet, the sight of employees walking in and out of the lively reception area clad in the latest cuts and styles takes you a little by surprise. But one thing is certain: These folks, obviously, know their fashion.
---
It's no surprise then that in the five years since its launch, Flipkart Fashion has rapidly grown to command 35% of the market share in the category in ecommerce, the largest among all players at present. From 0-35 in five short years — a commendable feat by any standard.
There are plenty of reasons Flipkart Fashion has come this far, this quickly. Its balancing formula of products across price bands (budget, high street to luxury) and its unbranded portfolio through its marketplace has catapulted it to a dominant position in e-commerce fashion.
This trust from consumers and sellers has helped the brand grow in more ways than one. This year, Flipkart took another big step, announcing its own fashion private brands. In 2017 alone, three private brands were launched across different fashion categories: Metronaut, for casualwear, accessories and footwear; Divastri for unstitched women's ethnic wear; and Anmi, Indian contemporary wear for women.
Those in the know say that private brands was an obvious move for Flipkart Fashion, because, picture this — over the years, Flipkart has accumulated petabytes of enviable data. The information collected by Flipkart Fashion is exhaustive — the data goes as deep as 'what is the data of a person wearing a mandarin collar', 'what color works in which demography,' what fabrics move the fastest off the shelves, and what fabrics see the most return requests.
This quality of data in today's ever-changing digital economy is a goldmine — it offers deep insight into customer tastes and preferences, giving Flipkart strong competitive leverage to create products to suit these preferences.
---
"We understand what goes into making a seller product — what prices, what prints, what colors…  we have the advantage of knowing that very quickly and picking up on that trend," says Rishi Vasudev, VP – Flipkart Fashion.  
And there's another important facet to the data that Flipkart's fashion private brands works with — not only does it help in creating the product, it also helps pick and choose the exact audience for whom it's meant.
Why Private brands?
How often have you had to forgo an exquisitely crafted pair of quality trousers because they cost just too much? And how often have you had to settle for a pair that's not high on comfort or fit but fell right within your budget?
The Flipkart Fashion private brands were launched keeping in mind several gaps in the market, especially those between price, style and quality.
A number of sellers across e-tailers offer unbranded budget wear, and that is a big appeal for many. But what most unbranded garments often lack, or don't have access to, is quality.
Now, imagine stylish clothing that is affordable, that has passed rigorous quality tests and, much like branded and designer brands, sees a fresh collection every season. That's where the expertise of Flipkart's fashion private brands comes in.
---
"We follow a well-researched design approach. Our fits, silhouettes and colors are based on consumer preferences drawn on sales insights. Most of the designs are made by our in-house design team keeping consumers tastes in mind and quite a few experimental styles are also added," says Lisa Mohapatra, Associate Director – Flipkart Fashion.  
She's seated in the cozy fashion studio at a quiet corner of the busy office floor. Cut away from the noise and surrounded by sketches and samples of their latest designs, this is where the design team meets, over endless cups of coffee, to answer two key questions: What is trending right now for Indian shoppers and what are the international trend forecasts yet to reach Indian shores. 
---
"Our design process is a juxtaposition of extensive trend research and data analysis, design is always a combination of emotions and knowledge," explains Devesh Pant, Design Head – Flipkart Fashion. "Data analysis is pivotal to cater to such a wide customer base," he adds.
Often, designers travel to various international markets to scout for trends that are making waves globally and bring them over to the fashion-forward Indian shopper.      
"These brands are meant to fill a key gap in the Indian market right now, giving consumers  access to the latest designs at affordable price points without compromise on quality," says Rishi.
Each of the Flipkart Fashion private brands — Divastri, Metronaut and Anmi — addresses a niche segment.
Divastri: What you see is what you wear
Women's fashion is one of the fastest-moving categories on Flipkart, making it an obvious choice to begin the fashion private brands journey with. But here's what stands out about Divastri — it is a women's ethnic fashion line, yes, but also one of the very few branded unstitched lines in the market.
Sarees and dress materials abound in the unorganized sector. And for anyone looking to buy these two kinds of apparel on a budget, quality is often a hurdle. Having brought sellers onto the platform from across the country, Flipkart became the biggest retailer of sarees in India. However, it soon realized that customers were faced with the same problem of quality.
Divastri was launched in June of this year after an intensive study found that even though this category is in high demand, it is one of the few where quality is rarely quantified. 
---
"More than 85% of the online market is synthetic but many online players claim the fabric to be pure and natural. However, even in synthetic fabric, quality can vary. The team did a lot of research to identify the technical specifications for each synthetic fabric. These specifications helped in ensuring quality in terms of no color loss, length and width guarantee, no shrinkage and better physical appearance," says Shivaprasad E, Associate Director, Women's Clothing.
A clever play on the words Diva and Stri (woman in most Indian languages), the designs are inspired by fashion icons and celebrities. And the line is committed to standing by its singular claim — what you see is what you get.  
Metronaut: Global trends with Indian sensibilities
Launched in early 2017, Metronaut caters to the aspirational and fashion-conscious shopper. It's a meld of unpretentious yet smart fashion and currently features over 300 styles in men's clothing and accessories.
Men's apparel has been one of the largest and fastest growing categories in the online lifestyle space in India. Male shoppers, as studies have shown, tend to seek and shop for brand names. But here's what was missing — often these brand-conscious men had little or no choice when it came to branded clothing that also fit their budget. Metronaut, which zeroed in on this aspect, was the fruit of the Flipkart Fashion team working backwards from these findings.
"Metronaut combines the latest global trends in men's fashion with the unique Indian online fashion customer's sensibilities," says Lisa.     
Taking a customized-for-India approach further, scores of wearer trials helped create standard fits suited to the Indian body type.
And it worked. Today, Metronaut retails as one of the top 10 brands on Flipkart for men's clothing and accessories.
"We have just introduced Metronaut Basics and are now launching new categories like winter wear," adds Lisa.
Anmi: Data-driven everyday fashion
A majority of young Indian women still favor kurtas or kurtis for easy, smart everyday wear — these two staples alone make up a ₹25,000 crore market in india. However, most of this business comes from the unbranded/unorganized sector with the branded share pegged at less than quarter of that, around ₹5,000 crore.   
For most women looking to buy quality kurtis the brands are their only choice but often too expensive. Several customer studies by the Flipkart team found that, to navigate this issue, many women shoppers were 'shopping' just the designs of these kurtis online, taking them to their local tailor to get stitched.
"For Anmi, we concentrated more on cottons. And the prints that we've used, such as ikat and indigo, have so far not been available at price points that we have offered to customers in cotton," explains Shivaprasad.  
Anmi takes pride in the fact that it is a completely data-designed brand. "We selected everyday women as models for Anmi. We have 4 reference models for each size (S, M, L, XL, XXL). Extensive trials were done on them to come up with our fit specification," Shivaprasad adds.  
The recent festive season has been a telling time for Flipkart Fashion — not only did business for the entire Flipkart Fashion double as compared to the same season last year, it was also the first time that the fashion private brands were retailing at the big sales. And they didn't disappoint — Anmi, for example, ended up as one of the top 10 brands selling in the ethnic space just 20 days into its launch.  
What makes Flipkart Fashion private brands a runaway success?
The range of rich customer insight translates to a significant advantage for Flipkart's fashion private brands to create products that incorporate the minute but important details — what prices Indian shoppers are looking for, what value they seek in that price range and what trends they desire. But it's also not all data. The inhouse team that boasts of all capabilities, including designers, have one single goal: to marry this data intel with creative expertise.  
And quality is key. All of Flipkart's private brand products are quality certified in India by a global body, ensuring that they meet quality specifications the world over.
"We have crafted these brands with a lot of intelligence; it's not guess work. And we also have a great inhouse team," says Rishi. "At the end of the day fashion needs to have character. You are not selling someone just a kurti, you are catering to their sense of style and their aspiration to look good."
---
ALSO READ
How Divastri is weaving the future of ethnic wear
---
Visit on Flipkart: Divastri | Metronaut | Anmi