When Bhavin Ustadiya weaved together embroidery and e-commerce, he gave a new spin to a family business started by his father. Soon, Fabcartz was born. When his younger brother Yogesh also joined the business, the small venture created a niche of its own, specializing in traditional fashion for women. Today, Fabcartz is home to a large family of employees keen on adopting digital commerce to bring the beauty of Surat to every home in the country! Read on.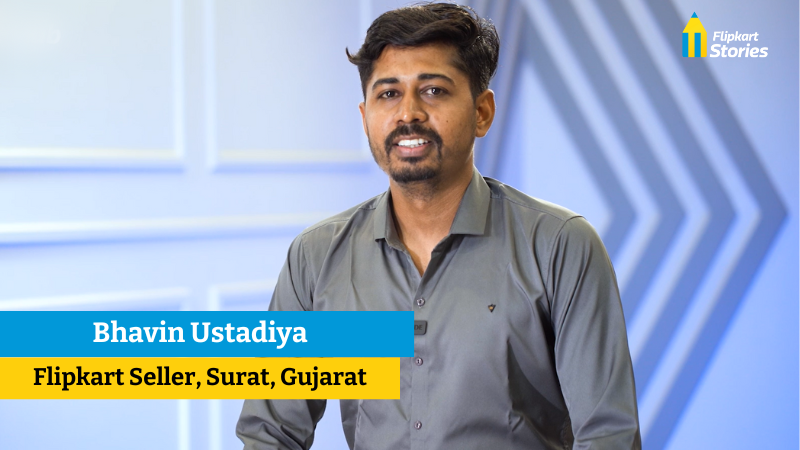 From humble beginnings in Surat, Gujarat, a close-knit family turned a small family business into a fast-growing fashion brand. It all started when Bhavin Ustadiya decided to take his father's embroidery trade to the next level. Seeing his father give the business his all, Bhavin felt he had to quit his regular job to develop his family trade.
This was six years ago, when Bhavin was just beginning to hear a lot of buzz around e-commerce in India. When he learned more about the power of e-commerce, he was set on taking his family business beyond Surat. And Flipkart helped him do just that.
Soon, what was once a small enterprise blossomed into Fabcartz, a brand offering traditional wear like sarees, half sarees, lehenga cholis, and dupattas. A civil engineering student, Bhavin's younger brother Yogesh also had his heart set on the clothing industry. With the family business gaining momentum, Yogesh began to direct his creative potential to the world of fashion design.
With inspiration from Yogesh, direction from Bhavin and blessings from their father, Fabcartz remains a traditional family business at heart. It has now expanded to a team of over 50, and work is celebrated every day. In fact, when work doubles and triples during The Big Billion Days sale, the Fabcartz family gets into festive mode, enjoying every bit of the art of achieving together.
Read their heartwarming story in Bhavin's own words.
Returning to a traditional trade
Do you know that saying, 'He set out alone. People joined in. Soon, they become a caravan?' Well, that's exactly what happened with us, and this is our story.
My name is Bhavin, and I am speaking to you from Surat. I deal with ethnic wear and our brand name is Fabcartz. I joined Flipkart 6 years back. Before this, I was employed at a company. At that time, my father owned an embroidery machine. He carried on his trade well, but there was a need to bring something more to the family business to give it the extra edge. That is when I realized that I need to handle and promote my father's business.
Growing a family business with Flipkart
At this time, I came to learn about Flipkart and in 2016, I registered. Slowly but surely our business began to grow after we started selling online. Whether it was processing or listing, the work on Flipkart went on smoothly. If any issue cropped up, the Flipkart support team offered excellent help. Fabcartz began to expand further. My brother Yogesh was originally a civil engineer. He also joined us by venturing into fashion design.
Knitting together success and satisfaction
Today we have a strong team of over 50 people. When The Big Billion Days sale comes around, it feels like we have a festival going on here. So many orders arrive, and we get so busy. And yet, we enjoy this a lot! We want to create more designs, maintain high quality, and through Flipkart, reach every corner of India. I would just like to tell all sellers, what are you waiting for? Come and join Flipkart. We are immensely grateful to be here.
Next stop – Right at the top!
Bhavin's brother Yogesh says, "When I was doing civil engineering, I realized that my heart and mind was not in it. My interest was more around clothing. I began to design clothes that were of a high quality, but which the common man could buy as well. I now want to work on newer designs. The ultimate goal is to reach more and more people with high-quality products through Flipkart."
Yogesh and Bhavin's father couldn't be more proud of his sons and the growth of the family business. "Bhavin and Yogesh are two boys who work hard and with all their heart. What is exciting is that any new design we create here is up and available on Flipkart within just 2–4 days. By god's grace, we would like our company to rise to the top in Surat," he says.
---
To read more stories of #SellfMade Flipkart sellers like Bhavin Ustadiya, click here.