Ekart Courier service officially hit the roads on the May 23, 2016. With a promise to deliver a reliable, convenient and fast courier service, Ekart has a lot of interesting 'firsts' to offer customers. Below are four questions around the newly launched offering from Ekart. Look at the Ekart Puzzle below, decipher the questions and see if you can deliver all the right answers!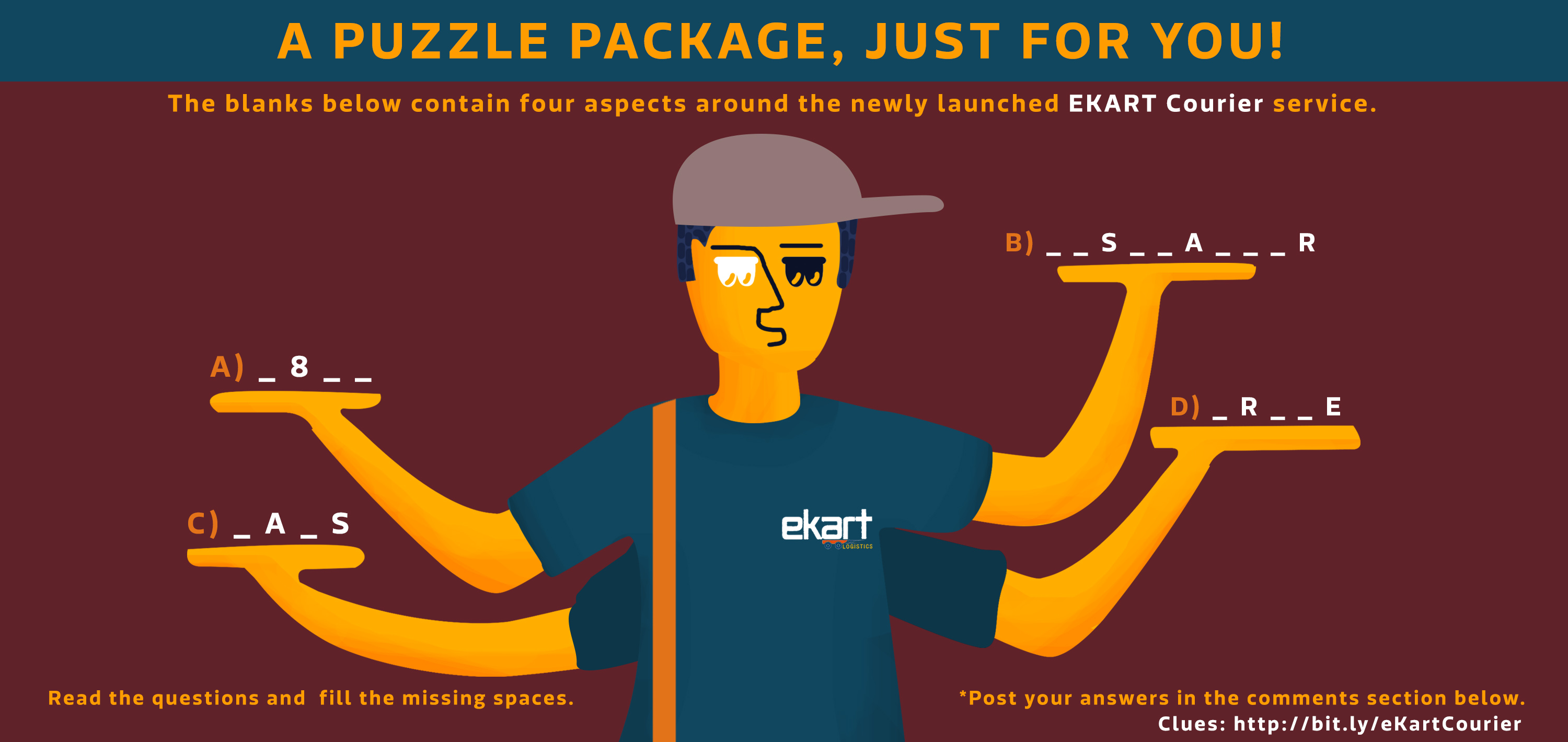 How to play the Ekart Puzzle
Read the 4 questions in the Ekart Puzzle – A, B, C and D (below).
Look at the image above and check whether the answers you have in mind fill the blanks accurately.
Once you decide on your final set of answers, submit them in the comments section below.
Make sure your submitted answers are marked as A, B, C and D
Once you post your the answers in the comments section below this article, get on Twitter and tweet: "I've solved the #EkartPuzzle http://bit.ly/eKrTpuzl @FlipkartStories"
Here are the questions:
Still struggling with the answers? Don't worry, we have plenty of hints for you. Click this link for clues to all the answers you need to solve the Ekart Puzzle. Read the page completely to spot all the answers.
https://stories.flipkart.com/ekart-courier/
The Ekart Puzzle will be open for you to solve until 6.00 p.m on May 27, 2016. Make sure your submit your answers by then. Flipkart Stories will reveal the answers to the Ekart Puzzle at 7.00 p.m on the final day.
Good luck! And, hey, have you sent a courier yet? Because Ekart Courier is now open for business!
Puzzle Graphic: Sadhna Prasad | Flipkart Stories