During the second week of March, many lucky customers of Flipkart, Myntra and Jabong received eye-catching Holi cards from Ekart. The Holi cards were distributed to customers in Mumbai, Delhi, Bengaluru, Kolkata and Hyderabad.
If you were one of those who stopped to admire the vibrant hues, perhaps you also spared a moment to glance at the names and photographs of the young artists printed on the cards. And if you did, you must have observed something else… something that perchance stirred your heart. The creators of the artwork are young people with special needs who don't let physical impairment stand in the way of creativity and expression. Indeed, so arresting are the works of art that the beholder may be forgiven for imagining that the artists channeled them from a sensory realm beyond the visual.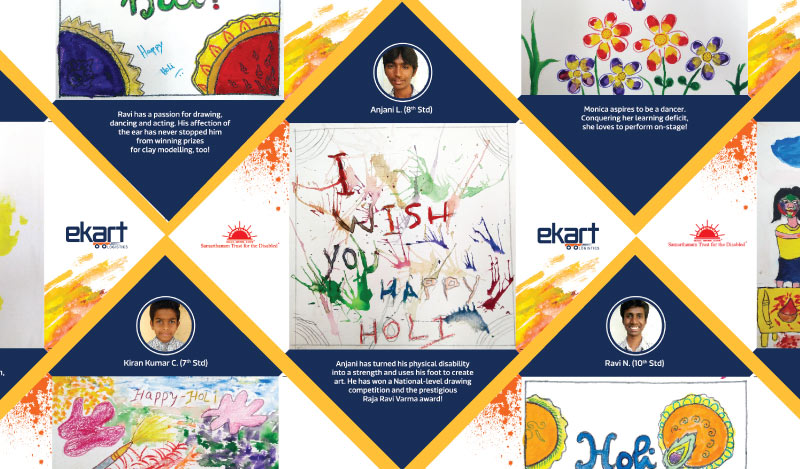 ---
Listen to a special message from the children at Samarthanam Trust for the Disabled in Bengaluru
---
At Samarthanam Trust for the Disabled in Bengaluru, the halls echo with laughter and learning, determination and purpose. Here, young Raja Ravi Varmas and Amrita Sher-Gils pour their expression onto makeshift easels, while the school's world-conquering blind cricket team has already produced a Dhoni and a Kohli, earning applause from none other than Prime Minister Narendra Modi.
Inspired, Flipkart Stories visited the school to peek into the lives of the young artists. What we discovered there was illumining: These bright young minds are anything but challenged. In fact, they challenge the conventional definitions of ability and disability. What's more, the path-breaking visionaries who lead these kids towards the light encourage them to challenge the world that attempts to straitjacket their potential and promise with pity, platitudes and euphemisms. Watching these extraordinary children dazzle the world with their talent, one thing becomes clear: they won't stop until they triumph with flying colors, and spread joy in the hearts of everyone they meet.
Take a virtual walk through the classrooms and hallways of the residential school run by Samarthanam Trust for the Disabled, and peek into the lives of the artists who added an extra dash of color to your Holi.
---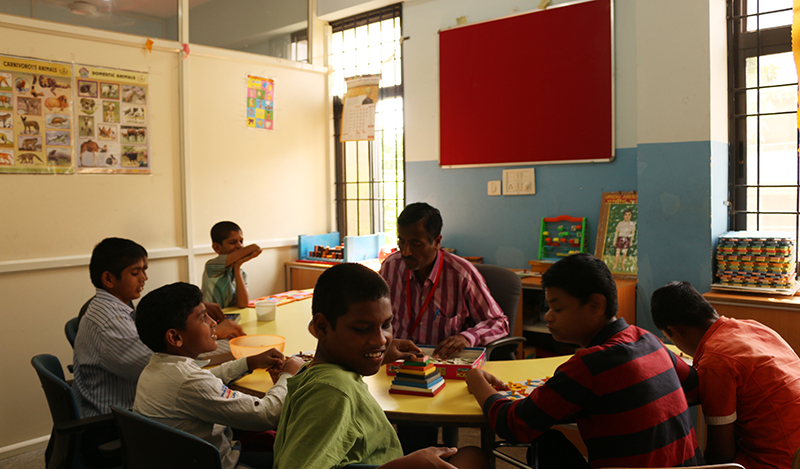 Samarthanam Trust for the Disabled in Bengaluru is a residential academy for persons with disabilities. The young people who attend this school range in age from 6 to 22. While they have physical and mental disabilities, some are also from economically backward families.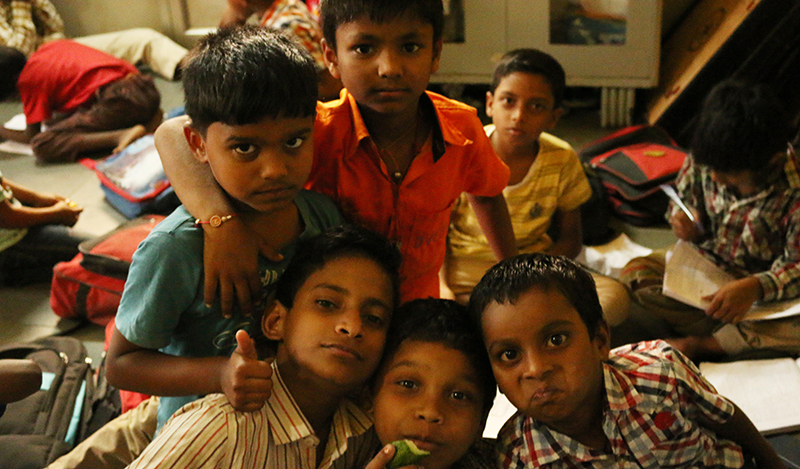 ---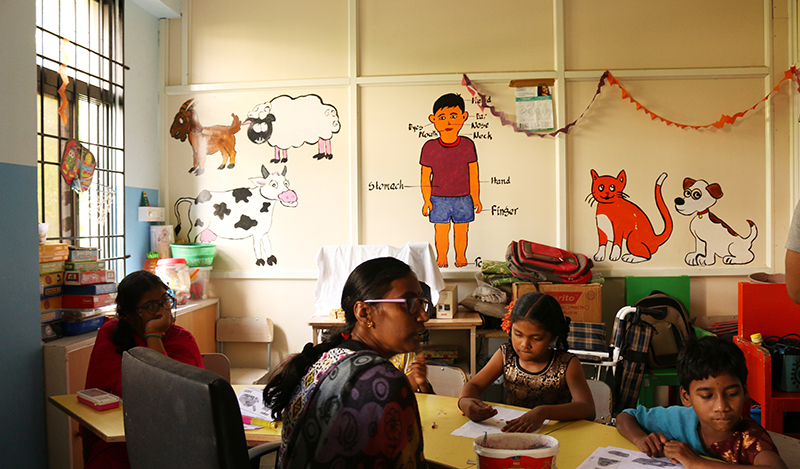 Samarthanam Trust, which was founded in 1997, celebrated its 20th anniversary in March 2017. Both sports and art are fundamental to the developmental training offered to the students in order to empower them, make them employable and turn them into independent and respectable citizens in society.
---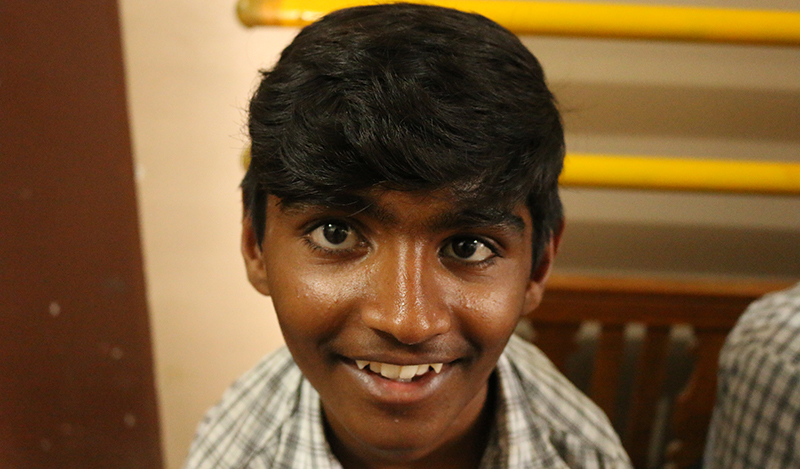 "To live, we need Nature. That's why it is my favorite subject," says 14-year-old Anjaneya, who hails from Ballari in Karnataka. A class 8 student at Samarthanam Trust for the Disabled, Anjaneya does not have arms. Yet, this extraordinary youngster made headlines when he painted with his feet to win the Raja Ravi Varma award in 2016.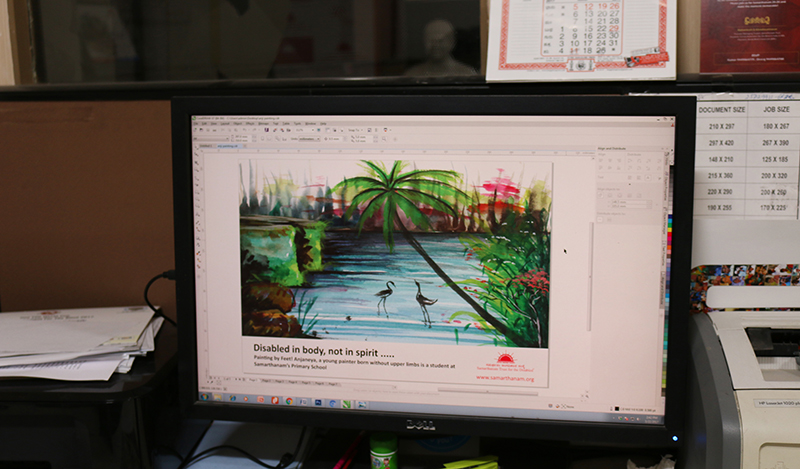 A feat no less excellent is his athletic ability. Anjaneya finished first in the 100 m race at an inter-school athletics meet.
---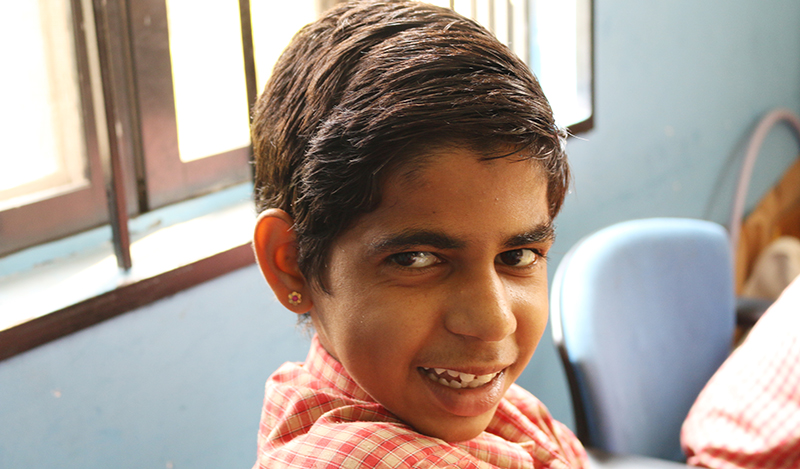 Ganesh is among the young artists at Samarthanam Trust for the Disabled. He is a student of the fifth standard and loves to paint.
---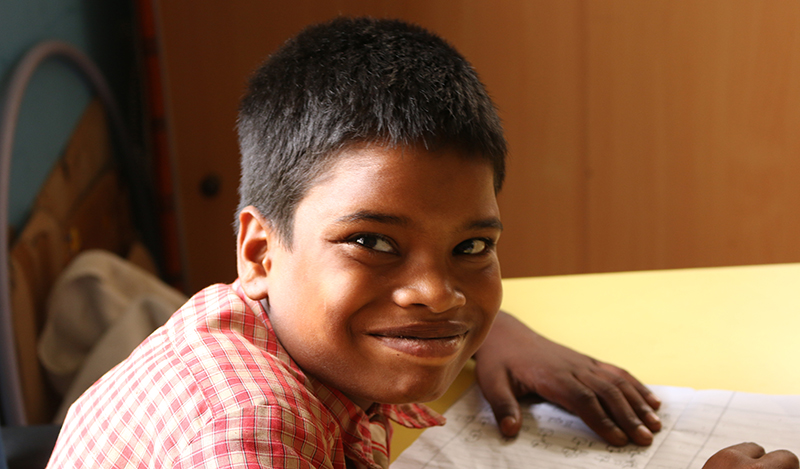 Nanjunda, also in Class 5, loves to express himself through art. When he grows up, he wants to be a policeman.
---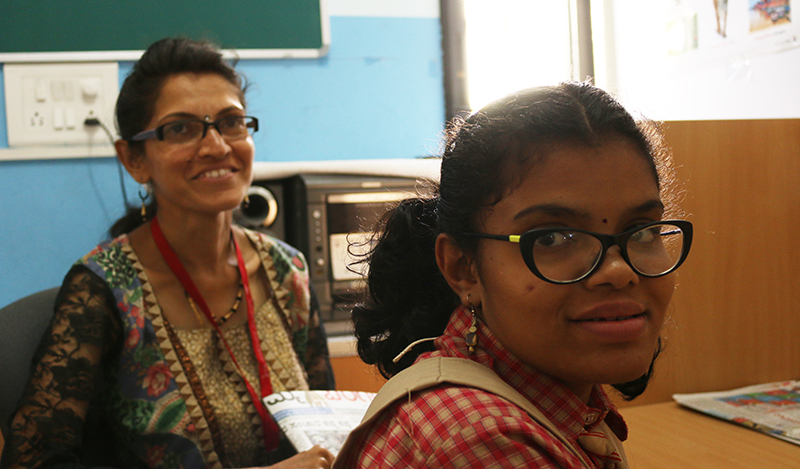 "I want to be an artist," says Monica, whose art is featured on one of the Ekart Holi cards. Monica's team makes paper bags, which are sold to raise funds for the school. "Working with special children really improves one's patience," says her mother Latha Ghorpade, who also works at the school.
---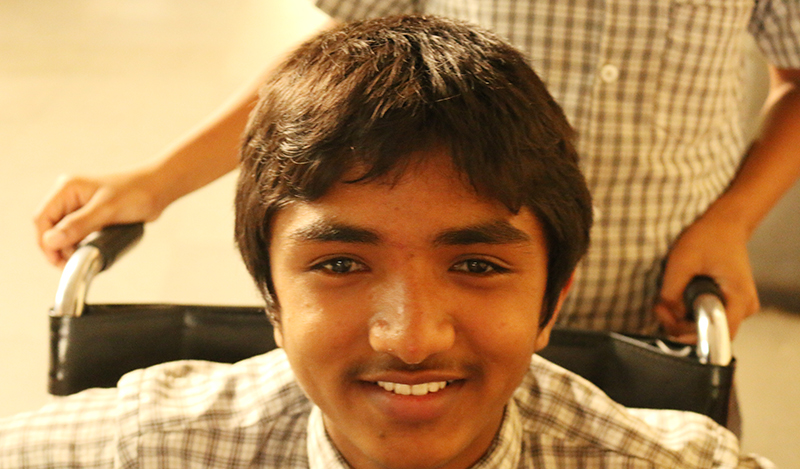 Manu, another budding artist, wants to be a software engineer when he grows up. Currently, he is studying in Class 7 at the school run by Samarthanam Trust for the Disabled.
---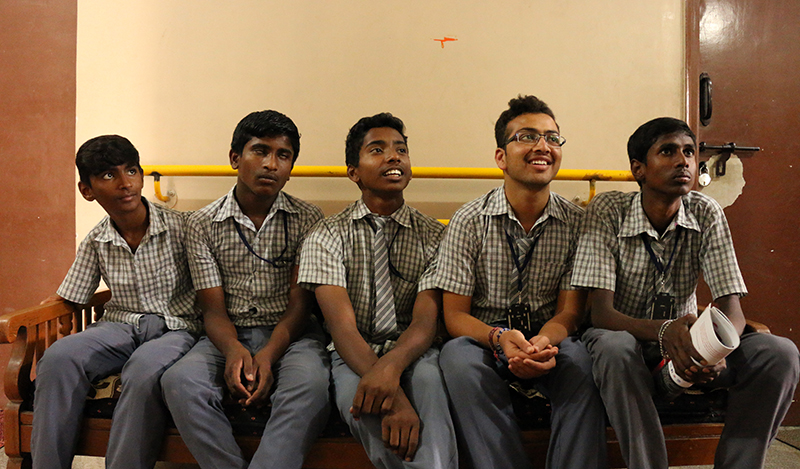 Anjaneya (extreme left) with his friends (L-R) Chetan, Suhas, Ramesh and Ravi. All of them are talented artists. Paintings made by Anjaneya, Ramesh and Ravi have been featured on the Ekart Holi cards.
---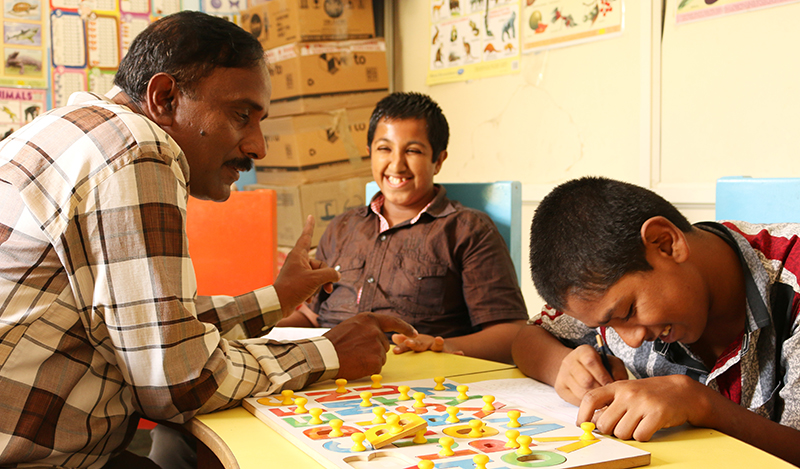 Sreenivasa Reddy has been working with special children for 15 years. "Teaching skills to special children, especially teaching them environmental science, is really important," he says. His wards, Bipin and Rakesh, who are both speech-impaired, cheer him on with chuckles as they learn their lessons. After all, laughter is a language that needs no words.
---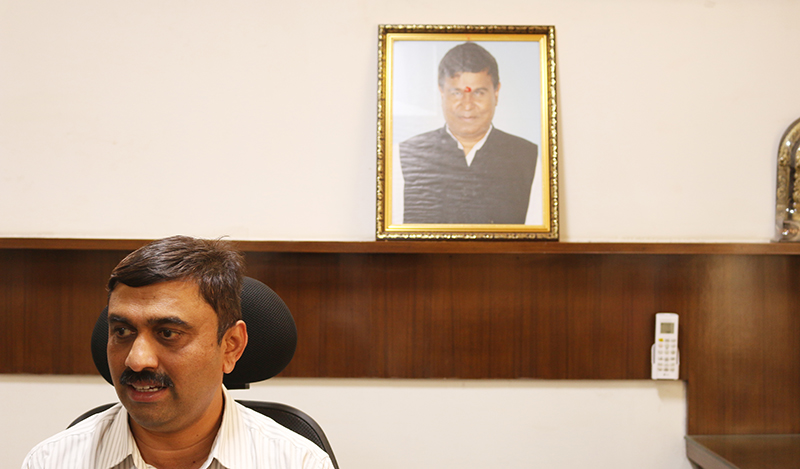 "Persons with disability should become tax bearers of this country rather than depending on others," declares Mahantesh G Kivadasannavar, Founding Managing Trustee of Samarthanam Trust for the Disabled. Mahantesh established Samarthanam Trust for the Disabled in 1997 with his friend and co-founder S P Nagesh, who passed away in 2016.
With his excellent command over English and perfect diction, the confident and articulate Mahantesh sounds like a television anchor. It takes a moment to register the fact that he, too, suffers from a sight impairment. The 47-year-old academician lost his eyesight to typhoid when he was 6 months old, but that didn't stop him from pursuing his destiny — to be a visionary. Both founders, who were themselves visually impaired, underwent many challenges in their lives and were driven to establish the trust, which aims to transform the lives of children with disabilities.
"Persons with disability should become tax bearers of this country rather than depending on others"
Mahantesh is also the President of the Cricket Association for the Blind in India and President, World Blind Cricket Council. The Indian Blind Cricket Team has brought home several laurels, including the World Cup and the T20 World Championship. In 2017, Shekhar Naik, former captain of the Indian Blind Cricket team, was honored with a Padma Shri by President Pranab Mukherjee.
Listen to this audio clip to hear Mahantesh speak about Samarthanam Trust for the Disabled:
---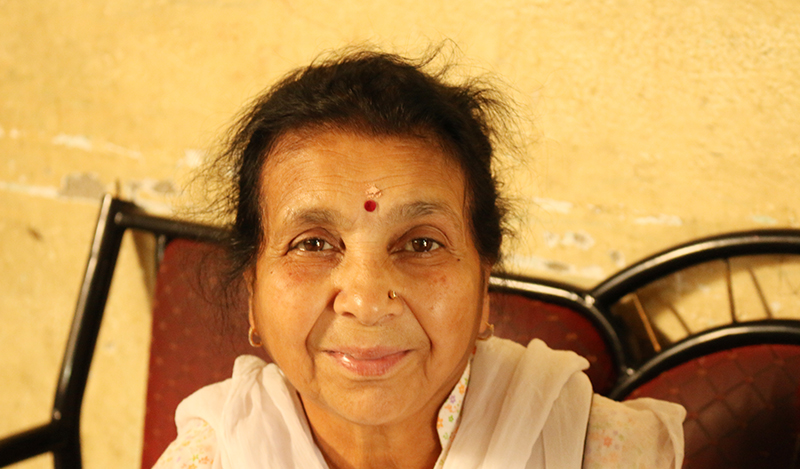 Vasanthi Savanur's kindly eyes light up when she speaks about the children in her care. A founder trustee, she joined forces with Mahantesh and Nagesh to set up Samarthanam Trust after several years as an academician. Besides overseeing the educational activities and programs at the trust, Vasanthi's passion powers Sunadha, the cultural wing of Samarthanam.
---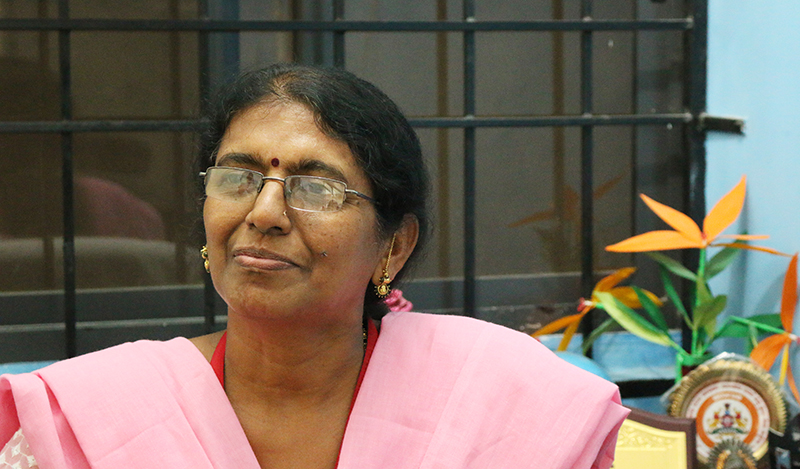 "I was amazed at the talent that the kids showed in their artwork," says Geetha K, Principal of the school. Geetha has spent 27 years in the service of the disabled. At first, she worked for 10 years with visually impaired children at the Ramana Maharishi Academy for the Blind in JP Nagar, Bengaluru. Her message for those who admire the talent of children with disability is at once wise and simple. "Give them an opportunity but don't look at them with pity."
---
Did you enjoy the Holi cards you received from Ekart? Share your message of encouragement with the gifted artists who painted them. Share a selfie on Instagram with a message for the artist. Tag @FlipkartStories and use hashtag #FlipkartArtWithHeart
---
Sadhna Prasad is a graphic designer and illustrator with Flipkart Stories. In her own time, she is an art activist who works with the transgender community. Follow her on Instagram
Katheren Asuntha and Anand Vijayasimha (audio recordings) contributed to this story. This story was made possible by the team of Flipsters that conceived and executed the Holi cards campaign, led by Snigdha Majumder, Mahashweta Mahapatra and Priyanka Deb.
Sincere thanks to Pournamy Prasad, Communications Manager at Samarthanam Trust for the Disabled, and the staff and students featured in this story.