The power to cater to growing consumer needs, bring about innovation, become a trailblazer, and ignite the spirit of entrepreneurship is often unlocked through an ecosystem buoyed by strong partnerships.
Flipkart's The Big Billion Days is a celebration of these very partnerships, which enable brands to reach customers across India, all while unlocking value and quality. It's a collaboration that benefits an entire ecosystem of customers, sellers, brand partners, MSMEs, artisans, and much more.
This festive season, hear from top industry leaders and doyens of entrepreneurship from beloved Indian and global brands as they dive into The Big Billion Days sale. Whether it's unique collaborations, new launches, or relationships that go back years, here's their take on how partnering with Flipkart has created value for all.
Treading Paths To New Frontiers
Ecosystem partnerships pave the way to innovation, both in effort and execution. Special retail collaborations are a great example of this, bringing industry-first offerings to Indian consumers, setting trends, and creating opportunity.
Abhishek Ganguly, Managing Director, Puma
The Big Billion Days always amaze me. Every year, I feel that it has hit the top, the zenith, but the new one comes with new energy and new opportunities every time. So, it has been this year. I'm extremely excited for this year's Big Billion Days. I know that the teams have worked with a lot of planning. The fresh inventory, a wide range of products, new launches, a celebrity line called 1der with KL Rahul — all of these together make it all the more exciting. What I love about this event is that it really reflects the Flipkart culture, which is its growth mindset. It's also extremely well planned and structured on one side, but what is amazing to see is the hustle on the other end! The energy that the event generates is really infectious for the partners as well.
---
Anant Kumar Daga, Managing Director, TCNS Clothing Limited
Over the years, Flipkart's The Big Billion Days have become one of the most awaited and anticipated events in the fashion world. The number of eyeballs it garners and the kind of buzz it creates makes it equally exciting for brands like us as for our consumers. To keep this excitement going, this year we at WN Aurelia are creating our first ever online range, the Aura collection by Aurelia specially curated for you. We had a wonderful time creating this range and we are sure you'll love it as well.
---
Vishak Kumar, CEO – Madura Fashion and Lifestyle, ABFRL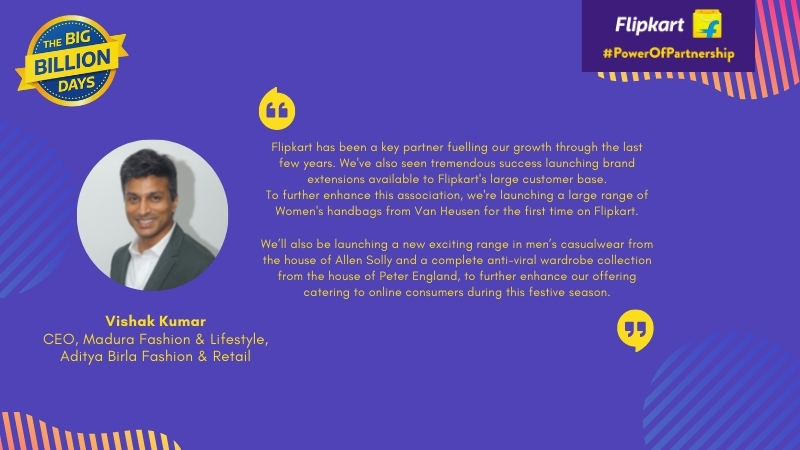 Flipkart has been a key partner fuelling our growth through the last few years. We've also seen tremendous success launching brand extensions available to Flipkart's large customer base. To further enhance this association, we're launching a large range of women's handbags from Van Heusen for the first time on Flipkart.
We'll also be launching a new exciting range in men's casualwear from the house of Allen Solly and a complete anti-viral wardrobe collection from the house of Peter England, to further enhance our offering catering to online consumers during this festive season.
---
Ayush Tainwala, CEO, Lavie
Lavie has had a very long relationship with Flipkart over the past 5 or 7 years. We are very excited to work with Flipkart as it allows us to reach out to consumers across India very easily. This BBD, we worked very closely together to come up with very exciting offers and products only for the consumers on Flipkart! We are launching a never-seen-before range of handbags, clutches, backpacks, duffle bags as well as belts. This has been handpicked by Anushka for the high-fashion, premium customers who love to shop on Flipkart. Look forward to seeing all of you guys during The Big Billion Days!
Read more: A partnership with Flipkart brings Qisa by Lavie to every woman's wardrobe
---
Gaurav Dublish, Co-founder, Wildcraft
Here are all my best wishes for a great festive season to the entire Flipkart team as well as its valued customers. Over the last decade, it has been a great honor and a pleasure to have collaborated extremely closely with Flipkart group, being the pioneer of e-commerce in India. Initiatives like The Big Billion Days have also given brands like us a great opportunity of making our innovative products available to such a huge audience.
This year Wildcraft is extremely excited to present innovative ranges like outdoor watches, shovel cases and luggage, winter clothing, outdoor sandals and shoes, and an entire range of accessories for the first time in the Indian market. With a host of innovations and launches, we are hopeful that with Flipkart, we will be able to bring value to our customers. We look forward to assisting each one of you to bring out the backpacker in you and explore the great outdoors!
---
Shivam Ranjan, Marketing Head, Motorola India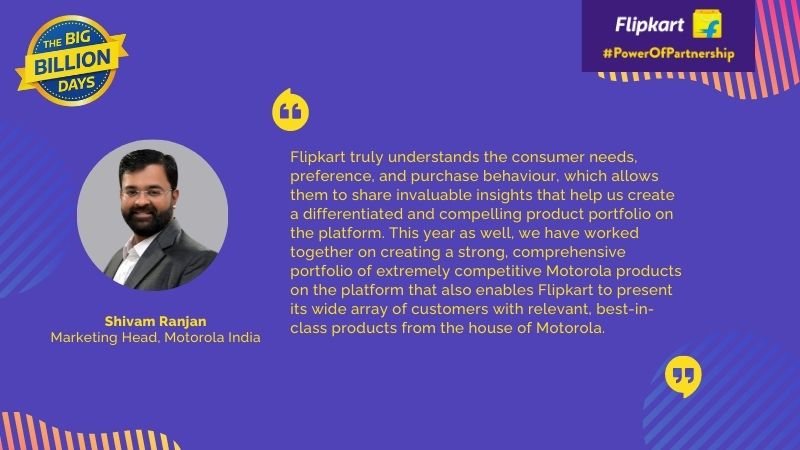 Flipkart is a valuable partner for Motorola and our partnership has continued to grow consistently over the years. Flipkart truly understands the consumer needs, preference, and purchase behaviour, which allows them to share invaluable insights that help us create a differentiated and compelling product portfolio on the platform. Further, their extensive serviceability and platform popularity gives us significant reach and visibility.
This year as well, we have worked together on creating a strong, comprehensive portfolio of extremely competitive Motorola products on the platform that also enables Flipkart to present its wide array of customers with relevant, best-in-class products from the house of Motorola. For The Big Billion Days we have put together an exceptional bouquet of smartphones such as the moto g60, moto g40 fusion and our recent launches with Flipkart; the motorola edge20 fusion and edge20, which have been able to disrupt the premium 5G smartphone market in India.
Further, we will be delighting customers with two new Big Billion Day Special launches, including the highly anticipated motorola edge20 pro and moto tab g20, which marks our entry into the tablet segment in India.
---
Unlocking Market Potential
Through the Power of Partnership, Flipkart provides numerous opportunities for brands and consumers to explore and discover beyond boundaries. When on the commercial superhighway, untapped markets can uplift local economies and change lives.
Rajat Khurana, Managing Director, ASICS
We have been associated with Flipkart for 5 years now and have seen phenomenal growth year on year. Over the years, The Big Billion Days has become one of the most anticipated events, which has been beneficial for ASICS as it attracts millions of consumers to the platform. We strive to provide consumers with the best of technology and options to choose from during TBBD sale.
---
Sanjeev Kumar, Head of Online Sales Head, realme India, Europe and Latin America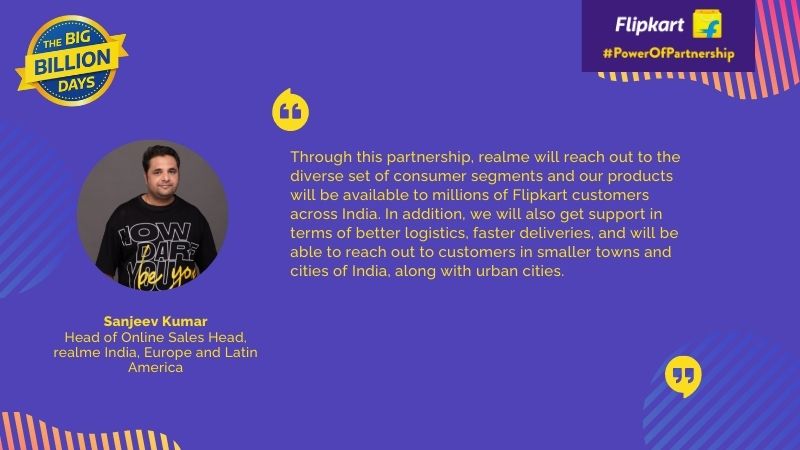 For realme it has always been a great privilege to have partnered with Flipkart for the Big Billion Days. Flipkart appeals to all kinds of consumers, making it a sought-after e-commerce platform for brands across categories.
Through this partnership, realme will reach out to the diverse set of consumer segments and our products will be available to millions of Flipkart customers across India. In addition, we will also get support in terms of better logistics, faster deliveries, and will be able to reach out to customers in smaller towns and cities of India, along with urban cities.
Festival season is one of the most consumer-centric occasions in India and to capture consumer attention and cater to their needs during the upcoming festival season, we hope to substantially increase our visibility through our partnership with Flipkart. During the Big Billion Days, customers will be able to access various realme products that will include smartphones, TV sound-bars, TWS, speakers, wearables, power banks, smart home products, tablets, neckbands, and personal healthcare on Flipkart along with amazing bank offers"
---
Ragini Roy, CEO, Varanga
It is Varanga's motto to have a happy and content customer. Customer satisfaction is our commitment and our association with Flipkart has made it achievable. We are elated with our partnership with the Flipkart Group as it has tremendously bridged the gap between customers from Tier 2 and 3 markets and Varanga. We are thrilled to announce that this year we have developed a brand new range especially for The Big Billion Days 2021. Looking forward to strengthening our relationship!
---
Rahul Anand, CEO, Founder, Hopscotch.in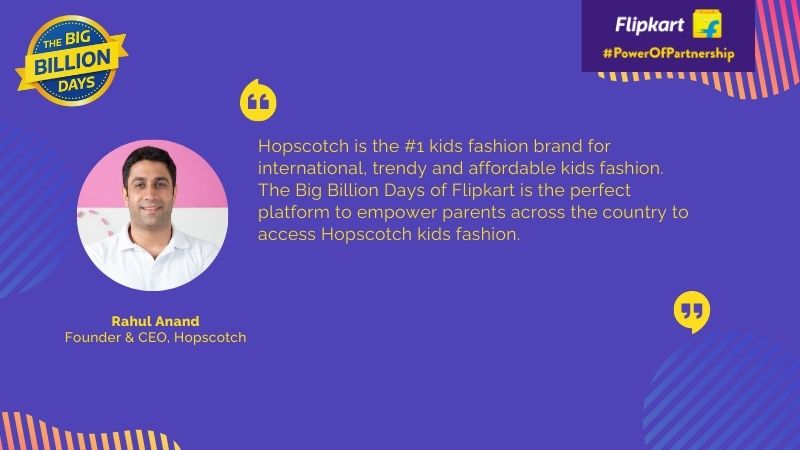 Hopscotch is the #1 kids fashion brand for international, trendy and affordable kids fashion. Big Billion Days of Flipkart is the perfect platform to empower parents, across the country, access Hopscotch kids fashion. We are super excited to present a specially curated festive selection of kidswear this year.
---
Jai Krishnan, CEO, Samsonite India
It's The Big Billion Days' time of the year again! This is the property which Flipkart created a few years back and is getting bigger and bigger every year. This is that one blockbuster I think where the sequel does better than the original! Every year this is the property where we have been associated closely with both our brands, American Tourister and Kamiliant. Both are very closely associated with Flipkart and The Big Billion Days. Even this year, you can look forward to some great new collections being launched during The Big Billion Days! Some fantastic new colors are coming up on both brands, American Tourister and Kamiliant, so just wait and watch! I wish this event and our relationship with Flipkart all the very best.
---
Soumya Kant, Co-founder, Clovia
Clovia is a lingerie, nightwear, sleepwear, activewear and shapewear brand. We have also recently launched Clovia Botaniqa, which is a skincare brand. We have this really brilliant partnership with Flipkart group. We have curated some great offers for Big Billion Day and together we have curated some special products, special ranges. I hope everyone is able to find something they are looking for.
---
Hiren Lathia, Founder, Leemboodi Fashions
As brand Saara, we are manufacturers of sarees, dress materials, lehenga choli, and kurtis. We are able to reach millions of customers through Flipkart via this journey. The Big Billion Days 2021 are just around the corner – they have created a benchmark and are themselves considered a festival. This is the festival for customers and manufacturers and Flipkart is considered as the market leader for the ethnic wear segment. We are very excited with our new collection for kurtis, sarees, dress materials and lehenga cholis for the upcoming season. Enjoy shopping during The Big Billion Days!
---
Karan Dhar, Managing Director, Yonex
Flipkart is the key partner for Yonex, and we have been growing year on year bringing the best of badminton to millions of customers across the country. TBBD sale is a landmark retail event that the whole country looks forward to and we are excited for Yonex fans to get the latest in rackets, shoes and lots more. Watch out for special offers and signed merchandise!
---
Bridging Gaps In Desire And Access
With a finger on the pulse, an ecosystem partnership is more in tune to deliver on niche market demands. Flipkart's The Big Billion Days exemplifies this with unique collaborations focused on giving the customer exactly what they want.
Sanjay Vakharia, Co-founder and CEO, Spykar
The teams at Spykar and Flipkart, since the last 4 or 5 years, have been consistently working to create and curate a very interesting and eclectic collection of jeans wear products and jeans for its consumers. We all know that Spykar has been at the forefront of delivering and producing the best denims that the country has. It has always been at the forefront of creating fashion and very relevant fashion. This season as well in the BBD, we are launching our Charlie Chaplin collection. It's new to Flipkart and its consumers. I'm very sure that every single fan out there of Charlie Chaplin is going to love and appreciate this collection. I'd like to wish everyone a very happy and a joyous festive season ahead.
---
Ashwin Rastogi, Investor and Lead, Urbanic
Urbanic is a brand bringing the latest fashion and accessories to young millennials. I'm extremely delighted to announce the partnership with Flipkart as we bring Urbanic Street, an edgy collection onto India's largest online marketplace! With this year's Big Billion Days sale, Urbanic is unveiling its limited edition of fashion products on Flipkart to make your festive season more cheerful and stylish.
We are launching a new range of fashion-forward products that include loungewear, casual wear, and party wear including stunning accessories to pair with them and lots more! Through this partnership, we plan to leverage Flipkart's pan India presence and technology to empower our brand of fashion icons. Urbanic is all set to bring in high street fashion with Flipkart's The Big Billion Days sale. I'm sure this year our customers' wardrobes will be filled with plenty of outfits. So, in case, you want a makeover for your wardrobe then get set for Flipkart's TBBD sale with Urbanic!
---
Anuj Sharma, Country Director, POCO India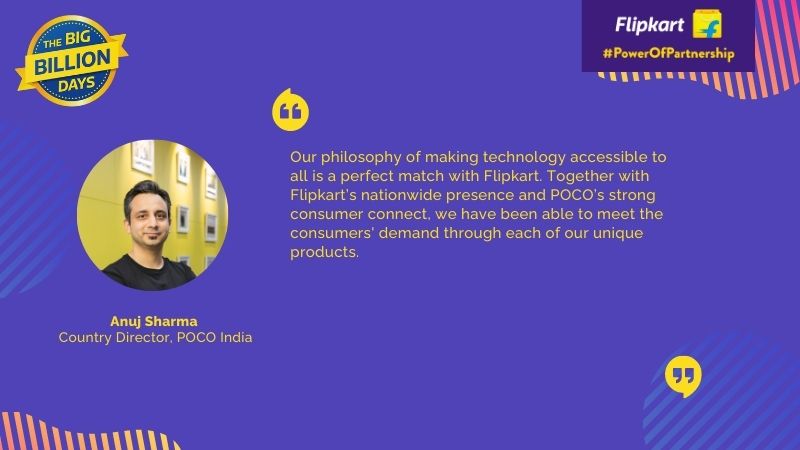 Our philosophy of making technology accessible to all is a perfect match with Flipkart. Together with Flipkart's nationwide presence and POCO's strong consumer connect, we have been able to meet the consumers' demand through each of our unique products. It is through this partnership that all our offerings have witnessed a phenomenal response and created some benchmarks in the smartphone industry.
---
Leveraging Technology, Innovating #ForIndia
As demands and consumer needs evolve, technology aids brands in moving with the times. Through the Power of Partnership, brands are able to leverage Flipkart's technology prowess to innovate and deliver evolved, future-proof solutions.
Richard Andrew, Director and CEO, FPC Retail
We have been associated with Flipkart for close to 2 years now but my relationship with Flipkart goes back close to a decade. India is a fantastic market that is constantly evolving and growing and one such line of business is gift cards. The gift card industry has grown from strength to strength and gifting in India is huge thanks to the number of festivals and occasions we celebrate. We have partnered with Flipkart to take our amazing pool of products live to ensure that we have a fantastic reach to every deliverable pin code in our country. With digital delivery, the product reaches the customer in no time. Just a click of a button, and we are able to deliver, thanks to the incredible reach that Flipkart has! So, come experience this brave, new world of gifting with FPC Retail in partnership with Flipkart.
---
Kumar Sudarshan, CEO/Co-Founder, QwikCilver Solutions
We are now part of Pine Labs, and we are the largest provider of gift cards and prepaid solutions in the country today. Our relationship with Flipkart is almost a decade old. We started off powering gift card programs when Flipkart was a retailer. Subsequently, when it became a marketplace, we have been working with Flipkart on their own gift cards, and we are very proud of the fact that today Flipkart gift cards are one of the most desired gifting options in the country!
The kind of support that the Flipkart team has been providing us to make and scale this program has been tremendous. The way consumers have adopted this really makes us very happy. Talking of TBBD 2021, I'm sure it is an event all of us look forward to, including me as a consumer. I'm sure we'll get some really great deals on Flipkart during this period and naturally the volume, specifically from our own gift card perspective, tends to scale up significantly during this period.
It is extremely important that we continue to work very closely with Flipkart to maintain the consumer experience. That's something we have been doing very diligently over the years. We always go that extra mile to make that happen. This year's TBBD is going to be unique; apart from its own gift cards, you can also look forward to 100+ brands of third-party gift cards that are available at great offers. I'm sure all of you would really enjoy purchasing these gift cards and experiencing them. Really looking forward to another fabulous TBBD at Flipkart!
---
Anish Kapoor, CEO, Infinix Mobile, India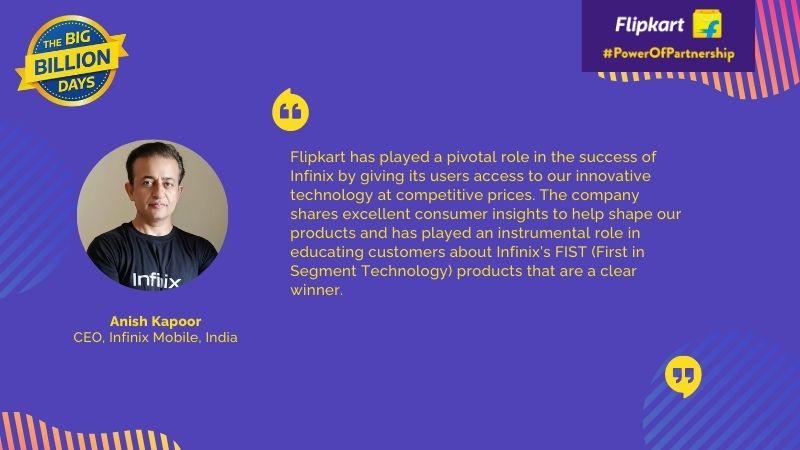 Infinix along with Flipkart began its India chapter in 2017 and since then we've introduced iconic products that have carved a niche and are eagerly awaited by fans. Flipkart has played a pivotal role in the success of Infinix by giving its users access to our innovative technology at competitive prices.
The company shares excellent consumer insights to help shape our products and has played an instrumental role in educating customers about Infinix's FIST (First in Segment Technology) products that are a clear winner.
From being a new brand to a formidable player positioned among the top 5 brands on Flipkart, our association has fortified over time. #AbRuknaNahi as our motto reads is all about empowering our fans to become a better version of themselves by the use of technology in their daily lives.
---
Sidhant Keshwani, CEO, Libas
Our journey with Flipkart started back in 2014 and over the past few years we have got a lot of customer learning, which has helped us in understanding customer behavior and customer preferences. Based on these learnings, we have been able to deliver the right product to the right customer at fantastic prices which has been one of the major reasons behind the success of partnership between Libas and Flipkart. The Big Billion Days are one of the biggest e-commerce events in our country. As things are now moving back towards normalcy, this TBBD sale is going to be one of the biggest events we have ever seen. With the festive season approaching, customers can expect a wide variety of ethnic wear products, which are going to be mostly festive wear at great prices.
---
Liked this story? Read more of our ecosystem #PowerOfPartnership stories here.