Bringing easy access to insurance amid a global pandemic, Flipkart has joined hands with ICICI Lombard and Go Digit General Insurance to offer COVID-19 insurance policies. These instant, digital plans require no prior medical tests. Read on to put some of your fears to rest with a COVID-19 insurance plan.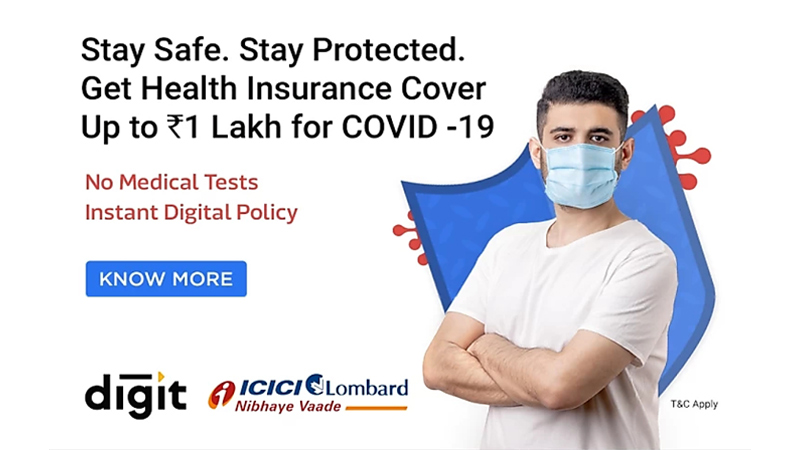 As India fights hard to flatten the curve amid rising Coronavirus cases, secure your health with a COVID-19 focused insurance plan. Flipkart, in partnership with India's two leading insurers – ICICI Lombard and Digit Insurance – has launched instant digital COVID-19 insurance policies at affordable annual premiums. 
These plans offer you financial assistance to  get the best supportive care in case you test positive for COVID-19. What's more, you can enroll for a plan instantly without undergoing medical tests.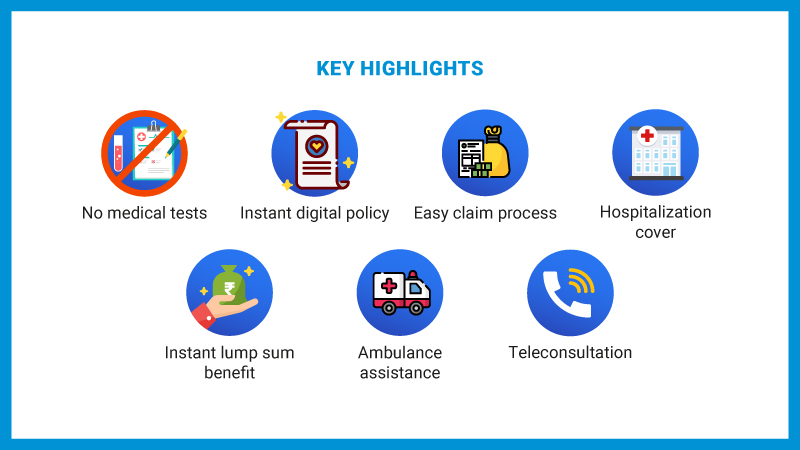 Here's more on these unique COVID-19 insurance policies.
---
Get ample coverage with Digit Illness Insurance
The COVID-19 insurance policy offered by Flipkart in partnership with Go Digit General Insurance offers ample assistance for those between 18 and 60 years of age. It is an instant policy with no medical test and an easy claim process. However, you must declare that you haven't travelled outside the country in the last 30 days before purchasing the policy. 
Here's a snapshot of the key benefits offered by this COVID-19 insurance policy.
Hospitalization cover of up to ₹3 lakh and ₹1 lakh

Annual premiums of just ₹1,267 and ₹511 respectively for the coverage limits stated above

For persons between 18 to 60 years of age

No limit on room rent or ICU. Coverage for 30-day pre-hospitalization and 60-day post-hospitalization fees 

1% of the sum assured for ambulance services
---
Enjoy flexibility with ICICI Lombard's COVID-19 Protection Cover
The COVID-19 insurance offered by Flipkart in collaboration with ICICI Lombard offers a range of benefits for those between the ages of 18 and 75 years. This policy provides a lump sum amount  to the customer on positive diagnosis of Covid-19. To be eligible, you must declare that you have not travelled outside the country after 31 December, 2019.
Here's a snapshot of the key benefits of this COVID-19 insurance policy 
An instant lumpsum amount of ₹25,000 benefit on positive COVID-19 diagnosis 

An annual premium of just ₹159 

For individuals between 18 to 75 years of age

Health assistance benefit

4 free call-based consultations with certified medical practitioners, available 24/7

Ambulance assistance 

Digital claims process  
Keep in mind that both these COVID-19 insurance policies have a 15-day waiting period and a 15-day free cancellation period. 
---
How to get COVID-19 insurance?
Click on the menu on the top left corner of the Flipkart mobile application. 

Click on the 'Insurance' option in the list 
(If you cannot see this new addition, refresh your app or download the latest version)
Tap on the option 'Health Insurance Cover for COVID-19'

Choose between the insurance plans offered via ICICI Lombard and Digit Insurance and select one to proceed
Check off the eligibility terms if you meet them and hit 'Confirm'

Enter policyholder details and click 'Continue to Payment'
You can purchase your COVID-19 insurance plan online without any requirement of  submitting medical proof. Your policy certificate will be sent to your email address within 48 hours of your purchase online.  You can buy one policy per person.  
So while you take all the precautions to stay safe and healthy, we've got you covered! 
Click here to know more and choose your plan. Please note that the plans are only accessible on the Flipkart Android app at the moment.  
---
Also read: Insurance on Flipkart: Get life cover with zero paperwork and no medical tests!