From making sure that our customers get their essentials no matter what, to ensuring that they always have someone to talk to, Flipsters are working behind the scenes to join the dots and make this difficult time a little more bearable. Read the stories of our very own COVID-19 heroes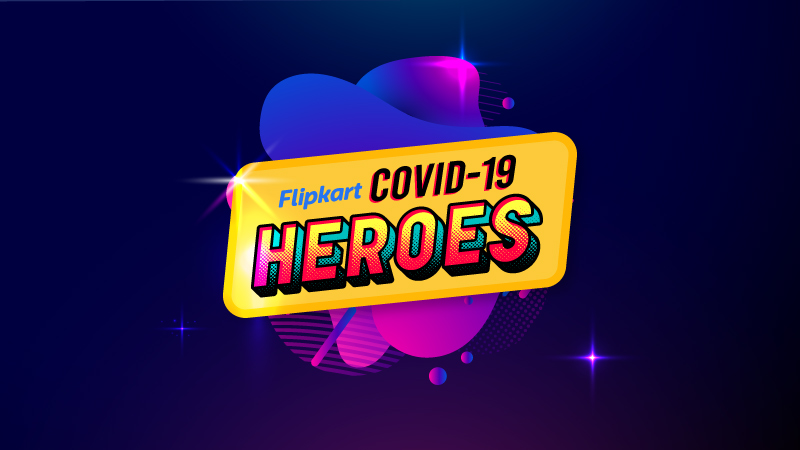 Amidst the growing global concerns around COVID-19, heroes have emerged from various walks of life. At Flipkart too, some incredible people have been working behind the scenes to solve for India during the global pandemic. From making sure that our customers get their essentials no matter what to ensuring that they always have someone to talk to, these are their incredible stories. Read on for more.
Customer Support, from home!
When the lockdown was announced to keep India's citizens safe, our Customer Support voice operations were temporarily paused. This meant that, amid the surge of customers wanting to check in on their orders during the unsure time, our agents were not able to field their calls.
To help our Customer Support address and resolve our customers' issues from the safety of their own homes, three of our COVID-19 heroes led the efforts to resume voice support for our customers. Kinshuk B, Pradeep K and Kaushik M quickly identified and resolved multiple issues to enable our Customer Support executives to work from home and handle voice calls by routing customer calls to the executive's laptop or mobile.
Kinshuk used his tech expertise to unlock voice call routing solutions, Pradeep enabled work-at-home agents with infrastructure and approvals while Kaushik as a program manager provided direction and helped align key decisions.
Within just 3-4 days, our customers could once again avail the "Call Me Back" service to get their queries answered. In the last few days, the team has continued to scale up this capacity!
Direct delivery from kirana stores
Amid the lockdown in the last month, many people across the country faced anxiety in terms of access to daily essentials. The issues were many — from a hit to the supply chain to the risk of stepping outside and risking infection.
That's when the Flipkart FSG team came up with a unique initiative — a new delivery model that would leverage our last-mile capabilities to deliver to customers directly from kirana stores. Pranav A, Anantha V, Nikhil B, Tarun K, Shikhar M, Shivam J, Mathan A, Sumit P, Debi N and Aditya M were the key members of the FSG team who worked on this project.
In this model, Flipkart picks up orders for the customer from a kirana store near their homes and directly delivers it to them, making sure that access to daily essentials is safe and unhindered. This model is currently being piloted in some areas of Bengaluru.
An e-pass for all essential services
When the lockdown was announced, e-commerce delivery services were disrupted. In a few days, however, the government introduced a pass system that would be given out to those working in essential services to ease their movement, including e-commerce delivery personnel. But because of the rush to get these passes, long queues formed at the pass issue points.
To ease this situation, the Flipkart FSG team came together to build an e-pass solution that could be used by government agencies for all organizations involved in essential services. From drawing board to reality, this critical solution was put in place in just 48 hours!
Yashpreet S, Shreyas P, Ankeet M, Satya HV, Pratik S, Ankur M, Asshar J, Anindya M and Aditya M were the incredible team members, our COVID-19 heroes, who worked round the clock to solve for India.
Uber your Flipkart order!
To keep up with the increase in the orders for grocery products and supplies and last-mile limitations owing to the lockdown, Flipkart partnered with Uber to utilize its fleet partially to ensure that more customers could benefit from ordering groceries online and have it delivered to their doorstep.
The collaboration not only ensured that customers had easy and safe access to essentials but also helped drivers work and earn in a safe environment. The team of Flipsters responsible for this initiative established the partnership with Uber in just two days so that a quick pilot could be run.
Our collaboration COVID-19 heroes include Satya HV, Venu K, Mithilesh K, Anil VK, Abhishek J, Mahesh D and Balaji N.
Grocery shopping made easy!
Another team of COVID-19 heroes at Flipkart too were working out solutions to ensure that customers had easier access to groceries. Ganesh Bansal, Varun Mishra, Anuj Gupta, Jei Shrihari and Subrata Pal banded together to ideate for and evaluate tech viability in delivering groceries at such a large scale amid the lockdown. They went the extra mile to leverage Flipkart's large supply chain to ensure that more and more customers could benefit from ordering groceries on Flipkart!
Hygiene essentials at affordable prices
Amid the COVID-19 outbreak, many feared the worst and turned to panic buying and hoarding of items like hand sanitizers, face masks and other health and hygiene products. As stores ran low on stock, long queues and exorbitant prices confronted customers wishing to buy these essentials. To ensure that customers had access to quality hygiene products at affordable prices, the Flipkart SmartBuy team started working on "Project Bolt" – an audacious initiative to provide medical grade masks and sanitizers to customers in need, in just two weeks!
Our COVID-19 heroes from the Private Label team are Adarsh Menon, Amit Chopra, Saumya Gupta, Vivek Mohapatra, Amit Kokitkar, Shivraj Singh Tomar, Sujeesh Pillai, Ankit Agarwal, Sapna Jain, Vignesh Ramachandran, Chirantan Chitale, Kanika Gupta, Aditya Saha, Sukriti Bajaj, Yogesh Gupta,
Rajiv Kar, Satyendra Kumar, Srinivas Reddy, Sreejith DM, Jatin Mittal, Nishant Prabhu, Sagar Gupta, Vinayak Raja and Maneesh Bahuguna.
Watch this space for more stories about our COVID-19 heroes.