The Complete Mobile Protection plan from Flipkart goes beyond the brand warranty, offering complete coverage so that you don't have to worry about keeping your prized mobile in mint condition. The plan plugs all the loopholes in your brand warranty, so you can buy a phone with a glass front and back without batting an eyelid. Just like shopping from Flipkart is super simple, so is buying and using the Complete Mobile Protection. See for yourself.
When you buy a phone, you also buy a screen guard and phone cover that is certified military grade simply to protect it, just in case it accidentally slips from your fingers or slides off your bedside table. So, when you're committed to taking precautions no matter whether it's a Samsung S9 Plus with its glass front or the Realme 2 with its metal body, why aren't you considering Complete Mobile Protection from Flipkart?
When you buy this plan, help is just a call away. This plan goes further than your brand warranty and simplifies the task of getting repairs. There's no need to spend precious hours over the weekend waiting in queue at the service center. Get assistance while you're comfortably seated at home, including pick-up and drop-off, and enjoy assured repairs within 10 days.
Flipkart has always given your needs top priority, be it with Debit Card EMIs, No Cost EMIs or Buyback Guarantee and the newest member to join the league is Complete Mobile Protection. It's affordable, quick and most importantly, the best way to secure your smartphone from all kinds of mishaps or untoward instances. Without further ado, take a look at the benefits that are yours for the taking.
Where brand warranty folds, Complete Mobile Protection rises to the occasion
While your new phone's features can overshadow the bog-standard 1-year warranty on the device and the usual 6-month warranty on accessories, it is only once you start using it that you realize just how much the warranty matters. For instance, if an unseasonal monsoon shower has turned your phone into a paperweight, the brand warranty just isn't going to help. What will help is purchasing Complete Mobile Protection. It covers liquid damage, replaces broken screens and helps with software and hardware repairs with genuine parts from brand-authorized service centers. All this and more at a price that's less than what you would spend at a fast food outlet! Now, isn't that a good deal?
Buy for a nominal fee, save thousands later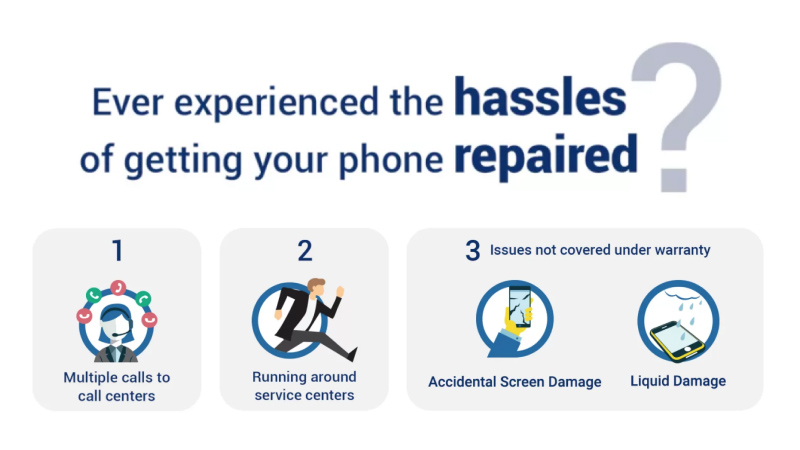 Sometimes, all it takes is for you to go from having a phone that's perfect to one that's in absolute tatters is texting your friends while climbing the stairs and have someone brush past you, knocking your phone down in the process. This damage can result in expenses that run upwards of ₹3,500, depending on the phone you have, since it isn't covered by brand warranty. However, you can now get these problems fixed for as little as ₹500 when you have the Complete Mobile Protection plan.
When buying your phone from Flipkart, all you have to do is scroll down to the 'Protect your product' section. Check the box against Complete Mobile Protection and then click on 'Add two items' to add the phone and Complete Mobile Protection to the cart. Your policy will come into effect and last a year as soon as your smartphone is delivered to you, and you'll also receive an email intimation with information on terms and conditions.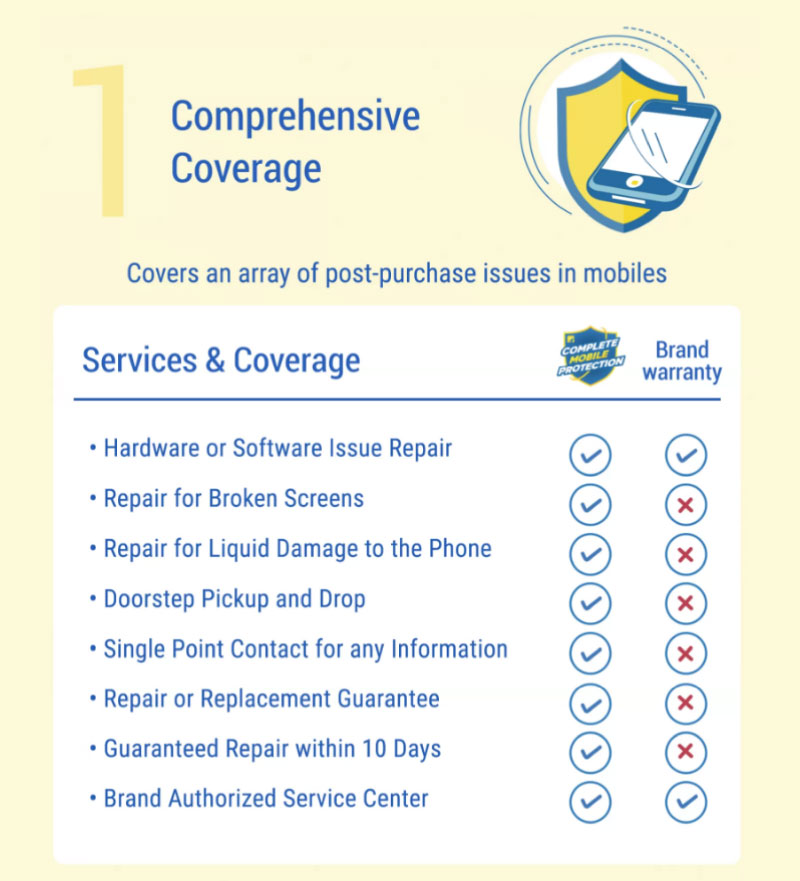 A true one-stop solution
It's as easy to initiate repairs as it is to order groceries from the neighborhood grocer. Call a toll-free number and a Flipkart executive will assess the damage on the phone. Thereafter, your phone will be picked up and dropped back to your home without you having to lift a finger. In fact, the first pick-up and drop are absolutely free too!
In case of liquid damage or a broken screen, you'll have to pay a processing fee of ₹500 first. Just call 1800 425 365 365 for instant assistance—no need to wait to speak to an operator endlessly—and share your policy ID while continuing your chores or when you're on your way to work.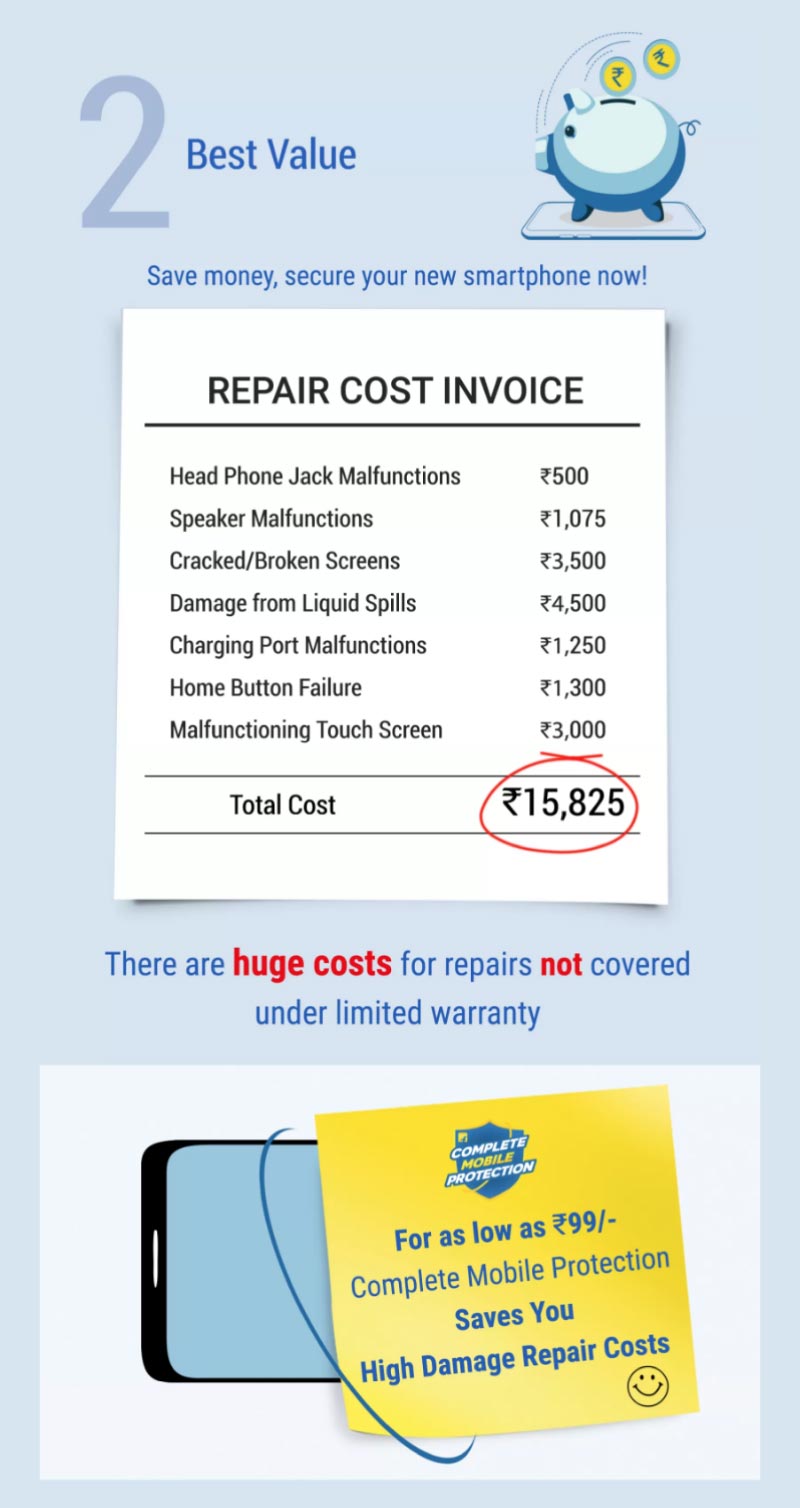 The 10-day guarantee of the Complete Mobile Protection plan also entitles you to receive your repaired phone within 10 days, delivered right to your doorstep. If you don't receive it within this timeframe, you can enjoy a Flipkart e-gift voucher worth ₹500. Similarly, if you want updates every step of the way, simply call the same toll-free number and share your policy ID.
All the benefits, none of the hassle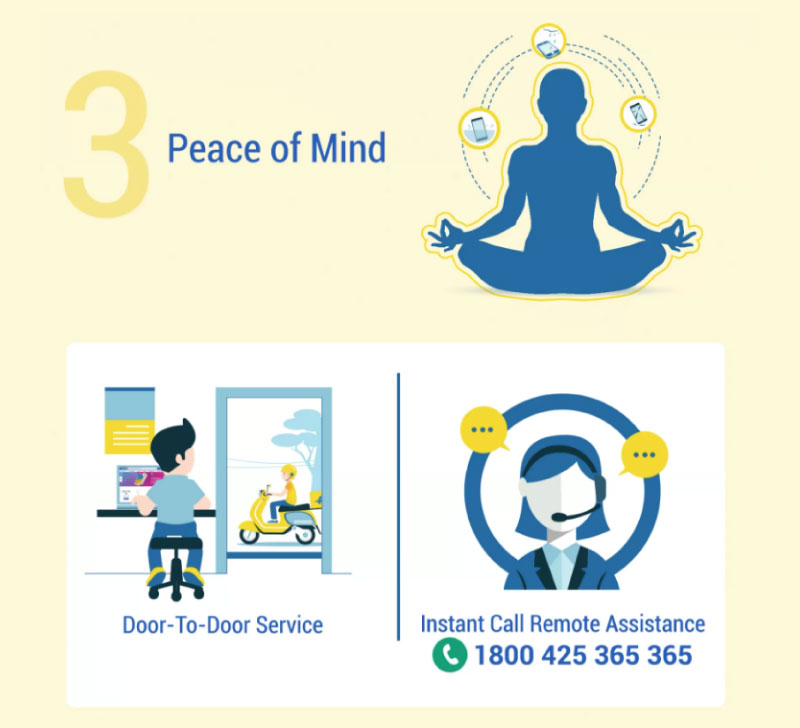 Simply skip the laborious task of vetting service centers and explaining your problem to multiple call center executives. Flipkart takes over all the grunt work for you so that you don't have to add to your stress. To make the process smoother, here's a quick look at the few things that you should keep in mind.
Remember to back up your personal data to avoid losing any important files as your phone may get formatted.
Raise multiple claims when you buy Complete Mobile Protection except in case of a damaged screen or liquid damage.
Enjoy Complete Mobile Protection for Apple, Samsung, Asus Zenfone, Realme 2, and Mobiistar smartphones and watch this space for brands that are being added to the list.
Note that you can purchase the Complete Mobile Protection only during the time of buying the smartphone.
So, give your phone the protection it deserves and don't settle for basic warranty. Amp up protection for your smartphone with Complete Mobile Protection. After all, paying for comprehensive peace of mind is quite the bargain! Click here for more on Complete Mobile Protection.