Priyadarsini is no newbie to challenges. Over the last decade, she went from studying botany to holding multiple roles in human resources, marketing, and customer service. Through all of them, and through changes in her personal life, she has been determined to go only one way — up. Read on to know more about this inspiring Team Lead and mother of two.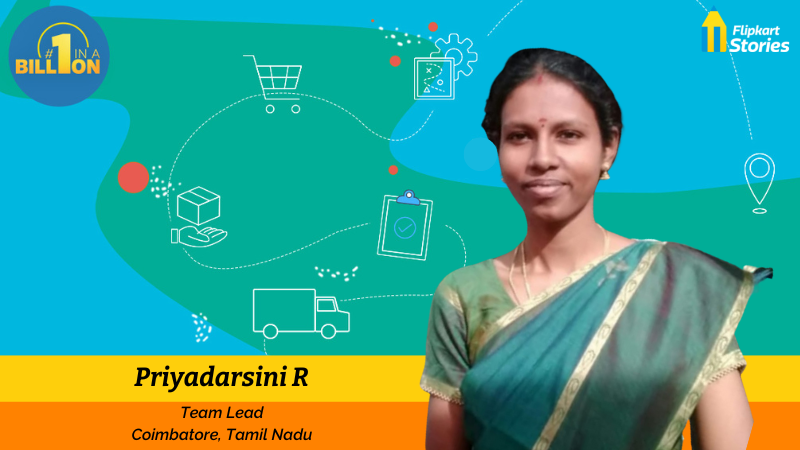 Work, life and everything in between – from Coimbatore, Tamil Nadu, Team Lead Priyadarsini R's #OneInABillion story. 
---
I am 33 years old, and live in Coimbatore with my husband and two children. My parents and two older siblings live here too. I did my masters in Botany, and my first job ended up being in human resources. I have worked in different roles since then, but they have all involved working with customers and people.
I availed an extended maternity leave in my previous company, and that worked against me when it came to increments and promotions. I was looking for change because the company wasn't in a position to pay me what I needed.
That's when I came across an opening at Flipkart. I went ahead and applied for the role. I was very surprised — usually, companies look for gaps or reasons in your CV to negotiate your pay. I thought my maternity leave would work against me yet again. But when I spoke to the HR, I realized that I got what I asked for! Even my initial interview round with the Regional Manager was refreshing – he spoke to me like a peer.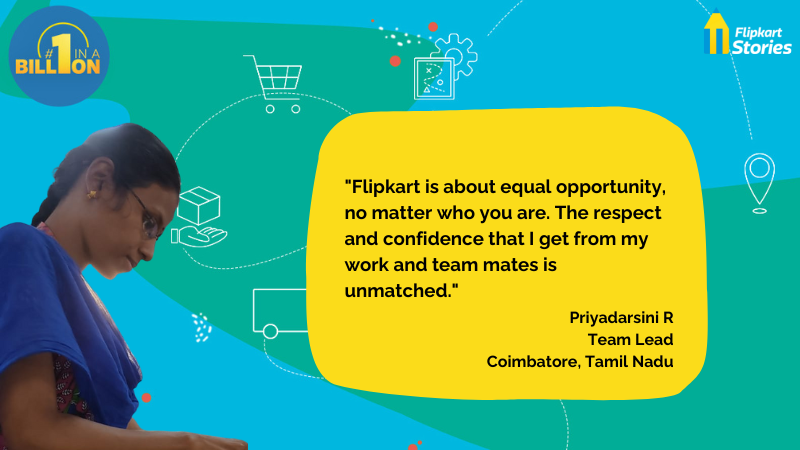 I had a few days' training when I joined Flipkart last year, after which I reported to my desk. As luck would have it, this ended up being just four days before the Big Billion Days sale in 2021! I hit the ground running. I learnt so much in just those few days. I was on the first shift then, and I used to come in by 6:30am or 7am. I remember we were running at full capacity, and delivered thousands of packages in one day just from our hub!
I have had quite a lot of time to learn since then, and manage around 40 people right now. In Flipkart, there is no discrimination. You may see instances in other places where you wouldn't see women in such roles, but not here. Flipkart is about equal opportunity, no matter who you are. Whatever responsibilities a male team lead may get, I get the exact same ones.
The respect and confidence that I get from my work and team mates is unmatched.
As a mother, there are occasions where I have to be present for my family. My chotu is only three years old, so I can't expect his mood to be the same everyday. With this job, I am able to balance work and life because I have really supportive managers and colleagues. They understand my situation, and the necessity for me to be there for my family. My team has also helped me when I needed it. I choose my shift timings here, and that makes a huge difference to my personal life.
The energy at the hub is really infectious. We have senior Wishmasters and newbies too. But this is the only place that I have seen where a Regional Manager will take the time out to listen to Wishmasters' suggestions too. At Flipkart, every voice is heard.
Even with me — there have been occasions where I have made mistakes. But my manager has never asked me 'why did you do this?'. Instead, it is always 'Priyadarsini, we could do it this way' or 'this is what needs to be done'. This has given me immense confidence and also helped me learn a lot.
My job involves working with Wishmasters, customers, and Kirana partners amongst others. Roles like mine usually don't involve incentives. But at Flipkart, we always get recognised for our efforts. There have been occasions when I've checked my payslip and see that I've received incentives for my efforts the previous month.
We are a middle class family, and we live a very planned life. So when I receive incentives, I am able to do something for my children. It makes me feel good because even they will feel like their mother is doing something special for them.
Earlier this year, there was a sale in May and we were short staffed. But the other team lead and me had only one target — whatever packages came in, we intended to clear them the same day. We worked really hard, managed to pull it off and were both awarded for it. It felt really good — two of us from the same hub receiving awards!
We are all set for BBD. New Wishmasters are being paired with senior Wishmasters, and we are all working together to ensure that things run smoothly. This is my second BBD, so I have a good grip on things.
My team and my managers have faith in me – their support and encouragement is the reason I am here today.
---
Also read: #OneInABillion: Of chance encounters and better prospects