We find ourselves living in a tumultuous society, where patience is in short supply and tolerance, shorter still. At times like these, it's easy for divisiveness to take over, and A Clear Blue Sky hopes to be the antidote. Through its collection of short stories and poems, it brings out honest takes on religion, caste, race and mindsets, with the aim of bringing you face to face with reality, and nudging you towards much-needed course correction.
With contributing authors and poets from several destinations across the Indian subcontinent, each with their unique observations and insights, the stories in A Clear Blue Sky tug at your heartstrings, bring conflict to the surface, and most importantly, urge you to contemplate your own contribution to the world.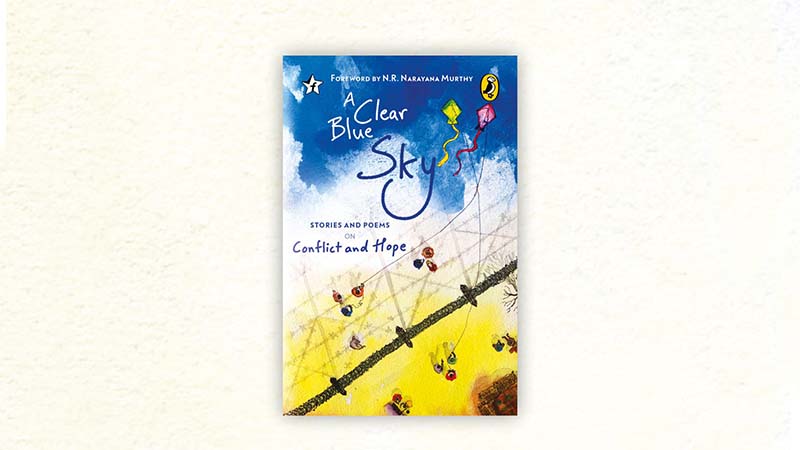 Offering a mix of humor, wit, conflict, despair and startling honesty, this is one book that you should vow to read in honor of World Book Day. For instance, the story A Time To Mend by Asha Nehemiah, an acclaimed children's author from Bengaluru, shines a light on how appearances can be deceiving and in tumultuous times, we must all stand up for each other, regardless of religion.
While Nehemiah's short tale is a perfect introduction to everything this book stands for and more, the book also comprises works by other prolific writers from India, Sri Lanka and Pakistan, including the likes of Gulzar, Manjula Padmanabhan, Bulbul Sharma, Elmo Jayawardena, Poile Sengupta and Komail Aijazuddin. The collection presented in A Clear Blue Sky is the perfect reminder of why courage, compassion and tolerance are more important today than ever before.
With a foreword by N R Narayana Murthy, the legendary entrepreneur behind Infosys and philanthropist, this book deserves pride of place on your bookshelf. If you can't wait to get started, here's an excerpt from the foreword to A Clear Blue Sky by N R Narayana Murthy.
---
Dear Reader,
This book you hold in your hands today is no ordinary one. It's made of paper and ink, yes, but also of something that's even bigger. It stems from experiences that have been lived, lives that have been lost, dreams that have been broken. It's made of hope, of compassion, of happiness, and of unbroken spirits. These are ingredients which have brought communities together and propelled the cause for a peaceful world—something we need more today than we've needed for a very long time.
Use books like these to understand the world around you. Because literature has always been a tool that's led generations from darkness to light.
Happy World Book Day, dear reader.
Warmly,
N R Narayana Murthy
April 2019
---
If you're looking to get out of a reading rut and challenge your comfort zone, make sure that your copy of A Clear Blue Sky is within reach. With poignant, heart-warming and insightful stories, let this book make an indelible impact on you. Here's an excerpt of a short story from A Clear Blue Sky to whet your appetite.
Buy A Clear Blue Sky on Flipkart here.
---
Also read: These 8 Indian women authors have a bold message for you