It's quiz time, and the first contest we have lined up for you is The Big Checklist Quiz! There's more than great offers and fabulous discounts on offer during this Big Billion Days. You get prizes for being a well-informed Flipkart customer and for reading the articles on Flipkart Stories carefully. This is the first of many contests lined up for you this week.
The #BigBillionDays excitement enters its third day today, October 4. How smooth or fast your shopping experience is depends on a number of factors, including how well prepared you are. Here's a helpful article to make your shopping easier. Read it and then test yourself taking the quiz. If you're lucky, and if you follow all the rules, you stand a chance to win electronic gift vouchers worth 500 from Flipkart. Just to help you shop a little more!
Go on, play The Big Checklist Quiz!
---
THIS CONTEST IS CLOSED. Here are the lucky ones! Don't let that stop you from playing. It's fun!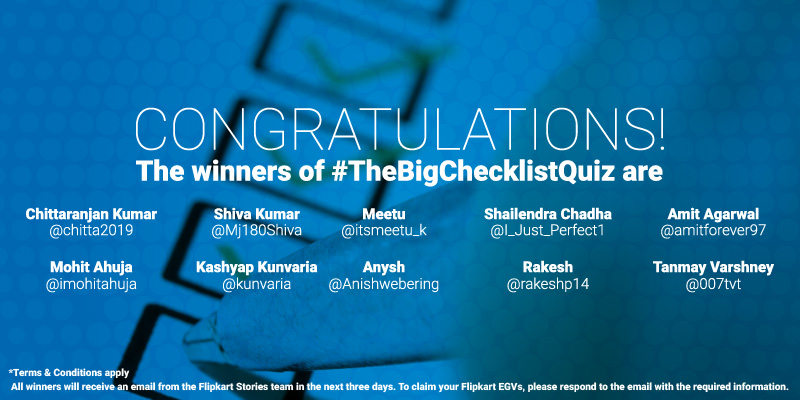 ---
Time up! #TheBigChecklistQuiz is closed. Over 500 all-correct entries! Whew! Thanks for playing. Winners will be announced on Oct 6. https://t.co/RprfsaEalL

— Flipkart Stories (@FlipkartStories) October 5, 2016
(Please read the Contest Terms and Conditions before you play)
Contest Terms and Conditions