The lessons learned from the pandemic have been instrumental in understanding consumer demand and shaping selection ahead of the festive season with a host of partnerships with brands and sellers. Nishant Gupta, head of the Beauty, General Merchandise, Home & Furniture category at Flipkart, shares insights in this Q&A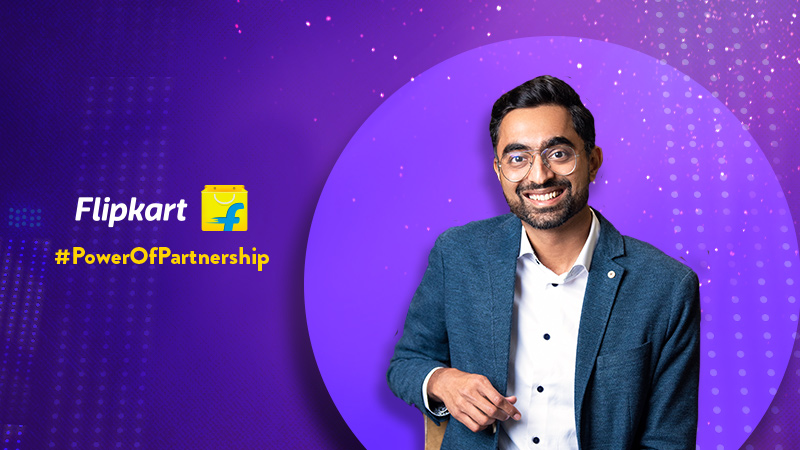 In early 2020, as the country came to a standstill due to the COVID-19 induced lockdown, consumers increasingly moved towards e-commerce and online platforms to meet their daily needs. During the initial part of the lockdown, the demand for safe and hygienic delivery of essentials put e-commerce in the spotlight. As the pandemic confined people indoors, their homes became office spaces, classrooms, gyms and restaurants, consequently sparking demand in a number of consumer categories serving these variegated needs.
Flipkart's Beauty, General Merchandise and Home business (BGMH to insiders) — encompassing a suite of product categories including books, beauty, personal care, baby care, toys, home products, and more — geared up to address the spike in demand. Consequently, certain essential categories like food and nutrition, personal care, baby care and kitchenware witnessed a dramatic increase in growth.
Even as the availability and prices of quality products vacillated in the offline retail market, Flipkart ensured that the 'essentials' product portfolio was governed by pricing regulations in compliance with the Government of India's guidelines. Sellers were directed to cap MRP to ensure affordability and access for consumers.
In addition, Flipkart ramped up the Healthcare portfolio ahead of the festive season. A key move has been to introduce over-the-counter medicines including Ayurvedic, homeopathic and allopathic products in response to the increased awareness of preventive care among consumers.
Nishant Gupta, Senior Director heading BGMH at Flipkart, sheds light on the thinking and decisive actions behind the customer-focused initiatives that Flipkart has introduced ahead of the festive season.
---
Listen to Nishant Gupta along with Flipkart leaders Manish Kumar, Nishit Garg, and Dev Iyer on how their categories are prepared to make this year's The Big Billion Days a truly #FlipkartForIndia event
---
Excerpts:
How has the BGMH category responded to the rising demand as more and more consumers move to shopping online for their essentials?
Essentially, BGMH is an amalgamation of multiple categories like books, beauty, personal care, baby care, toys, sports & fitness and of course home, which is your household kitchen furnishing and decor, and home improvement. Since the COVID situation started panning out, we have observed a strong pull towards these categories in e-commerce. What we saw in the last six months is unprecedented — some of these categories have seen 200% growth, even 300% growth.
Taking a few examples — food and nutrition, baby care, cleaning and utility verticals — all these essential categories immediately saw an uptick. During the first phase of the lockdown, these were the categories that continued to sell on e-commerce, while certain others had to be paused in line with government regulations. Being a homegrown company with a strong reading of the consumer pulse, we quickly came together as an organization to solve for some of these constructs through technology.
Is this demand originating from metros or Tier-2 and 3 cities?
Our growth in consumer segments across all cohorts has been very healthy, which is very positive for us. What we have been able to provide is the value that consumers were looking for, across all cuts of geography.
What are some of the trends you have observed?
A couple of interesting trends that come to mind are in makeup, fitness and gardening. In make-up, we saw demand had shifted from lip-care products to eye-care and hair-care products, simply because after wearing a mask, that's pretty much what was visible on the face now!
Similarly, home gym equipment saw an unprecedented growth as gyms were closed and sports activities were restricted for the fitness enthusiasts. These shifts have happened irrespective of geography or demography — they are more a response to the situation.
What are the opportunities that Flipkart has leveraged in response to the unprecedented demand?
Our insights revealed that customers wanted to purchase products from multiple categories in one shot to fulfill their daily needs, so we facilitated better basket-building experiences. In addition, we provided more value for them to be able to do so. We also partnered with brands and sellers to ramp up selection in these categories.
Sanitizers and masks, which were not big categories before COVID-19, overnight became some of the largest verticals at Flipkart. As the pandemic was knocking on India's doors, we anticipated demand for these products and lost no time in working backwards with our sellers to ensure that these categories were well-supplied. We also partnered with brands like Dabur, Medicare, Godrej for sanitizers and Madura Group, Aditya Birla Group, Godrej and Park Avenue for masks, in addition to our own private brands, to build timely and good quality selection in these categories.
Considering the heightened need, we also fast-tracked the launch of our new Healthcare category. We ramped up our Ayurveda selection, as well as vitamin supplements and protein supplements. Recently, we launched homeopathy products. Consumers in the country are becoming a lot more health-conscious and it's only logical to provide an expansive selection through meaningful partnerships with brands and sellers.
The kitchen is another space where consumers started spending time. Demand has grown significantly for cleaning tools and kitchenware like pots and pans., We further strengthened our partnership with brands and sellers to provide the selection adequate value.
With consumers' homes becoming a space for fitness (owing to the shut-down of gyms), we saw unprecedented growth in home-gym equipment and yoga mats.
How has Flipkart facilitated ease of business for sellers during the festive season?
Value remains the cornerstone of what we do every day and especially for the festive season. The pandemic had brought commercial activity to an unexpected halt and this proved challenging for sellers in many ways. We have extended all possible support to our seller base. The first step was to enable stores to open up and provide the required logistics to run. This wasn't easy, as some of our sellers were in containment zones, and they had a shortage of staff. Both during and after the lockdown, we provided our sellers with insights, support and logistics services. We also supported our sellers with health insurance to cover the risk of doing business during a time like this. Our sellers, like always, trusted us on this journey. Besides, they were vocal and specific about the kind of support that they needed from us. And we were happy to engage with them on that mission.
What are the key value takeaways for our partners from Flipkart's technology and platform capabilities?
There are two aspects to this — discovery and supply. Our search and discovery has a healthy mix of selection based on product popularity. Even quality parameters are tested based on feedback from customers and sellers, and past products, before they are put in place. On the demand side, this is consumed by discovery functions to customize and showcase collections suited to individual customer cohorts.
On the supply side, there has been a surge in onboarding new sellers and existing sellers and brands listing a lot more of their selection on Flipkart owing to the shift in consumer preference. For new sellers, we have an established business incubation program through which we equip them with how they can sell on Flipkart, manage inventory and catalogue, and grow their business with ease.
We have seen a huge uptick in subscribers/new-to-the-platform sellers and they often seek our help. For existing sellers, as part of our partnership we provide personalized, technology-powered account management services and insights on how to manage inventory, what portfolio is seeing demand uptick, and so on.
What synergies can we expect from Flipkart's partner ecosystem during the festive season?
During the festive season, especially during The Big Billion Days, we have marquee brands partnering with us to launch products across the spectrum at varied price points. You will see a lot of premium brands making inroads into categories like kitchen, food and nutrition, personal care amongst others. Also, as witnessed during Raksha Bandhan, festive purchases have moved online as the customers' festive needs are being met through Flipkart. We are gung-ho about the range of seasonal and festive merchandise like diyas, rice lights, Indian sweets, dry fruits, etc to be picked up from the online platform this year.
---