The best camera smartphones that are out there in the market are slowly becoming game changers. The megapixel battle is fading out and the new gladiators in the camera phone arena are rich features that embrace technology. Indulging the inexhaustible snapping frenzy, top smartphone brands are taking giant leaps to perfect every image clicked on their devices—blurring the lines between images captured on a professional camera and on a phone camera. We bring you five of the top camera smartphones that will astound you with their photographic prowess.
Best camera smartphones of 2016 (Android)
Huawei P9 – And the engineers said… let there be focus!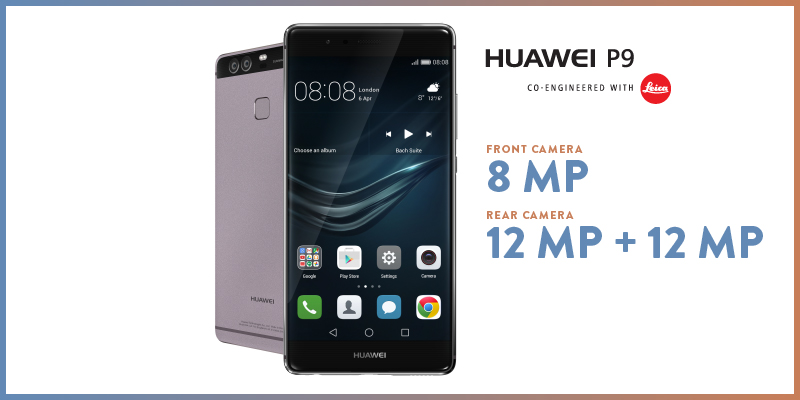 Huawei is back on top of its game with the latest smartphone — the P9. The Chinese tech giant has just launched its hottest offering with a professional grade camera. Built in partnership with leading German camera manufacturer Leica, the camera specs have surely got the attention of photography enthusiasts.
The Huawei P9 has a rear camera with a 12MP + 12MP dual lens with one lens capturing RGB colors while the other captures monochromatic details. These images are then merged through the Leica co-engineered algorithm to produce stunning pictures. The pixel size of 1.25 micrometer helps to capture the true essence of every shot — even in the dark.
Watch this video to find out what the dual lens can do for you:
The front camera is no less stunning. An 8MP lens ensures that precise and clear selfies is the norm with every click. The 5.2 inch full-HD display screen with a 423 PPI gives clear visual output to project images in all their glory. Along with the 3GB RAM, the phone features a 2.5GHz Kirin 955 processor along with a 1.8GHz ARM Cortex-A72 graphics processor. The 32GB inbuilt ROM can be expanded to 128GB ensuring adequate space for all your pictures. The phone also comes with inbuilt multimedia editing features — such as professional mode and monochrome mode — along with wide aperture effect to ensure the right finish to each picture. With three colors to choose from including silver, gold and titanium, the P9 may well be the top contender in our list of best camera smartphones of the year so far.
Best camera smartphones #1 – Price: INR 39,999. The Huawei P9 comes with a No Cost EMI option starting from INR 3,334 per month, with exchange benefits of up to INR 15,000!
Check it out the Huawei P9 on Flipkart here.
---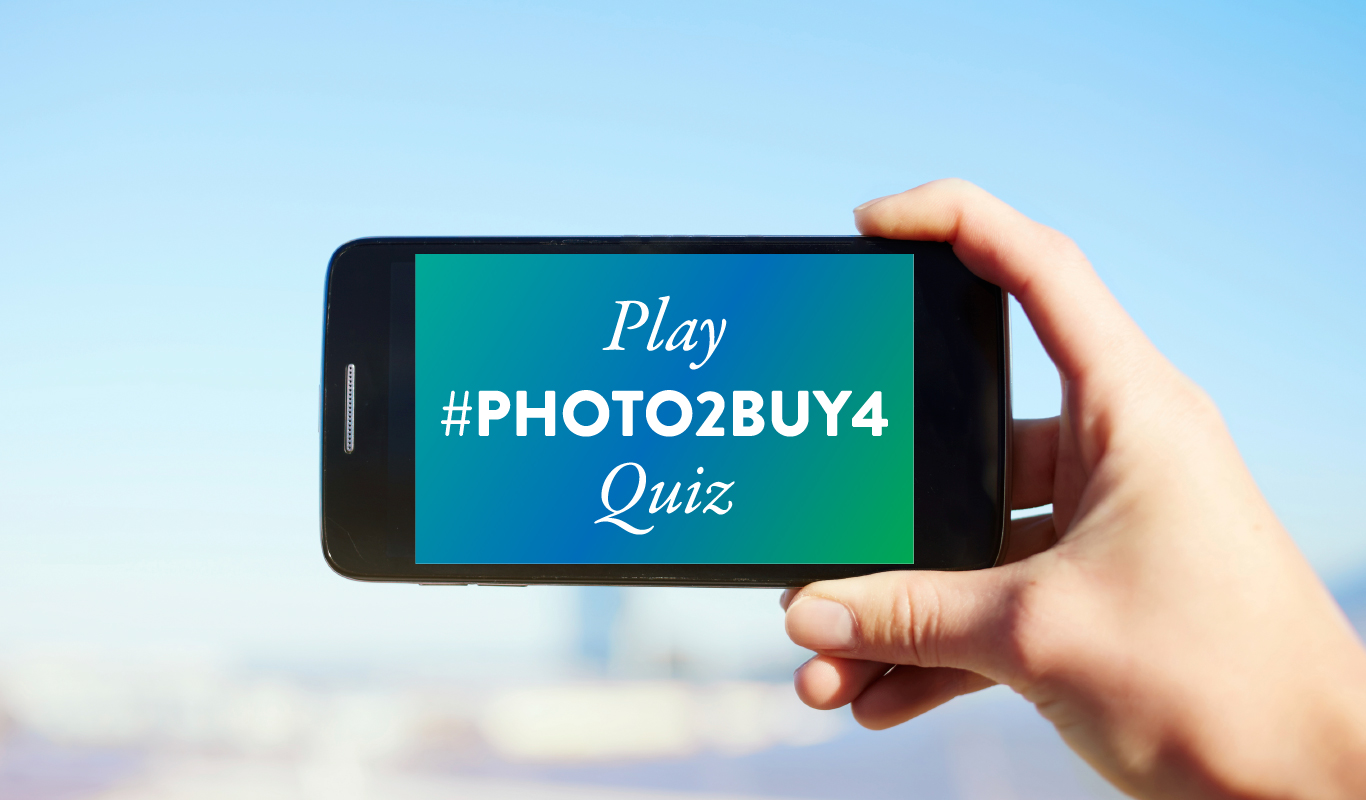 ---
Samsung Galaxy S7 Edge – An edge over the competition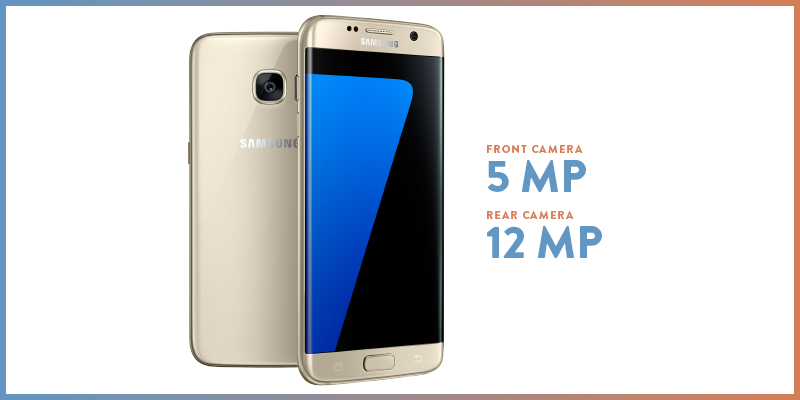 This flagship Samsung smartphone has a lot going for it. To start with, the Samsung Galaxy S7 includes a premium, all-metal design and the lightweight construction. One of the most incredible features is the screen that curves around the edges — an alluring design that makes it visually stand-out from the rest. However, the real meat of the matter is the phone's camera capabilities. Featuring a 12MP rear camera with LED flash and Dual Pixel technology that helps it focus as precisely and rapidly as human eyes. There is also the wider aperture on the lens that lets in more light, a quick Auto Focus option and modes like motion, panorama and context-based setting. The smartphone ensures that all your pictures are crisp and detailed, no matter what the environment. Its bright F1.7 lens and specially built image sensor is engineered to take clearer and sharper photos, even in low light scenarios.
Find out more about the coolest two modes, the motion photo and the motion panorama mode in this video:
For selfie addicts, the phone boasts a 5MP front camera. The front snapper, not only has a Beauty Mode to highlight your best features, but also has a selfie flash that brightens up snaps in dim settings. A wide-range selfie option also enables you to capture peripheral pictures without stressing on fitting all objects into the frame! With a 1440X2560 resolution, the super AMOLED display with 534 PPI offers smooth with vivid colors on a well-spaced 5.5-inch Corning Gorilla Glass 4 screen. The 2.3 GHz processor along with a dedicated Adreno 530 chipset for graphics ensures high-end performance while the 4GB RAM provides a seamless user experience. And if you are concerned about storage space, the Edge comes in both 32GB or 64GB storage space which is expandable up to 256GB through external storage.
Best camera smartphones #2 – Price: INR 56,900 for the 32GB. The Samsung Galaxy S7 Edge comes with EMI options starting at INR 2,711.
Check out the Samsung Galaxy S7 Edge on Flipkart.
---
LG G5 – Modularity for more!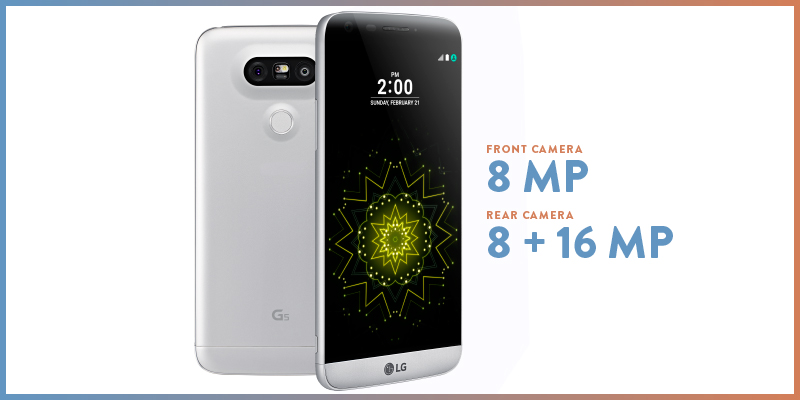 Welcoming us to the new era of modular phones, the LG G5 has a unique modular design that promises many add-ons to the basic phone architecture. Featuring a 3D Arc Glass, the G5 is not only curvy in the best way, but also allows you to slide out its battery and slide in what LG calls a 'Friend'. The G5's rear camera is a dual 8 + 16MP unit with a standard and a wide angle lens that focuses on delivering different formats of images without any loss in clarity. Features like laser auto-focus, LED flash with face/smile detection and modes like Ultra HD, Manual and Auto Shot make your photography experiences even richer. Want to shoot like a pro? The phone allows you to even adjust the white balance manually.
Watch this video to learn more about this smartphone camera:
The flagship model is sure to keep the selfie crowd happy as well with the 135° wide 8MP front camera—equipped with both auto and gesture-based shot. The 5.3-inch PIS LCD screen with Corning Gorilla Glass 4 protection has 1440 X 2560 pixels with a 554 PPI density. The 2.1 GHz Quad Core Qualcomm Snapdragon 820 processor ensures good performance and is aided with a powerful graphics card. The 4GB RAM keeps the phone lag-free no matter what you're doing. The G5 comes with 32GB internal memory and is expandable to a mammoth 200GB via the dedicated microSD card.
Available in three colors including Gold, Silver and Titan, the phone has enough going to make it the professional's choice. And we haven't even got to the add-ons yet. The G5's camera specs may be enhanced with the LG 360° CAM, which helps you shoot 360° photos with one click without having to rotate your smartphone. Want more? The LG CAM Plus is another 'Friend' that offers a comfy grip for shooting those picture perfect images offering a traditional camera experience on a smartphone. What say?
Best camera smartphones #3 – Price: INR 47,990 with a no cost EMI of INR 5,333. Get further discounts of up to INR 15,000 on exchange offers.
Check it out the LG G5 on Flipkart.
---
LeEco Le Max2: MAXimise your click skills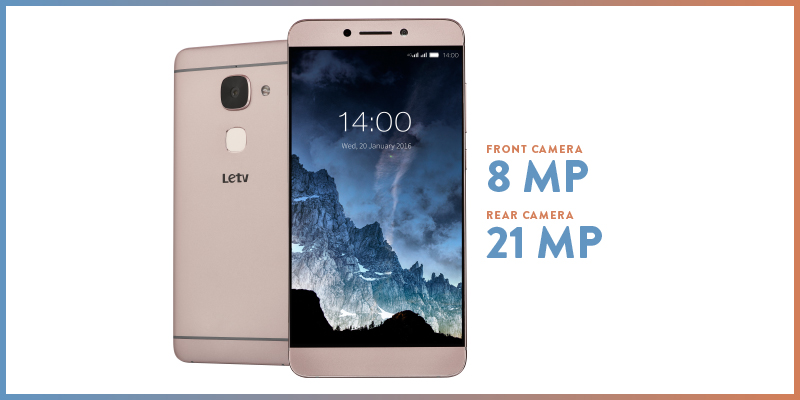 Offered only in the rose gold color, this unique proposition from the Chinese company LeEco comes with its own mobile ecosystem. Letting you access thousands of hours of audio and video content from the latest Bollywood and Hollywood movies, the newest chart topping music and more, the Le Max2 made waves right from 'go'. However, the smartphone's camera smarts make it a worthy contender in our best camera smartphones list.
The Le Max2 features a 21MP rear camera with phase detection autofocus, a Philips dual tone LED flash, 5X zoom, optical image stabilization and dual HDR. The camera's niche is capturing the true, natural colors in a photo, no matter what angle and what environment you're clicking in. The phone's camera app also gives you panorama mode, filters as well as voice control and lets pros tweak ISP, exposure and white balance.
See just how well the camera performs in this video:
For selfie lovers, the f/2.2 8MP front camera makes for clean shots with accurate colors and good depth. The larger-than-most 5.7-inch screen with IPS LCD display supports a 16 million color display. The resolution of 1440 X 2560 pixels provides for a 515 PPI density guaranteeing that the screen displays each amazing detail of that landscape view you clicked! The large 4GB RAM supports a fast 2.15 GHz Quad Core Qualcomm Snapdragon 820 processor along with an Adreno 530 graphics card to ensure superlative performance. The storage is limited to the 32GB internal storage but the phone comes with CDLA earphones, which gives you an added saving of INR 1,990, apart from considerably better sound!
Best camera smartphones #4 – Price: INR 22,999. Offers include a low EMI options starting at INR 1,116 per month. Get additional exchange cash back up to INR 15,000.
Check out the LeEco Le Max2 on Flipkart here.
---
Moto X Play (with Turbo Charging) – The perfect pocket-friendly pro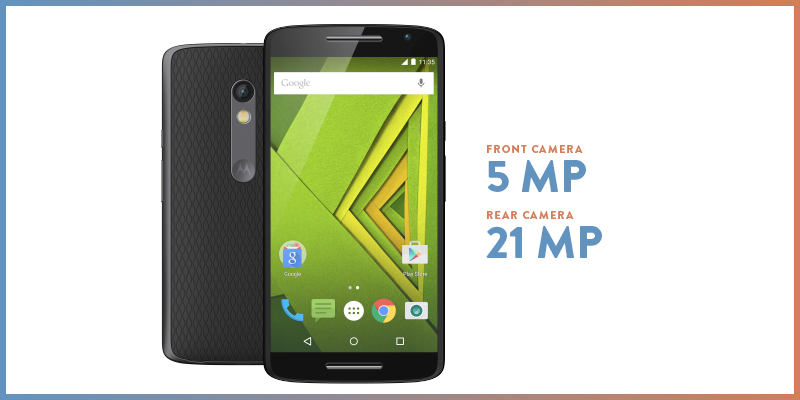 The Moto X Play is positioned at the lower end of the premium 'X' sub brand of the Moto range and packs exceptional features and camera capabilities at its price segment. With dual-SIM and dedicated microSD slot, the Moto X Play is meant to be your perfect work and play partner with camera specs that deserve a second look. The rear camera hosts a massive 21MP lens for flawless images that show crystal clear detail. Whether it's day or night, bright or dark, the snapper's rapid autofocus, dual LED flash, color balancing, face detection and panorama options are more than enough to ensure a good click every time. The 5MP front camera will keep the selfie addicts busy with photos that show you and your friends in the best light.
To see the camera interface and image quality, see this video:
The large 5.5 inch full-HD screen of the Moto X Play with 1920 X 1080 pixels is covered with Corning Glass 3 and comes with 403PPI density. The output of these tech spcs is crystal clear on the display. Powered by a 1.7 GHz Octa Core Qualcomm Snapdragon 615 processor with a graphics card to meet gaming needs, the processor is supported by 2GB RAM—keeping the phone resilient, even while performing multiple tasks. Choose between two colors, black and white, and in-built memory options of 16GB and 32GB that can be expanded to 128GB via the dedicated microSD card.
Best camera smartphones #5 – Price: INR 15,499 for the 16GB with EMI options starting at INR 752. Further discounts up to INR 16,000 are available on exchange.
Check out the Moto X Play on Flipkart.
---
So which camera phones do you like most from our list and which device would you like to add to it?
---