Whether it's for show or to play and make music, guitars can be an expensive investment. Or so everybody thinks. To be completely honest, you can purchase budget guitars for a steal. A deal that would leave you grinning, your wallet brimming and more importantly, you strumming the 6 string you've longed for.
But a lot of work goes into finding some of the best budget guitars. You could be searching retail stores in your neighborhood and surfing the internet for weeks, sometimes months, to find the guitar you need.
But here's the good news! We've already done the groundwork for you. So read on and select the best budget guitar suited to you. Who says you can only be a rockstar with expensive guitars? After all, a bigger price tag does not necessarily mean better quality. And similarly, a cheaper guitar doesn't assure an instrument of poor quality.
Juarez Linden Wood Acoustic Guitar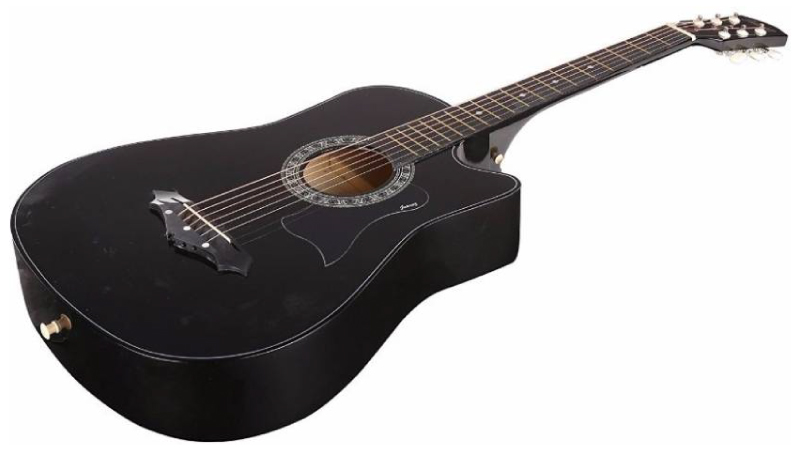 If this guitar is on your wishlist, it isn't a waste of your hard-earned money. Priced at ₹2,699, the guitar is crafted from fine Linden wood and produces a pure and distinctive sound when plucked. With a fretboard made from ebony, there's a unique feel that you can get only from this guitar. This guitar could be your perfect companion to explore the endless world of rock, the blues, folk and jazz music. It's hard to find sturdy and durable guitars like the Juarez JRZ38C/CPG-BK 38″ Linden Wood Acoustic Guitar. Don't forget to buy it on Flipkart.
Also, check out these budget guitars from Juarez in red, blue & sunburst color options: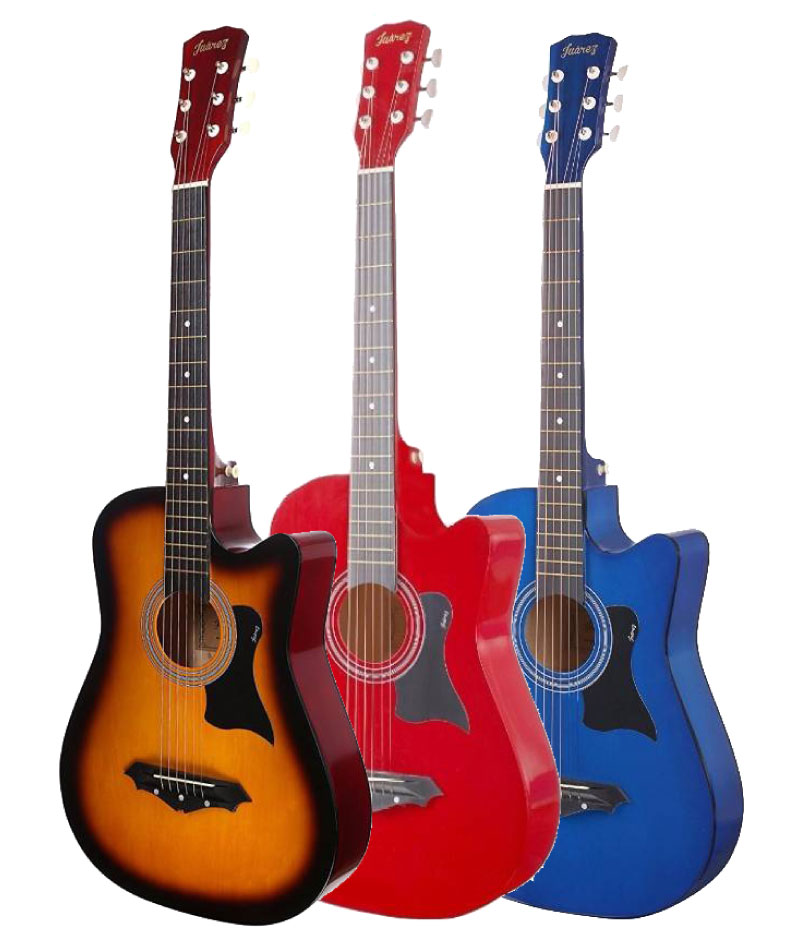 Medellin MED-NAT-C Linden Wood Acoustic Guitar

Here's another great guitar to purchase without emptying your wallet. The Medellin Linden Wood Acoustic guitar is simply wonderful for beginners. Light in weight and just the right size, this guitar is perfect to carry on your back. All you need is a strap. Of course, we suggest that you buy a good guitar case to keep your guitar safe from any unwanted accidents.
Here's a tip. If you buy it on Flipkart, you can avail discounts that you wouldn't get anywhere else and you also end up getting the guitar with an extra set of strings. The Linden wood body allows the guitar to produce a rich sound of great quality, perfect to awaken and nurture the musician in you. The fretboard, built from carefully carved Rosewood, allows the guitarist to noodle on the guitar very easily. If you're on the lookout for a guitar that you can use for at least a couple of years before you upgrade to an expensive guitar like the Kadence KAD-SH-04 Spruce Acoustic Guitar, look no further. Priced at ₹2,499, you can buy it on Flipkart for the best deals.
Also, check out this budget guitar from Medellin in a black.
Jixing DD-380C-BLK Linden Wood Acoustic Guitar

Crafted from fine Linden wood, this guitar offers quality in terms of durability and sturdiness. The maple fretboard is sturdy and strong and the guitar won't cost a bomb. The elegant finish and durability make this guitar just perfect for beginners. It won't sound as rich as a Kadence KAD-SH-04 Spruce Acoustic Guitar but we guarantee you'll be getting your money's worth and more.
If you're already a guitar aficionado, you would have probably seen this guitar serve as a backup to many a guitar virtuoso — you know, just in case their strings snap while playing.
On Flipkart, this guitar is priced at ₹2,799 and it comes with a guitar case to carry it effortlessly wherever you go, guitar picks, strings, and a strap that lets you play the guitar comfortably while it hangs over your shoulder. Buy it on Flipkart here and get the best deals.
If you want the guitar with all the equipment you'd need like a guitar case, picks, straps, tuner, capo, a set of strings, a guitar stand etc., in one shot, click here.
So, what are you waiting for? Check out these budget guitars and strum away. Even if you do end up needing lessons, we're sure that the it wouldn't be a hassle seeing as you'd be buying these guitars for a steal and you'd have plenty to spend on lessons.
Also read: Guitars For Beginners — A Rock Star's Guide To Picking The Best Strings