It has been an excellent decade for the written word, regardless of whether you relish the nail-biting finish of a potboiler, the subliminal wisdom offered by a book on self-love, or the familiarity of the characters in a novel by young, urban Indian authors. If you're on the hunt for the perfect holiday read or are looking to start 2020 on an inspired note, here is a roundup of the best books of 2019 that will surely keep you coming back for more.
---
The Magic of the Lost Temple by Sudha Murty
Written by acclaimed novelist Sudha Murty, The Magic of the Lost Temple chronicles the exciting journey of Nooni, a curious girl from the city. On vacation with her grandparents in Karnataka, Nooni is surprised by the gentle pace of life, and is knee-deep in making friends, learning to ride a bicycle, picnicking and even making papad. However, things take an unusual turn when Nooni stumbles across the infamous ancient stepwell in the middle of the forest and embarks on the adventure of a lifetime.
---
Ikigai — The Japanese Secret to a Long and Healthy Life by Héctor García and Francesc Miralles
After hygge took the world by storm, Ikigai, a Japanese philosophy that can help you live a long, healthy, fulfilling life is making waves. Its guiding principles assist you with finding balance, thereby creating a life that's filled with joy and purpose. When you're in the mood for a comforting read that inspires effortlessly, Ikigai—The Japanese Secret to a Long and Healthy Life by Héctor García and Francesc Miralles is our top suggestion.
---
Everything is F*cked by Mark Manson
With his new book, Everything is F*cked, Mark Manson packs spades of wit, while focusing on our flaws and the crumbling world that surrounds us. Staying true to his philosophy of defiance when it comes to materialistic happiness, Manson infers from researches and philosophers like Tom Waits and Plato, explaining how religion, business and entertainment are hollowing us out psychologically. He challenges you to be honest with yourself and connect to this bizarre world in ways you haven't thought of before with this book.
---
Good Economics For Hard Times by Abhijit Banerjee and Esther Duflo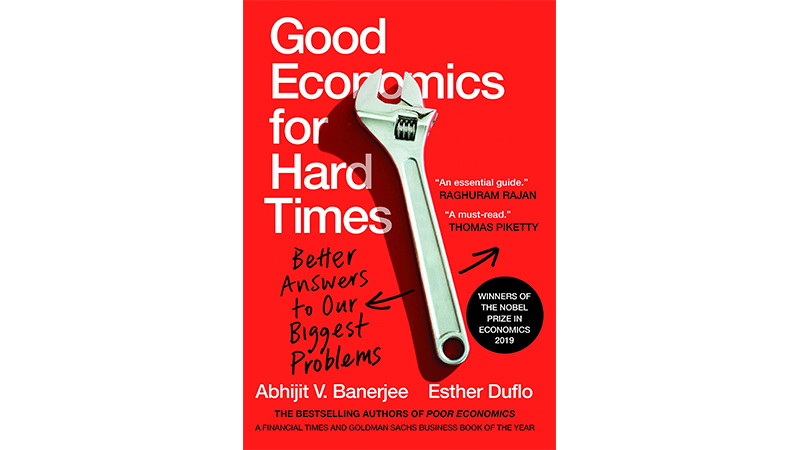 In Good Economics for Hard Times, 2019 Nobel laureates Abhijit Banerjee and Esther Duflo simplify and answer complex and provocative questions related to governance, capitalism and economic growth. Through detailed research, this book looks at the value of pragmatic and effective solutions over sentimental and reverential policies, making it one of the best books of 2019.
---
The Immortals of Meluha by Amish Tripathi
The Immortals of Meluha narrates a tale of epic proportions. Set in 1900 BC, this book by Amish about a prosperous empire called Meluha that is facing extinction as its life-giving river is on the verge of drying up, and its enemies are joining forces with sinister and skilled fighters. The only ray of hope for the Suryavanshis of Meluha is a hero emerging from absolute despair who will lead them to victory. Offering an exciting tale, this one's a page-turner you're going to want to dig into.
---
Wake up, Life is Calling by Preeti Shenoy
Preeti Shenoy rocketed to the top of the bestsellers' list 8 years ago with Life is What You Make It, and aims to impress with its sequel, Wake Up, Life is Calling. Here, Ankita, the protagonist, is recovering from two suicide attempts amidst the company of her loved ones. However, her world is turned upside down once more when trouble begins to inch its way back into her life. This compelling and powerful story is a must read.
---
I've Never Been (Un)Happier by Shaheen Bhatt
In a country where mental health issues are rapidly on the rise , we know shockingly little about depression. In her honest and candid memoir, I've Never Been (Un)Happier, Shaheen Bhatt sets out to change this. By taking you through her own journey of battling depression, Bhatt highlights the obvious and often unnoticeable ways in which depression works its way into each day. She urges you to embrace the myriad emotions that depression brings with it, and in the process, offers a great deal of comfort.
---
Nothing Ventured by Jeffrey Archer
Pick any Jeffrey Archer novel and you're sure to find it absolutely riveting — so it's no surprise that this list of the best books of 2019 features Archer's latest. In Nothing Ventured, the author spins a tale with William Warwick at its epicenter, whose life-long dream has been to be a detective, regardless of his father's disapproval. What follows is a life full of twists, turns and high stakes, making this a series to watch out for in the coming decade as well.
---
50 Greatest Short Stories by O'Brien Terry
For light reading before bed, add this title to your nightstand. A collector's item that makes for a great gift as well, 50 Greatest Short Stories has all-time classics from authors such as Guy De Maupassant, F. Scott Fitzgerald, Jerome K Jerome, Virginia Woolf and H.G. Wells. From The Curious Case of Benjamin Button to Rain, this anthology edited by O'Brien Terry is one of the best books of 2019 as it is the perfect gateway to exploring some of the best writing the world has witnessed.
---
The 5am Club by Robin Sharma
If you've always struggled with productivity in the wee hours of the morning, Robin Sharma's The 5am Club is the perfect gift that you can give yourself. From the author of The Monk Who Sold His Ferrari comes a sharp book that helps you make the most of your mornings and enjoy never-seen-before productivity. Developed over 4 years, it helps you turn your bleary-eyed morning frown upside down!
---
Give your bookshelf an update by purchasing these 10 best books of 2019, as well as others that have made the cut for the New Year's Reading List. Shop for a host of masterpieces and usher in 2020 with the best books for company!