When Nawaz Pasha heard about e-commerce years ago, the newbie businessman knew that's where his father's small trucking business would grow to new heights. It's been 7 years since Nawaz and his brother began their partnership with Flipkart. Not only has his business grown beyond what he'd predicted, he's also ensuring opportunities wherever his trucks travel.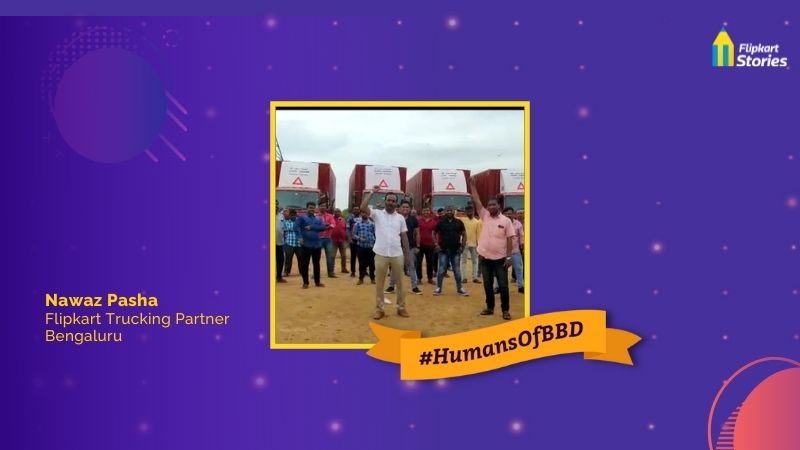 The trucking business was originally my father's. He started it back in the '90s and it was a simple transportation company. My brother and I took over the mantle in 2005. We had only 10 trucks, but we wanted to dream big!
---
Watch this video for a special message from our trucking partners!
---
In 2014, we heard about Flipkart. My brother and I are both young. When we heard about e-commerce it was exciting, and we knew that e-commerce was the future and joined hands with Flipkart. It was challenging in the beginning for us as a small trucking company but we did a good job and fulfilled all requirements. As we went on, the trust grew and we got more lines and routes. At the time, the warehouses and delivery hubs were much smaller. But as Flipkart grew, we also grew with them.
We soon rebranded our trucking business and added more quality vehicles to our fleet. From a transporter, we became a vendor. Before, as a transporter, there was no guarantee of an up-down trip – which is when your loaded vehicle goes up one route and is able to come back loaded the same route at a fixed time schedule. Now, we have fixed schedules (trucking schedules are not very different from your train or flight schedules), guaranteed up-down trips, and get paid well and on time. This helps us plan much more efficiently.
Now my drivers are also happy. They are able to plan their own schedules, where they will eat, where they will take a break and also have control of their day.
We had 100 vehicles before. After we joined Flipkart, we were able to grow to 200 vehicles. We own all our vehicles in our trucking fleet as we want to ensure we have control over quality and also meet the exact requirements.
I was born and raised in Bengaluru. I feel lucky that this is the capital of e-commerce and I found success here. I want more people to experience that success, not just in Bengaluru but in every place that our trucking business is present. We appoint drivers based on distance and the area that they are driving in. For example, in Kerala, where there are ghats, we employ drivers who can drive these routes. In north Karnataka, the roads are different and we ensure that we employ experienced drivers from the local area for this. When there is a long distance — say Bengaluru to Hyderabad or Kochi — we make it mandatory to have two drivers on shift so they are not strained and maintain optimum conditions.
Apart from drivers and transporters, we also have a call center which can answer any calls made by these drivers, be it maintenance, accidents, or any trouble. We have also appointed GMs and executives on the trucking business side to be able to coordinate and plan with Flipkart. We provide health insurance, PF, accident insurance and more to our drivers so they are able to work with less stress.
For The Big Billion Days, we get all information from the Flipkart Operations teams at least 2 months in advance. This year, we've got 25 new vehicles to our trucking fleet and more drivers to cater to this demand.
I know that we're a small link in the supply chain, but I also know how important we are as a trucking business to customers. I also shop online, and I understand that when you order something online, however big or small, you do so with hope and expectation. Our mission is to ensure that the customer gets the order on time and in the best conditions. I play a small part in this. If there are 500 bags in the truck, there are things reaching 5,000 people. As long as the packages are in my truck, it is 100% my responsibility. I'm very proud of the part we are able to play a part in customer delight.
As we grow bigger every day and add more vehicles to our trucking fleet, we've also become well known in the automotive industry. Automobile companies now invite us to their launches and that feels really good! The trucking industry is also advancing in terms of technology – every launch there is a new technology that is added to vehicles. We take time to train our drivers each time, be it in GPRS, digital lock systems, speed and safety technology and more. With time, they also learn the latest in technology and are able to upskill. We all want to do better tomorrow than we did yesterday.
My family understands my job – they know what to expect. We do have very busy schedules, of course. But now, even our status, respect and position in society has increased. If our income was less, tension would be more.
I remember this one time very well. In 2018, Flipkart had arranged an awards ceremony and SLV Enterprises won the best company in south zone. That feeling I got going on stage and getting that award, I will never forget it. It was just like in the movies. That night, I felt that all the sleepless days, tension, pressure, finally paid off. I was happy that somebody finally recognized my talent and awarded me for it. My kids often come home and tell me how well they did at school and how they won an award. This time I was able to show them that their father has also won an award!
To be honest, I get a kick out of working at Flipkart. I remember, as a young boy too I always loved technology, automobiles and innovation. Now, I have a good platform to perform and showcase my knowledge. Seeing my performance, other e-commerce companies have also offered me a job. But I am happy and loyal to our partnership with Flipkart.
I do what I know, what I understand, and what I can. I can't fly a plane, this is what I can do and I will make the most of it. This is also an expertise field and needs skills, same as any job.
You can say that our growth with Flipkart has been like a rocket that's taken off. That is the truth.
---
Also read: This Big Billion Days, celebrate the spirit of resilience with the #HumansOfBBD