With India thronging to digital platforms, Bajaj Allianz General Insurance and Flipkart joined hands to cast the safety net of insurance over a customer base seeking value, convenience, and affordability. In this #PowerOfPartnership Q&A, Sourabh Chatterjee, President & Head of IT, Web Sales and Travel at Bajaj Allianz elaborates on what partnering with Flipkart means in terms of making insurance a staple for India.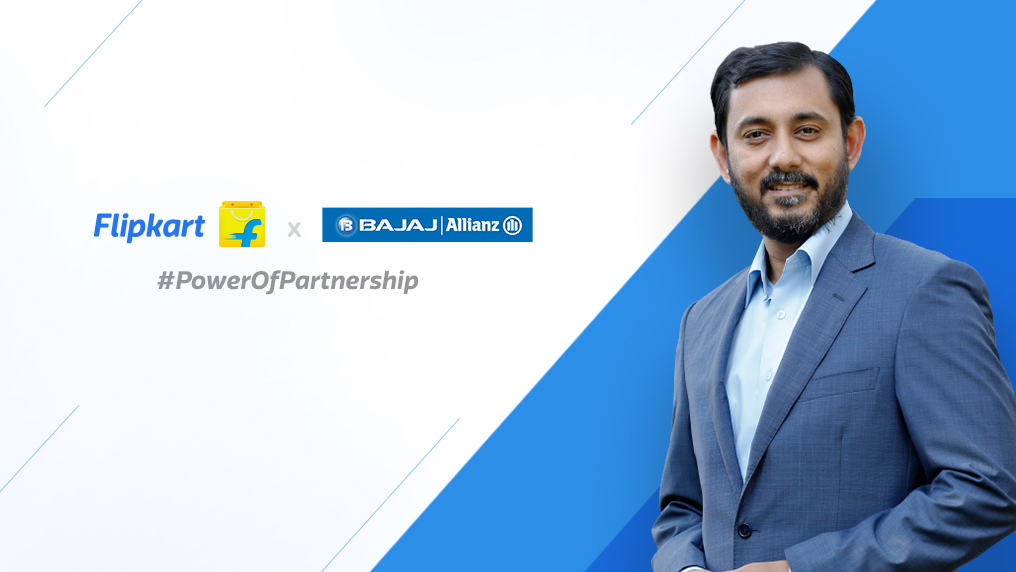 From instant motor insurance and Group Health Insurance with no medical tests to all-round protection for smartphones and cyber insurance at less than 50 paise per day, the tech-driven and bite-sized policies offered by Bajaj Allianz General Insurance and Flipkart are helping build a financially secure India.
Insurance penetration in India is exceptionally low, just 3.76% according to the Economic Survey 2020-21. With vast tranches of the population, especially in Tier-II and Tier-III cities, not accustomed to comprehensive plans, need-based covers become a helpful solution. That's why Flipkart and Bajaj Allianz strive to bring value to every doorstep in the form of affordable and accessible sachet-size policies. For instance, customers can protect themselves against financial losses due to cybercrime starting from the lowest cover of ₹50,000 for ₹183.
As 'sachet' policies continue to introduce customers to the secure world of insurance, Bajaj Allianz is also keen on giving mainline policies a digital facelift. For instance, customers can now purchase an instant digital health policy through the Flipkart App and make cashless claims too.
The power of partnership resonates across the ecosystem: Flipkart can offer solutions for customers' unique financial needs and Bajaj Allianz can access a pan-India market through a trusted digital platform.
From the customer angle, purchasing insurance online is convenient and easy. Moreover, with features like no pre-emptive tests for health insurance and on-the-spot settlement for bike insurance, there's an element of trust that's being forged with the tech-imbued and bite-size insurance policies.
Sourabh Chatterjee, President & Head of IT, Web Sales and Travel at Bajaj Allianz General Insurance, knows all about digitizing insurance policies and is passionate about bringing innovative solutions to the marketplace. His expertise in e-commerce, mobile apps, social media analytics and more is important to Bajaj Allianz adopting digital tools to address the evolving needs and goals of a digital-native generation. With Flipkart and Bajaj Allianz successfully launching multiple digital insurance plans, here is what he says on the power of partnership.
Excerpts from a Q&A
---
When and how did the partnership between Flipkart and Bajaj Allianz come into effect?
The discussion for our association started way back in 2015. However, the strategic relationship went live in October 2018 with the launch of mobile insurance on Flipkart under the Complete Mobile Protection program.
What were the market opportunities that necessitated the partnership?
The e-commerce industry, over the last two decades, has become an integral part of the Indian ecosystem, owning a large customer base from all walks of life. The customers on these platforms are part of the digital economy of a country that has spearheaded the movement towards digital payments.
Flipkart and its group companies have been instrumental in making the Indian audience shop online and are passionate about customer experience. Bajaj Allianz has similar genetics, where we take pride in being harbingers of technology and customer-oriented solutions in the general insurance space.
Therefore, two brands with millions of satisfied customers came together to create a strategic relationship, offering new-age insurance services on the best digital platform in the country.
---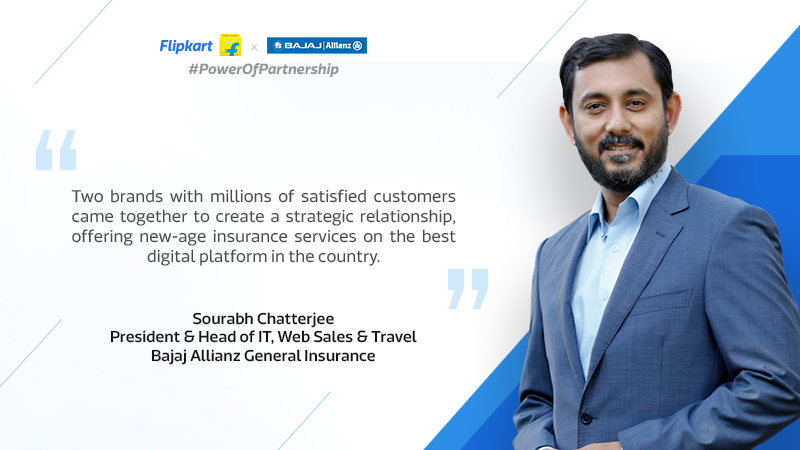 ---
What challenges did Flipkart help Bajaj Allianz to address?
At Bajaj Allianz, we had the best of products to offer to customers, but the challenge was reaching new-age customers in their space. Flipkart with its 300 million loyal customers provided the opportunity to reach out to them on a platform they trust.
---
Enjoying this Q&A? Listen to the accompanying podcast 
---
What impact has the partnership been able to achieve in terms of benefits to customers?
The partnership has created tremendous value for the customer, as we have issued more than 3 million policies.
What were the key milestones in this partnership?
In 2015, we started the initial connect with Flipkart and signed the agreement. In 2017, both teams came together to brainstorm and create a product partnership for the association. Our continuous efforts fructified with the launch of Complete Mobile Protection in October 2018.
In 2019, the partnership scaled new heights when we started planning for the launch of mainline insurance products. We jointly worked on the solution to provide customers motor and two-wheeler insurance on the Flipkart App. The indomitable and undamped spirit of this partnership is what led our teams to persevere through the lockdown and launch Motor Insurance on Flipkart in 2020.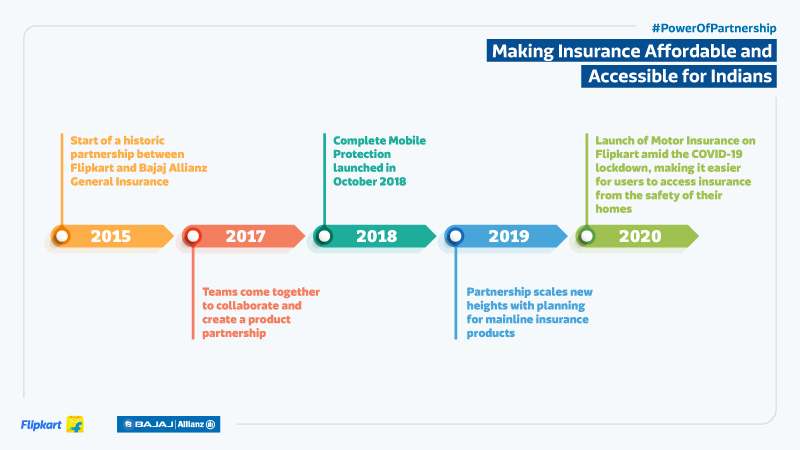 The partnership also offered customers Cyber Insurance to protect themselves from financial loss arising due to unauthorized transactions in the digital space. This is just another way of offering our customers a safe and no-contact mode of transacting during the times of the pandemic.
How has the experience with Flipkart e-commerce (retail) been different compared to other channels (offline/ online)?
The team is focused, agile, always challenging the conventional, ready to experiment, and always creating value for the customer.
In a post-COVID-19 world, with the increasing digitization of payments and commerce, how does Cyber-Insurance help customers be more secure while transacting online?
The cyber insurance being offered to customers on Flipkart protects them against any financial fraud in the digital ecosystem. So, the customer can now transact worry-free on any digital platform within India and abroad – as the product covers international transactions.
Do you see 'Insurance Monthly Subscription' as a natural evolution of how customers will avail of protection for themselves and their assets?
In the post-Covid scenario, subscriptions are the natural way to go ahead, as people want to use their money for health and family protection without compromising on consumption. With Smart Packs being offered to the customers, they will enjoy complete protection for their device from Bajaj Allianz and Flipkart while paying for it in small tranches and enjoying several other unmatched services.
---
Learn more about Bajaj Allianz General Insurance and follow Sourabh Chatterjee on LinkedIn and Twitter