Does your house rank at the bottom of your friend's hangout spot list? Do you feel revamping your bachelor pad might help? Awesome! You have come to the right place.
If you've still got those college-era posters hanging on your wall, take that as a clear cue — it's time to revamp your bachelor pad. Whatever has fueled your desire to go for an overhaul — a new apartment, a breakup or a new job — it's time to set aside all doubts and create your customized, comfort space. How do you do that? Simple! Just follow our guide to get started on that modern bachelor pad.
Bachelor pad hack #1: Create a cozy living room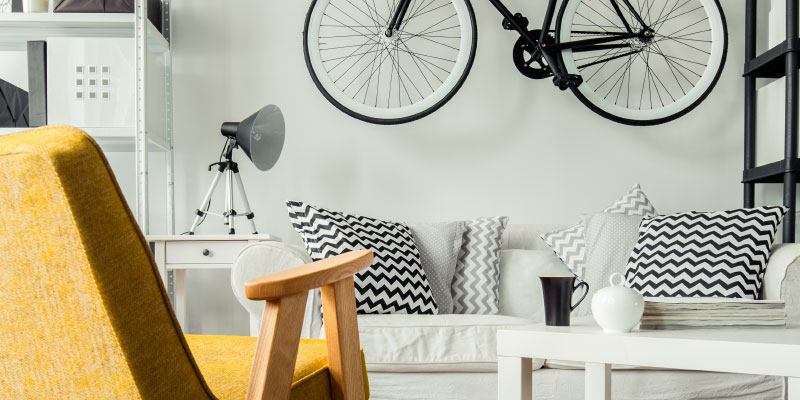 A living room is meant for you to do just that — live. Rather than building a parlor that looks like it belongs in magazines, invest in key pieces that reflect your personality and suit your favorite activity. Whether you love to read, hang out with friends or watch sports, theme this space to reflect those interests. Here are some tips for this area in your bachelor pad.
Use a touch of prints or pastels
Banish the gloom with icy pastels or subtle prints that will match the rest of your darker or lighter furniture for a trendy pop.
We love this pale blue Nordic chair by Alex Daisy as well as this paint splotch printed sofa by HomeTown. Put this cheerful yellow stool by Durian in the living room and you can even use it as a table!
Add a dollop of warm, woody tones
Earthy tones can dominate your living room without making it look too crowded or dull. In fact, these additions can make your space feel warm and inviting!
We recommend this beige sofa set from Durian, which comes with wooden panels at the armrest. Go chocolate with this plush 3-seater sofa from HomeTown or go the lighter route with this cream sofa.
Choose coffee or center tables in lighter tones of gray like this one from Dream Furniture or this darker hued beauty by Nilkamal. Want a TV console to house your most prized possession? Pick out something like this from HomeTown.
Get rid of those Harry Potter posters
It's time to taken down those old favorites and add some interesting framed art or wall decals! We have theme-based art and something for everyone — from quotes to kitschy prints, from traditional paintings to abstract renderings.
Don't team black and white with red!
It's a cliché and it's been done to death. Instead, pick ceiling lights and lamps, wall shelves and curtains that are unique, have different silhouettes and feature bursts of deep and light colors.
---

Bachelor pad hack #2: Build a cool bar area to serve up drinks in style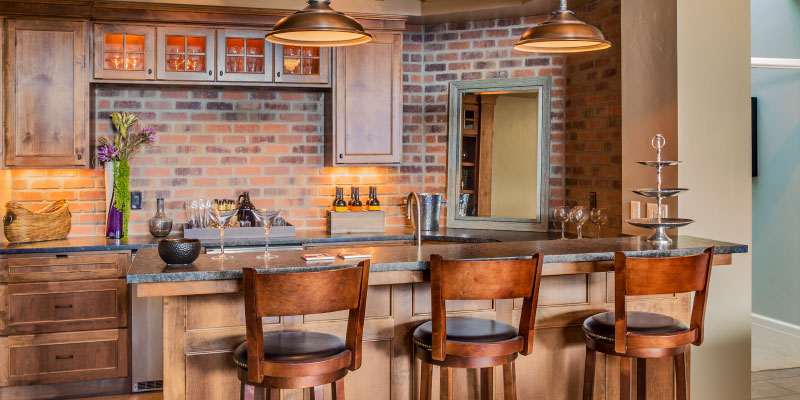 Whether it is to cater to those nightcaps you invite your friends over for, or those poker nights, this is a must. A nice bar set-up can make you and your bachelor pad seem as smooth as that whiskey you love.
Go portable to save space and cost
Forget constructing a bar with built-in shelves and a counter and go for one of the many portable bar options on Flipkart. Bar trolleys like this one from ISC, this one from Evok, or this one by Nilkamal can be set up in the corner of your pad without it eating up too much space.
Add a bar stool for pizzazz
Even a small bar area is totally transformed when paired with a bar stool or two.
We love this stylish white stool as well as this low wooden stool. Choose between smaller and budget-friendly options like this or taller bar stools with a leather finish like this, and you're good to go.
Pick wacky art that talk about tipples!
We love this cute Drinks of Britain poster as well as this poster with a clever line. Pick wall art that speaks to your beverage of choice—like this one for beer and cricket lovers. Frame it and hang it over the portable trolley for charm.
Natty shelves or rack to make the most of your space
Funky wine holders like this one in the shape of wine bottles, or this one fashioned into a wooden cycle will give your bar a great vibe. Wall-mounted shelves are also a great way to save space. We love this one from Home Sparkle and this simple yet classy one by Jangir.
Ceiling lamps and a rug complete the look
Highlight your bar area with a pendant lamp like this one from The Brighter Side or this darker, more masculine one by Stello. Add a sophisticated rug or carpet under the trolley, like this one from Maine Haiten and you're done!
See Flipkart's complete range of bar furniture that's ideal for creating a bachelor pad.
---

---
Bachelor pad hack #3: Build a kitchen that fuels your home—and life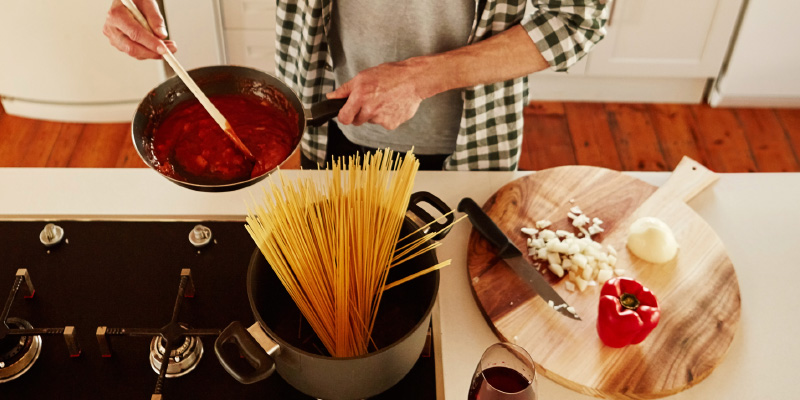 The kitchen may not always be the priority for bachelors, but consider this. Cooking your meals at home is cheaper than eating out every night, not to mention healthier too. And if you really want to impress your date, whip up a gourmet meal right in your bachelor pad and set the table for two.
There's nothing wrong with a formal dining area!
Create a sit-down dining area for maximum comfort by choosing chairs and tables that either fold away or take up the least amount of space.
We love this folding wooden table and chair set from HomeTown as well as this two-seater table-and-chair set from Smart Choice. Even this purple glass finish table and chair set from Durian will do the trick.
Save space with kitchen trolleys
Kitchen trolleys are a great way to store kitchen essentials without cramping your space or your style. We love this stainless steel trolley by Anmol, this wood and plastic trolley by @Home or this lovely wooden trolley with a traditional Indian vibe by Onlineshoppee.
Invest in a crockery cabinet
Stack your pots and pans, cutlery and kitchen essentials like ovens and microwaves in a clutter-free way by organizing them in a cabinet. This one by Housefull is spacious, while this one by Rishabh Art is made of solid wood and stands taller. Even a smaller cabinet like this one by Royal Oak is very useful.
Add a cozy nook for friends and family to hang out in
Love having people around while you put together your signature pasta? Create a sleek nook for guests to relax in while dinner is being prepared by investing in choice pieces like this coffee table with stools or funky chairs like this or this one by Home HQ.
Nifty wall shelves, kitchen lights and racks add some charm
Your colorful plates can be stacked with ease on a rack like this one. The glasses and dishes can find a suitable resting place on shelves like this. And all the serving spoons and saucepans can hang from the hooks of this neat wooden wall shelf! You can even find kitchen lights to complement your space and add some flair. We love ceiling lights like this one by Logam.
Browse through the whole range of kitchen furniture and pick the ones that best fit your bachelor pad needs.
---

---
Bachelor pad hack #4: A bedroom you can actually rest in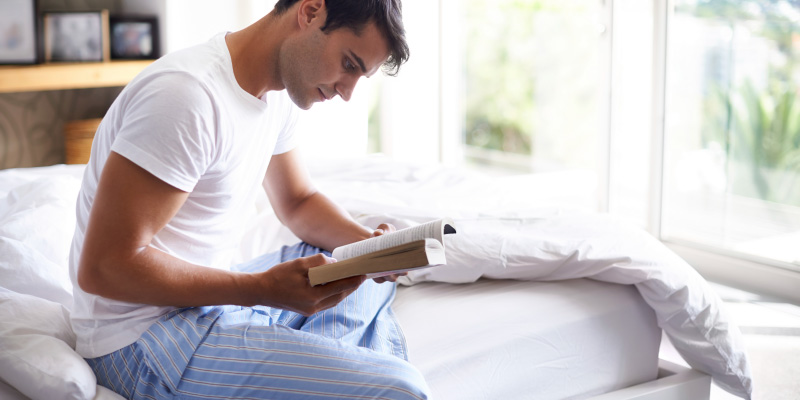 Your bedroom is your personal sanctuary, so why give it the short end of the stick? Here are some ideas to pep things up and make your bedroom a cozy space.
More than a place to snooze
Double up on storage with a bed that has compartments or choose a sofa-cum bed to save on space.
We like this king-sized Durian solid wood bed with storage as well as this queen-sized one by Spacewood. Squeezed for space? Try a sofa bed like this lovely blue and white double futon by Nilkamal.
Nightstands to balance things
Nothing ruins a happy morning like stepping out of bed and onto the alarm clock you'd kept on the floor. And you know that sleeping with your smartphone under your pillow is not healthy for you, right?
We recommend picking white night stands to make your bedroom look more spacious like this one by HomeTown.
Store in style
Organize your bedroom with enough storage options to avoid clutter.
You don't have to waste precious time looking for your stuff if you've neatly arranged your goodies in this rustic honey-toned chest of drawers from The Attic. We also love the look of this ladder-like bookshelf from HomeTown, which can show off your knick-knacks.
Give it a vintage vibe with trunks!
Not only do trunks take up the cool quotient of your room, but they can also help you store linen, books and supplies, which you don't need on a daily basis.
We love this trunk by Induscraft, which has a kitschy print as well as this ethnic trunk by HomeTown.
Invest in a good wardrobe, wall shelves and even create a workstation in your bedroom. Look through our full range of bedroom furniture here.
---

---
Bachelor pad hack #5: Your balcony — an oasis away from it all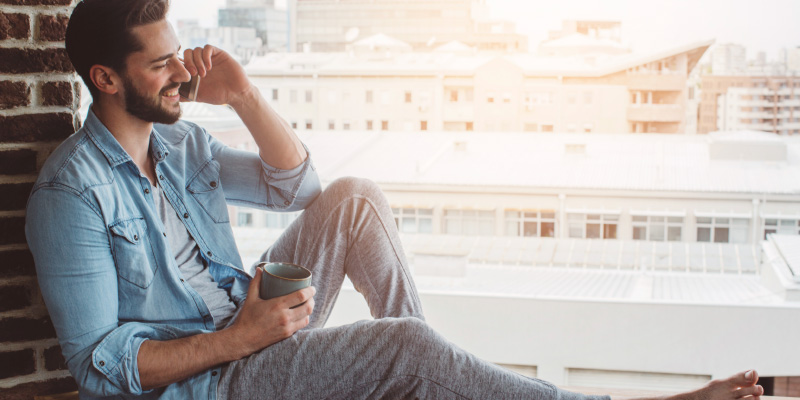 If you're lucky enough to have a balcony in your bachelor pad, make it restful and inviting with a few choice pieces of furniture.
Create a lounging space outdoors
There's nothing more restful than sitting in your balcony before you start your day or once you're back home from work.
Curl up with a novel or enjoy a hot brew outdoors with an outdoor lounger like this one from Durian or an outdoor chair like this one from Nilkamal. Add a wicker and metal outdoor table like this one from Royal Oak to complete the look.
Enjoy the childhood throwback with a swing!
Bring back the good old days with a hammock, cotton swing or nest swing in bright hues that suit your space.
We recommend this colorful cocooning hammock and this striped swing seat from Slack Jack as well as this cotton swing from Kkriya Home Décor on which to enjoy your morning or evening cuppa.
Create a well-lit green space
Birdfeeders, lanterns and a vertical or hanging garden will complete your balcony giving you a haven in which to relax and recline.
We like this birdfeeder from Wonderland as well as plant containers like this one from Color Palatte to attract the birds and sport some greenery. You can also create a collage with lanterns like this one by Sutra and this one by Mango Orchard.
Read our article on how to set up a railing garden or even a vertical garden in your balcony here.
---

---
So get going and redo your bachelor pad with budget-friendly furniture.
Take a bird's eye view of all our furniture categories and shop by room by clicking here.