Have you ever played your favorite game or run heavy software on your laptop? Have you tried doing the same on a gaming laptop? If you have, you'll definitely notice a stark difference in performance. Gaming laptops are complex machines designed to perform. And these customers from Varanasi and Coimbatore knew that all too well. In fact, they were the first Flipkart customers to place pre-orders on the latest Asus laptop, the ROG Ryzen 7 for gaming .
Browsing the Flipkart laptops store on their personal computers or mobile phones, online shoppers across India now have access to a world beyond the narrow selections available in their towns and cities. Yet, not all of India has gone digital. There remain a few unturned stones in an India connected by the ever-growing world of online shopping.
Over the years, Flipkart's customer insights have indicated that most orders for large appliances and the latest consumer tech come from metropolitan and Tier-Ⅰ cities. However, with the recent launch of the Asus ROG Ryzen 7 gaming laptop, there was an inspiring twist — the first orders came not from metropolitan cities, but from two Tier Ⅱ cities, Varanasi and Coimbatore.
Heady with the excitement of seeing India's shopping patterns evolve with e-commerce, we dug deeper into the stories behind these orders.
Gaming is Varanasi's new religion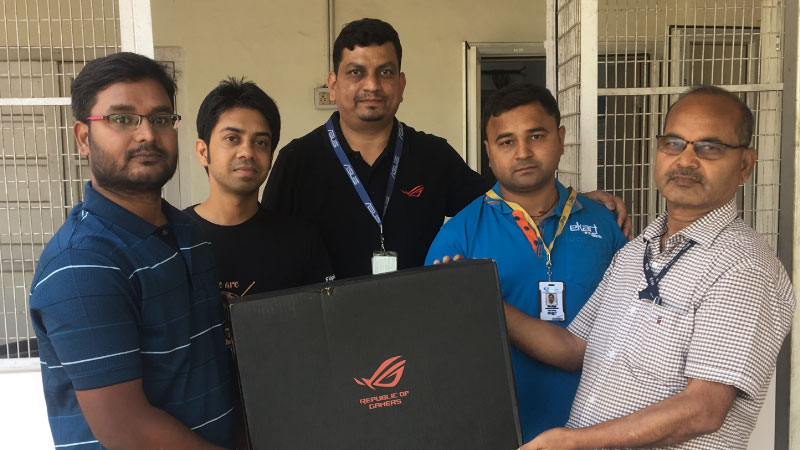 Pilgrims from around the world journey to Varanasi, one of the oldest lived cities in the world on the banks of the Ganga, to worship Lord Shiva at the famous Kashi Vishwanath temple. Almost all activities in Varanasi seem to revolve around the river and its ghats. Well before dawn, thousands of pilgrims can be seen dipping in the river, praying for their sins to be washed away. But there's another facet to this spiritual city besides the fact that it sprang into the headlines when it elected Prime Minister Narendra Modi in 2014. Varanasi's young people love the latest gadgets and tech.
Varanasi has wholeheartedly embraced the idea of Digital India and online shopping. From an appetite for the latest in trendy clothing to the trendiest consumer tech — mobiles, laptops and more — our customer insights have seen Varanasi in the thick of it all. Our curiosity was piqued recently when a customer from Varanasi placed an order for the Asus ROG Ryzen 7 laptop, the latest model in Gaming Laptops by Asus.
It was a Saturday morning. Not a holiday for Om Prakash, who works at DLW (Diesel Locomotive Works) in Varanasi. As he was getting ready to leave his home in the employee housing colony, a Flipkart Wishmaster carrying a fairly large package arrived at his doorstep. Om's son, Himanshu Shekhar, had placed an order on Flipkart for a laptop he very much desired. Since time was short, Om asked his son to wrap up the formalities with the delivery, which Himanshu did readily, barely hiding his excitement.
Himanshu harbors a deep passion for Home Design. He was in dire need of a machine that could function efficiently despite running heavy and sophisticated software. He needed to expand images to study them in detail, and this required that he use a large screen. He first had his mind set on a desktop computer to practice his designing skills but a quick afterthought convinced him that he needed a laptop so that travel wouldn't hinder his work.
Thus began his tedious search on Google for the latest gaming laptops. Gaming laptops have the processing capability to run games with high quality definition and speed — just what Himanshu needed to practice Home Design.
Google bombarded him with multiple options, and after reviewing the specs and the rates thoroughly, he shortlisted six laptops. From the shortlist, one laptop came really close to meeting his buying criteria but it was priced at ₹1,85,000. Though it was expensive for him, he was ready to commit to the purchase… until he came across the Asus ROG Ryzen 7 laptop on Flipkart. Not only was it available at ₹1,39,990, considerably cheaper than any laptop on his shortlist, it also met all the requirements of the laptop he had in mind. The Asus ROG Ryzen 7, with an AMD Ryzen 7 processor and the Radeon RX580 graphics card, was more than equipped to run the sophisticated software efficiently.
Himanshu is an ardent gamer in his spare time, and he was astonished at the richness of gaming experience that the laptop offered. He ordered it right away. And, with that, his city became one of the first in India to demand the cutting edge laptop.
Gaming conquers the Manchester of South India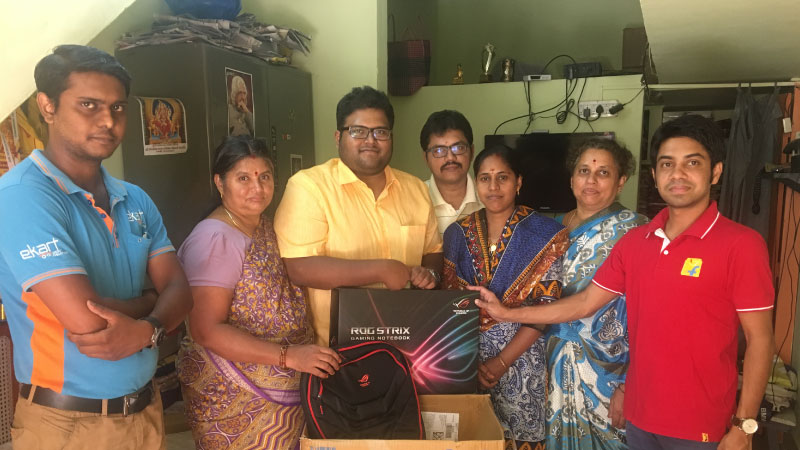 Known for its various industries, healthcare, educational institutions and dry-hot days, Coimbatore, in the southern state of Tamil Nadu, has taken a giant leap towards making Digital India a reality.
Also known as the Manchester of South India for its extensive textile industry fed by vast cotton fields surrounding the city, Coimbatore is where many Indians from the northern and western parts of the country migrate to and settle down, giving the city a uniquely cosmopolitan vibe.
On a quiet Sunday morning in this city, mechanical engineer Surendaran Arumugam was kicking back with his family, enjoying his cup of tea, when a Flipkart Wishmaster arrived at his doorstep with a package. One look at the package and Surendaran immediately realized that this was the brand new Asus laptop that he had pre-ordered not so long ago.
A Mechanical Designer, Surendaran had scoured online product reviews of various desktop computers and laptops to run his complex design software. He also wanted a one-of-a-kind gaming experience to truly immerse himself in the Kerbal Space Program (In case you're wondering, here's the perfect guide to aid the Kerbals in space). Surendaran has been a Flipkart customer for a while now. His most recent purchase before the Asus laptop was a Lenovo phone he says he can't imagine parting with.
Surendaran plays Kerbal Space Program religiously. During weekdays, when his work takes up most of his time, he's only able to log in two hours of gameplay, but over the weekend, he spends most of his waking hours in front of a computer, building spaceships and flying them to conquer space and help humanoid aliens, called Kerbals, accomplish their mission.
Of course, this weekend, his relatives had come over and he wasn't even thinking about his campaigns in space, until the Asus laptop arrived at his doorstep.
He, too, considered buying a desktop computer at first, but decided that a laptop would be more suitable owing to his frequent business trips. It was when he was searching for a suitable laptop online that he came across a news article announcing the launch of a next-gen processor from Intel & AMD. Ever since he read that article, he had kept his eye out for the launch of new laptops with the processor from Intel & AMD. And that's how he got wind of the new Asus ROG Ryzen 7.
Upon checking the rate at which he could purchase the Asus laptop on Flipkart, he had almost made up his mind. But being brand-conscious and thorough, Surendaran researched more on the laptop he had set his heart on. A quick internet search led him to a YouTube video describing the octa-core processor that powered the Asus ROG Ryzen 7. After reading about the laptop specs in detail and perusing the design, Surendaran was determined to own the laptop. He pre-ordered it on Flipkart.
With every passing day, Indians are increasingly embracing the concept of a Digital India. And online shopping is helping India realize this dream — be it through the purchase of the latest smartphones in the market, the latest LED TVs or even technological marvels like the Asus gaming laptop. Parts of India are yet to realize this dream… but every purchase takes us a step closer.
Additional reporting by Pushpendu Kumar.