Nabajyoti Lahkar's engineering days in Guwahati, Assam, opened up a world of exciting tech-enabled services in India. This was also the first time he began using the Flipkart app, and has since been a devoted customer. Recently, when he found out about Flipkart delivering groceries in his small village of Tulsibari, Assam, Nabajyoti took to social media expressing his enthusiasm. Flipkart, he says, has brought people in his village enhanced access and choice in their daily needs. Here's Nabajyoti's story - of discovering, enjoying and sharing through Flipkart's services.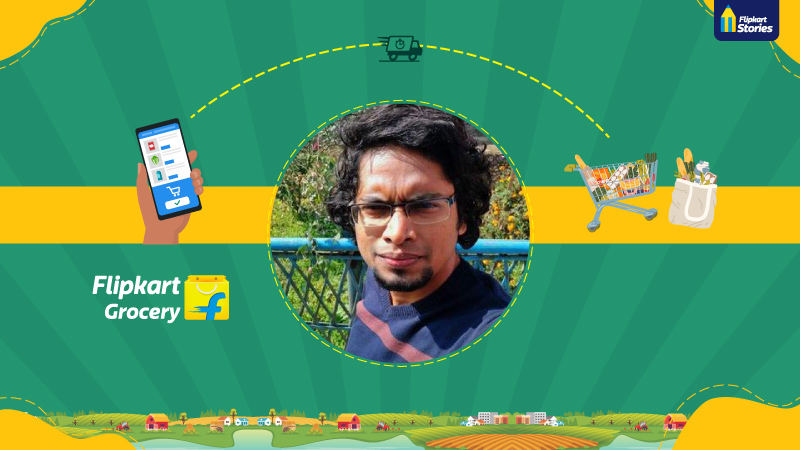 In 2013, Nabajyoti Lahkar made his first purchase from Flipkart. Back then, he was an engineering student studying in Guwahati, Assam. The opportunities in Guwahati, Nabajyoti recounts, are quite different from Tulsibari, where he originally hails from. A small, remote village in Assam's Kamrup district, Tulsibari was yet to catch up with the digital revolution that was pervasive in the city. That is, until 2016.
"I came back to my village after I graduated," says Nabajyoti. "Around this time, I saw that Flipkart had expanded its services in Tulsibari too. I was happy, to say the least."
"Since then I have been buying products for everyone at home from Flipkart," he adds.
In January 2022, Nabajyoti came across something that made his life even easier. "I recently noticed that Flipkart Grocery was available in our village. I tried it out and was really touched that this service added value to our life in the village," he explains. "As an aspiring civil services student, time is very valuable to me. With Flipkart Grocery, all I have to spend is 3-5 minutes on ordering and the rest is completely taken care of."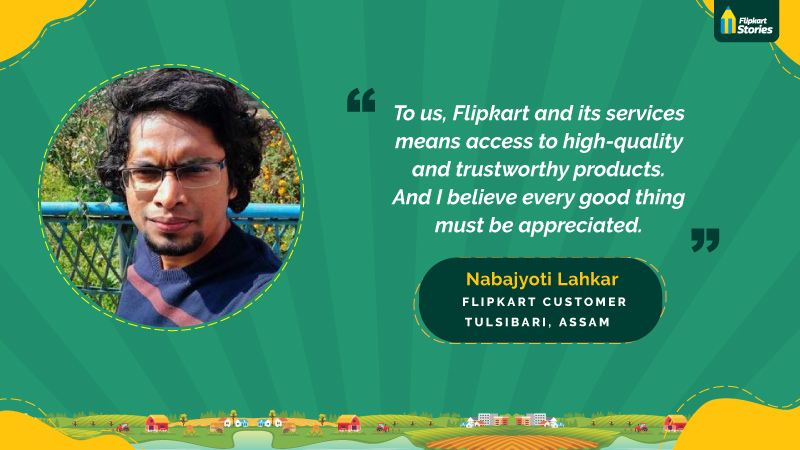 In many villages across India, like Nabajyoti's Tulsibari, connectivity through e-commerce platforms like Flipkart Grocery not only offers access and convenience, it also means providing customers with a greater variety of options. "Usually, we get only 2 or 3 options for a product, and we have to manage with these despite not liking them," he mentions.
Flipkart Grocery currently serves more than 1,800 cities and 10,000+ PIN codes across India. The latest facility in Guwahati caters to the grocery needs of customers in over 800 PIN codes across Guwahati as well as other cities and towns, including Agartala, Aizawl, Darjeeling, Dibrugarh, Imphal, Kohima, and Shillong. As demand for quality food and household supplies increases, especially since the pandemic, Flipkart is scaling up grocery operations to ensure seamless and affordable access to quality grocery products for every consumer.
"To us, Flipkart services means access to high-quality and trustworthy products. And I believe every good thing must be appreciated," says Nabajyoti, who tweeted about the availability of the service in Tulsibari and the joy it brings him and his family.
"I have brought some of my friends and acquaintances in the village onto Flipkart. Some of them also tweeted about the service," he reveals. Having experienced the benefits, Nabajyoti's mother too has joined the happy customer wagon by asking her son to choose Flipkart Grocery for their daily needs.
---
Also read: In Assam, a happy customer says Flipkart enables access to better products for his family