Recently, a Flipkart customer review caught our eye, and that of many users on social media. In the review was a picture of a girl, smiling in an outfit just purchased from Flipkart, and what seemed like her mother, sitting proudly behind her. Intrigued, we decided to reach out to the customer and hear more about their experience. What we found warmed our hearts! Read this story, all the way from Assam's Lakhimpur district.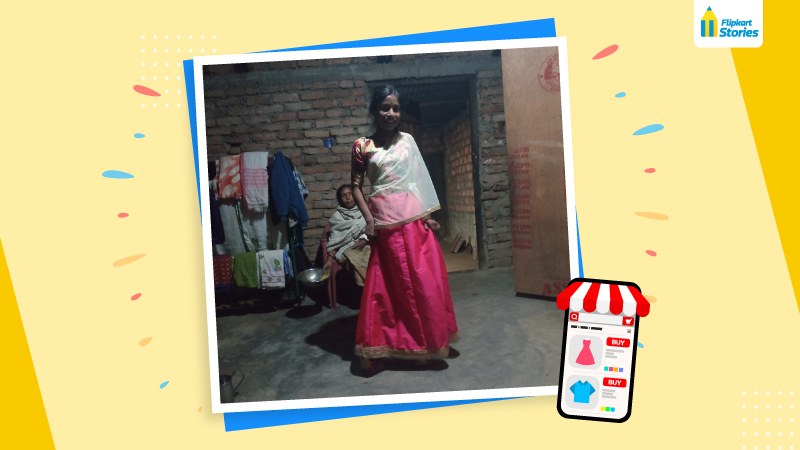 In January this year, Flipkart customer Nayan Moni Das was waiting excitedly for a family function that was set to take place in the coming weeks. A doting elder brother, all of 19, he also wanted to surprise his younger sister, Sumita, with a beautiful outfit for the upcoming event. 
Nayan lives in Lakhimpur district of Assam, close to the border with Arunachal Pradesh. "Where we live, we don't really have easy access to too many of the products we desire," he explains, talking from his home. "Because of this, I mostly shop online on Flipkart whenever I need to buy something for myself or my family."
After scrolling through a wide range of traditional lehengas on Flipkart, he finally zeroed in on the perfect set for his beloved sister and ordered it easily for about Rs. 350 and waited in anticipation. 
"The area where we live isn't exactly remote, but it does take time for things to reach us," he adds. 
When the order reached him, both Nayan and Sumita were overjoyed with the outfit, its quality and the value for money. So much so that Nayan decided to take a picture of his sister in the traditional outfit and share it as a review, urging any Flipkart customer scrolling by to go for the 'must-buy' product. 
"I was happy with the outfit and the quality so I decided to post the review and the picture," he says.   
And it's the picture that caught our eye, and that of many Flipkart customers who took to sharing it on social media. In the picture, Sumita smiles, clearly delighted with her brand-new lehenga, and her mother sits proudly behind her in their family home. 
The four siblings — 3 brothers and a sister — are pursuing their studies while the parents run their own small business.  
 "We shop mostly on Flipkart more than anything else," insists Nayan. Having been a long-time Flipkart customer, often shopping on behalf of his family too, he says he is happy with his experience. "I'm really happy with the quality of the products that I've ordered. In fact, I just received something that I'd ordered recently!" he adds with glee. 
---
Also read: Tales From A Lockdown: Online shoppers feel safe as they #StayHomeWithFlipkart