If you're forever wondering how to make your apartment look larger and are sick of feeling pigeonholed by all your existing furniture, here are five décor pieces that you need to have to ensure that your space looks spacious!
A light-colored carpet
Remember the golden rule of fashion: Black has a slimming effect and white has the opposite. Applying the same rule to your home's flooring holds true, so while dark tiles make your room look more cramped, lighter flooring helps open the space up. Understandably, you may not want to uproot the tiles, which is why covering the floor with a beige or cream carpet, such as the Carpet Couture Beige Wool Area Rug, is an excellent idea. It instantly creates the illusion of a larger, more open space!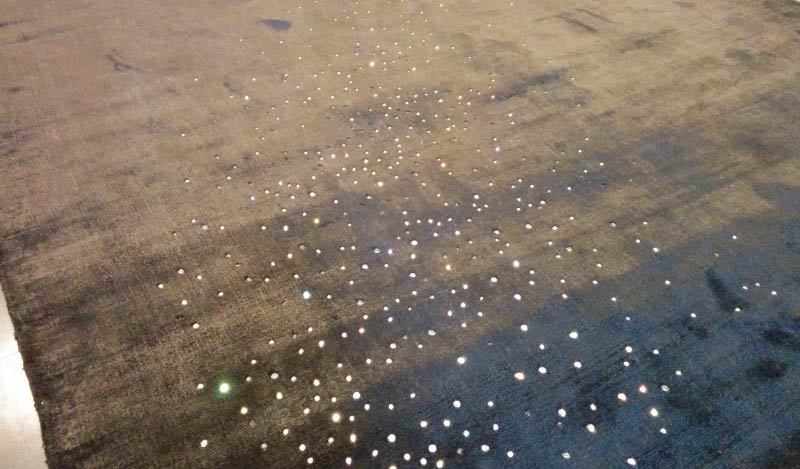 White decor
White has the ability to open up a room and create the optical illusion of a more spacious apartment, which is why we're recommending picking white curtains, white beanbags and even white cutlery. This is just one of many easy apartment hacks to keep your home looking light and airy, even if it holds one too many pieces of furniture in reality.
Folding dining set
If you live in a small apartment, you've noticed how much precious space your dining table is hogging. Fret not, for this problem has a simple solution. Investing in a folding dining table, replete with chairs, ensures that when you're done eating you can simply stow the set away! We're recommending the hometown Compact Folding Solid Wood Dining Set, which comes with four chairs and can be used as a desk when it's not being used as a dining table. Functional and so stylish!

Stool with storage
If you have a stack of books or piles of toys occupying precious floor space, purchasing a stool with storage, such as the Fablooms Living & Bedroom Stool, is a must. It is perfect for storing an assortment of books and magazines or your child's toys, and doubles up as an extra seat too. With a capacity of roughly 60kg, you'll appreciate the extra room this contemporary stool is going to create in your apartment once you've filled it with knick-knacks that you don't necessarily want on display. Moreover, if you invest in one that's also foldable, you have the option of flattening it and storing it in a cupboard when you don't need extra storage or additional seating space. It's a win-win situation all the way!

Mirrors
The oldest—and most reliable—trick in the book is to fit your house with mirrors. When placed on a wall near a window or some other source of light (such as a chandelier), it opens up the room by amplifying the light. Additionally, the reflections add depth to the room, making it seem larger than it actually is. While strategically hanging mirrors on the wall (such as this round Ninety One Degree Decorative Mirror) usually does the trick, you can also experiment with a mirrored top for your coffee table or side table. Instead of using one big mirror, you can also opt for a cluster of mirrors or use mirror-finish stickers such as the Saifee Medium Acrylic Sticker.