Every Friday evening, after a weary week of work, most Flipsters do one thing that helps them connect with the rest of Flipkart. What's that? They tune into Flipkart's internal podcast channel, Studio 34. Started off as a prototype in October 2015, Studio 34 has gradually become the answer to the question, 'What's the buzz?' around Flipkart. And while Flipsters have made listening to the weekly show a part of their Friday routine, for Flipster Anand Vijayasimha, that's simply part of his job. Anand is the voice of Studio 34. He programs, co-hosts and designs the podcast content, making sure that Flipsters get that one anticipated hour off, every week on every Friday. Anand, who joined Flipkart around 18 months back, recalls, "Studio 34 came to me as a blessing when the Flipster who set it up left to resume his silver-screen responsibilities." Since then, despite having no hosting or producing experience, he has been holding the fort.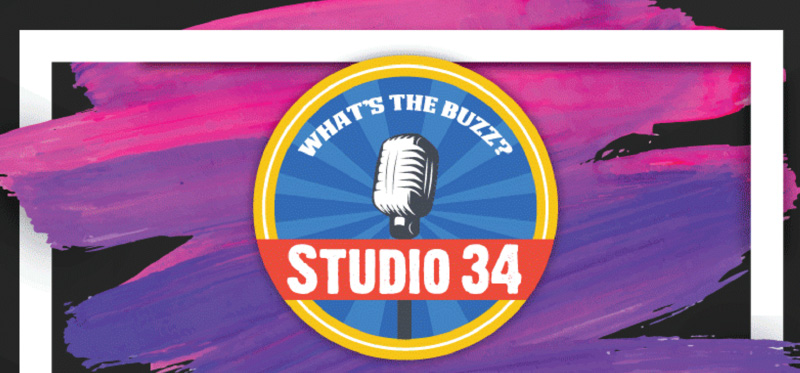 Studio 34 features everything from music to in-depth interviews with Flipsters. Today, it is not just a source of information, but embraces the sense of being a part of a community. "It helps blur the lines between Flipkart and it's Flipsters," Anand Vijayasimha stings the words. But blurring the lines is not what Anand strives for at work alone. He's also pushing for it when pursuing one of his oldest interests, music—just like fellow Flipster Rahul Jha.
Anand struck his first chord with music as a singer-songwriter by playing for Drones from the Turbine, a 5-piece psychedelic rock band from Bengaluru. Three years later, he embarked solo on his musical journey, and today, has new alternative projects in the pipeline. Speaking about how he's got a thing for blurring the lines in music too, Anand says, "While I love playing music onstage, I feel it doesn't do much when it comes to breaking down barriers between the audience and a performer. You know what does? It is busking, or performing in public places. I love to do that—it's the streets where you see the lines really blur." No surprise that this Flipster is one of Bengaluru's better-known buskers. He also was the first performer at Bangalore edition of Sofar Sounds, which are intimate impromptu performances, and managed to host the second one in his house.
---
Watch his 2015 performance at Sofar Sounds Bangalore here:
---
Working as a Flipster and composing music is not the only thing Anand Vijayasimha is good at. A creative soul, Anand's got his hands full with varied interests, and jokingly describes himself as "Jack of all trades". For one, he doesn't just make music and sing his compositions—he's written about music too, in newspapers like The Hindu and The New Indian Express as well as publications such as the Indian music magazine, Rave. He's even done a stint as a visiting faculty at a Bengaluru college and lectured about music to students barely a couple of years younger than him!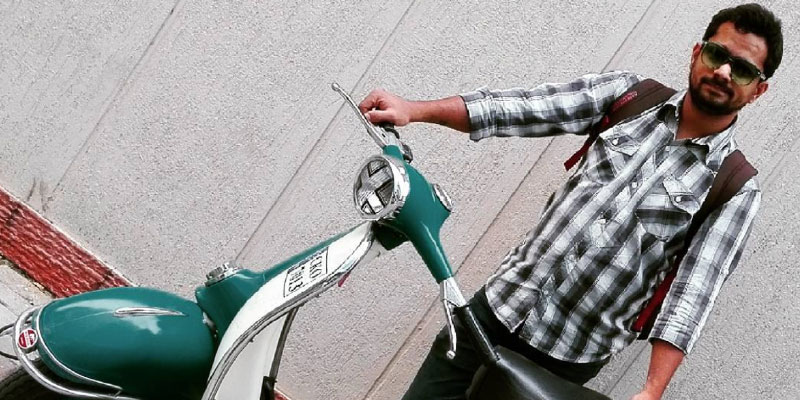 We cannot help but nod out heads in agreement when he describes himself as totally analog at heart and vintage by lifestyle. But there's so much more to Anand Vijayasimha. Read excerpts from his interview to learn why he says achieving balance in life is a myth, how motorcycles can serve as a blank canvas, why LPs are still the best way to hear recorded music, and where we could catch up with him five years from now.
---
Give us a crash course on Anand Vijayasimha in less than 50 words.
I am a Jack-of-all-trades. Play music, fix bikes,… I have too many interests! I was born and brought up in Bengaluru, and pursued most of my education in this city. I studied at the Frank Anthony Public School, Ulsoor, which was close to my residence.
I've heard that you're a singer-songwriter. What inspired you to get into music?
When I was young, I moved to Yelahanka, a suburb in north Bengaluru. Back then, Yelahanka seemed like the back of beyond—not the 'happening' locality that it is today. It was while living there that I became passionate about music. There was no other kid of my age within close proximity, and music was all I had for company. Even now, many of my ex-school mates know me as the 'Walkman kid' at school. For them, I was the boy who used to sit with a Walkman and a couple of tapes, and a pair of headphones that seldom left my ears. And since I had a fairly turbulent childhood, music became a source of comfort for me. My habit of listening to music all the time gradually gave way to a need to create and to compose music.
I'm sure you have mastered some musical instruments.
My primary instrument is a guitar, but I also occasionally noodle around with other instruments.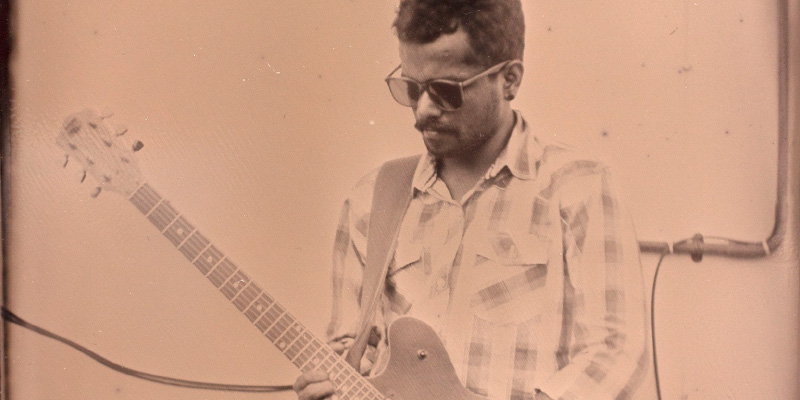 What genre of music does you prefer composing and listening to?
As a musician, I am like Dr. Jekyll and Mr. Hyde. On one hand, I play an acoustic guitar and my singing and songwriting is inspired by iconic singer-songwriters like Bob Dylan and Nick Drake. On the other hand, when I play the guitar, the overdrive and distortion are sometimes key to my tone. I am hugely inspired by bands like Black Sabbath. So I play on both sides of the fence. When it comes to listening, it all depends on what mood I'm in. When I'm alone, jazz works best for me—played loud. The entire street gets to hear! But when it's electronic, rock, pop, etc., I listen on my headphones at 'civil' decibels.
Have you played music alongside any famous artists?
I have played on the same stage as Raghu Dixit, Blushing Satellite, Mahesh Raghunandan, Shepherd, Bevar Sea, and many more. But do you know what I love the most when it comes to playing music? It is busking, or performing in public places. Taking music to the streets is the only area that Indians playing western music haven't experimented much on. While I also love playing music on the stage, I feel busking is great for breaking down barriers between the audience and a performer. It's feels nice to play on the streets and blur the lines, especially in a country like India which has a rich and diverse culture of music.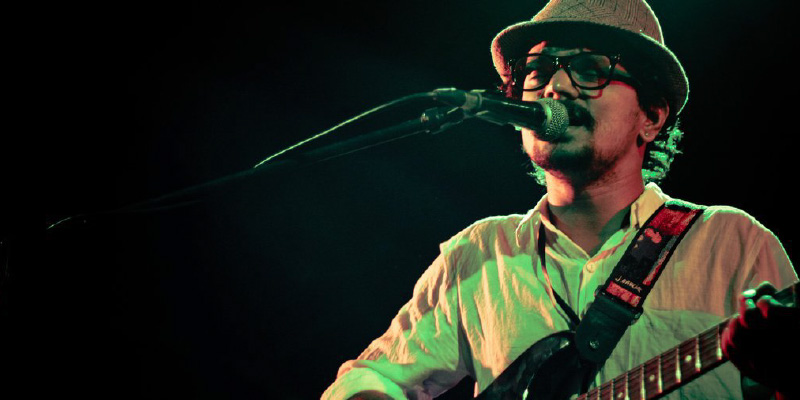 You are a writer here at Flipkart, how did you wind up in this space?
I share the same passionate relationship with reading and writing, as I do with music. I was an avid reader at school—not one for popular fantasy fiction—but loved the books by authors such as Jules Verne, Mark Twain, Leo Tolstoy and Franz Kafka. I loved Journey to the Center of the Earth by Jules Verne and The Adventures of Tom Sawyer by Mark Twain— books that I would say, inspired my tryst with writing. Of course, when one reads books by 10 different authors, one can try and imbibe perhaps a tenth of their style and skills within one's own writing.
What are the subjects that coax you into writing?
Most people who write, do so because they want to express themselves. They feel there's no better way to express what's really going inside their head, heart, and overall life. But for me, the only reason I write is to share knowledge. Whatever I've written about and whatever has been published has been mostly about music. I feel that people should be made aware of music. The different genres, styles and the bands out there trigger me. It feels great to write about music because I listen to music all the time—not just Western music, but a lot of Carnatic, Thumri, Sufi and even different gharanas of music. I've written for newspapers like The Hindu and The New Indian Express as well as magazines such as Rave (an Indian music magazine) and Books & More.
Read his review of Nick Hornby's High Fidelity here.
When it comes to composing your own music, is there anybody you draw inspiration from?
Yes, I have a really weird inspiration—Michael Gira, an American singer-songwriter, musician, author and artist who is best known as the frontman for Swans (an American experimental rock band) and Angels of Light (an American folk band). And the weird thing about Swans is that they practice duality in their music—on one hand, they can be extremely catatonic, cacophonic, heavy and abrasive. And on the other hand, they can also be perceived as being melancholic and mellow, singing heartfelt songs—it's a weird mix. I like the way Michael Gira and his band produce music. It's often a lockdown for them at their ranch, the Sonic Ranch outside El Paso, Texas. They go there with instruments and musicians, and shut themselves up there for months to make good music and live a simple life on the farm.
Music aside, you're an avid motorcycle enthusiast and collector. What's in your garage currently? How do you manage to maintain them?
I have a '72 Bajaj Vespa 150, a '79 Royal Enfield Standard 350, a '86 Bajaj Priya and a heavily modified 2001 Bajaj Pulsar 150. Though I would have liked to take all the credit for restoration, the fact is that I have excellent mechanics and friends who help me in this. While I mostly conceptualize the process, they are the people who hold the ropes of restoration and fabrication. The delight of restoring a motorcycle is putting it all back together again. It's like solving a jigsaw—complete with the inevitable frustrations of getting certain bits to fit. Secondly, there is the thrill of the hunt. Imagine sourcing a handle bar from the '50s, a taillight from the '40s, or a gas tank from the '60s. We searched for parts at dealers across India, right from Delhi to Kolkata to Mysuru to Kerala. And of course, at the end there is the pride of building a beautiful machine with your very hands.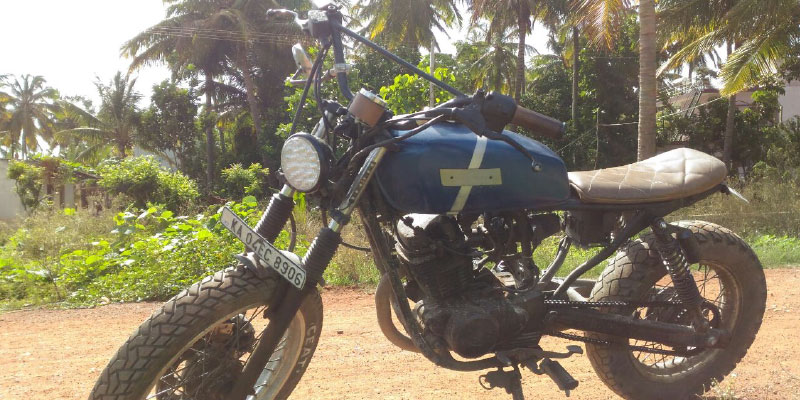 Among all your motorcycles that you've worked on to restore or modify, which restoration project has been your favorite?
That would be the 2001 Bajaj Pulsar 150 which we (Gear Gear Motorcycles and I) finished working on and modifying just this year. The biggest kick for us was to actually transform the way the bike performed. We've made it into a bespoke bike for me, after taking into account my height, weight, posture, musculature, etc. When you are looking to modify a bike, it's like a blank canvas. You get the opportunity to create something that is new and unique, something that is truly yours! My Pulsar feels like it's been made for my body—like a custom, bespoke suit.
Composing music, writing and restoring old motorcycles. How did organic farming come into this picture?
Organic farming is something I took up recently. I like to believe that it was an epiphany of sorts. I was born and raised in Bengaluru, and for the first 20 years of my life, I really loved the city. But in the last few years, I feel that the spirit of greed and other negative energies have thrived in this city. I believe the only way we can absolve ourselves of these negative energies is to be with nature. And what is great, is that nature gives back. My passion for music, writing and motorcycles—they all come perhaps from a personal need or vested interest. Organic farming, though, is the one thing that I feel I'm doing not just for myself—it's something I feel I was meant to do.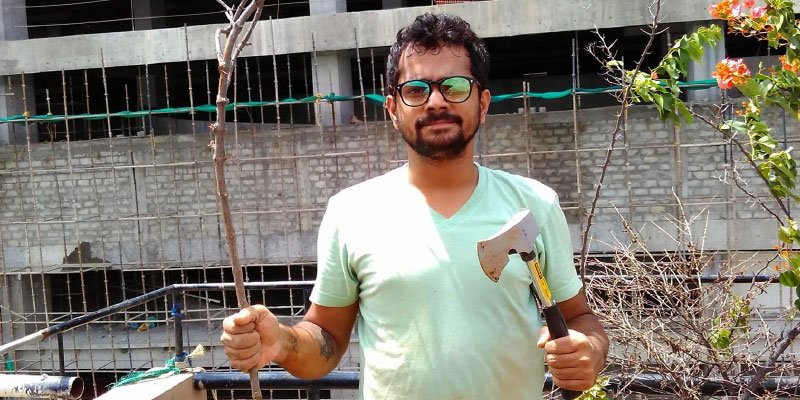 You have also been one of the youngest visiting faculties at the Srishti Institute of Art, Design and Technology, Bengaluru. Share your experience with us.
My teaching stint, like most things that have occurred in my life, happened out of the blue. One of my friends is a good teacher and works at the Srishti Institute of Art, Design and Technology. It was he who gave me this interesting opportunity of teaching an interim music course to the students there. It was supposed to be for a year only, but later stretched to four years. I would speak to my students about modern music, be it jazz, blues, etc. Most of them had never actually held a vinyl LP (long playing record) disk in their hands, had never heard one or even seen one up close. I would have them listen to some LPs, including those of contemporary artists that they love. I even asked them to design LP sleeve covers; they created interesting sleeve designs of LPs by Eminem, Lady Gaga—singers and songwriters who were new on the block back then. It was nice to see my students realize and understand the painstaking effort it takes to go out and source the LPs rather than just having music on one's phone.
Speaking about LPs, we've learnt that you not only love listening to them, but also collect them…
I began collecting LPs a year ago, and currently have over 40 albums. I love English music, and own LPs of iconic bands such as Pink Floyd, artists like Led Zeppelin, Nina Simone, Bob Dylan and Nick Drake, and some newer bands such as Tame Impala. At the same time, I also own LPs of yesteryear Indian playback singers like Kishore Kumar and Mohammed Rafi, some ghazals, and an old Tamil record too. LPs are still the best way to hear recorded music—listen to The Dark Side of the Moon by the English rock band Pink Floyd. Their album feels like a journey, and when it ends, you will not be same person you were when you started listening! Though it is a concept album (an album featuring a cycle of songs expressing a particular theme or idea), it still flows like a single song. I listen to full albums all the time, and believe that the LP, with its ability to hold an entire album as opposed to one or two songs, is a great way to soak in the album culture. Sadly, its popularity declined years ago. To make sure the habit of listening to full albums stays alive, I feel collecting LPs is great. Yes, LPs are inconvenient to use, and are expensive and antiquated, but there is no substitute for the thrill you get from holding your favorite album in your hand!
How has life been for you as a Flipster?
I've been working with Flipkart for about a year and a half. I really like being a Flipster because there are tons of things one can learn. Though I had pursued my Bachelor of Business Management (BBM) at college, I realized that the business world was not for me. Prior to Flipkart, I had worked in a myriad of industries like social service, subtitling and editing, and ad agencies. When you are working at an ad agency, you're in this creative bubble where you are fed fodder to create. Thus, you are simply a creative machine. But at Flipkart, I get to play different roles in different processes, rather than being just one effective part of a long-chain process. And what a big wakeup call that was for me—I was now dealing with clients, as well managers and different teams here, and interacting with people that I normally wouldn't have. And this is what has been the best lesson I've learnt, especially with Studio 34 coming into the picture.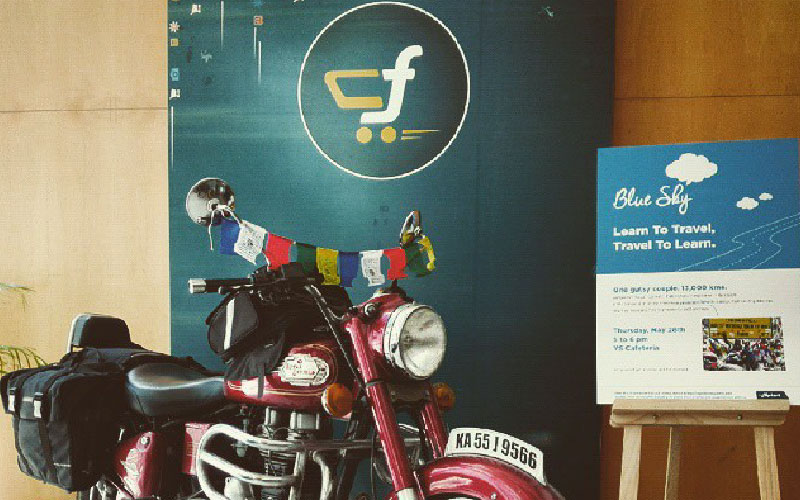 How do you balance work and play?
I am not a believer in balance; it is nothing but a myth. Balance is a subjective concept. A person who is wise and very close to me told me once, "The problem with most people, especially those working corporate jobs, is that they plan their lives in days, weeks and months in advance. But the trick to make things more effective in the long run is to plan one's time in minutes and hours." You may have a five-year or even a ten-year plan of goals, or you may have drawn up a huge chart in your house citing goals you need to achieve every week. But the truth is that all this planning makes you live in the future, which is not good. You then conceive of your future selves as different people, and thus leave your present problems for 'some other person'. And this is something I've managed to do really right: I view my time in minutes, rather than in days. I do not over-control my life—I keep some free time on my hands, unless there is something that I have committed to do, something that I really have to do. Yes, if some things have to be or can be done, they will be done. Wasting time can be a good thing—I just don't see a lot of people doing it.
On the music front, how does the future look for you?
I am not sure, there are so many things going on in my life! I'm getting married in November this year, and going to start a new phase in my life. I have cut down on travel this year and the year before, though I have travelled locally now and then. As a musician, I am looking forward to seeing what the world has to offer and teach me. I have a few plans in the pipeline already and wherever I go, I would like to find whether they have any interesting collaborations with regards to music and venues to perform at. Hopefully, I should be able to restore a few more motorcycles too. And maybe, when you meet me in five years, I will be at a farm somewhere.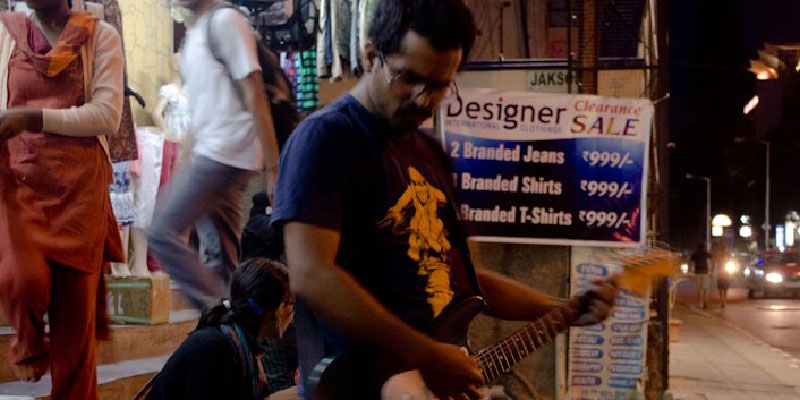 …
Sounds like Anand Vijayasimha has a full plate, and we wish him all the best as he starts a new chapter in his life, and pursues his passions and hobbies wholeheartedly. Listen to musical compositions by Anand Vijayasimha here.
If you think you too are exploring life in its many-colored lens and want to join the Flipkart tribe, head over to Flipkart Careers and find your fit.