Rolling out its recent campaign, 'It happens only on Shopsy', the social commerce platform bolsters its value propositions – affordability and convenience. As a hyper value platform, Shopsy provides customers with the best offerings leveraging Flipkart's established delivery networks, infrastructure, and technology. In this Q&A with Flipkart Stories, Prakash Sikaria, Senior Vice President, Growth and Monetisation at Flipkart, shares insight into the vision behind Shopsy, its contribution to creating value for the people, and its future outlook.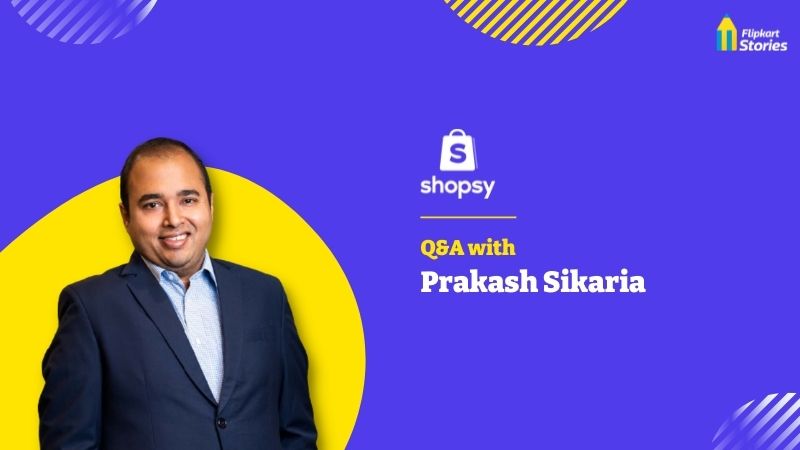 Since its launch in July 2021, Shopsy, Flipkart's social commerce app is building up a head of steam. Adding 2.5 lakh sellers and 5.1 million users within 100 days, the platform continues to add to its value proposition for all users within the ecosystem. With over 15 crore products from across 800+ categories, Shopsy has witnessed 60% growth as of July, 2021, with more on the horizon. Offering hypervalue consumers with affordable pricing and sellers with a host of benefits, the hyper-value platform targets e-commerce growth, development, and adoption within tier 2 cities and towns in India.
These are untapped markets that are brimming with potential, and a digital retail revolution is inevitable. Addressing the existing need, Shopsy has recently topped the Google Play charts in India. All of these achievements are par for the course as Flipkart aims to utilize Shopsy to enable over 25 million online entrepreneurs by 2023. Here are the insights shared by Prakash Sikaria, Senior Vice President, Growth and Monetisation at Flipkart, on the vision powering Shopsy and the future outlook for the platform.
Excerpts from the Q&A:
How is Shopsy as a social commerce platform democratizing the ecosystem?
We have always believed that the group of Flipkart, Myntra, and PhonePe together have always been trying to activate different strata of society. Shopsy focuses on the next 200 million people who are not actively participating in the digital ecosystems and the benefits that come with it. A lot of them need some hand-holding as they have a few trust barriers where the physicality of individuals sitting in their room and explaining how some of these things work gives them far more comfort.
The idea behind Shopsy is to integrate these strata of the society into the mainstream digital revolution that the country is going through. That is the role Shopsy plays in both democratization of commerce and, generally, just pushing the frontier of digitalization in the country.
As someone who's been an integral part of nurturing Shopsy, how do you believe Shopsy can create a positive impact on employment in the country?
Flipkart, over many years, has been playing a very important and integral role in creating various employment opportunities across the country. However, most of those opportunities are in more formal employment zones like delivery personnel, warehousing personnel, etc. Shopsy is an effort to bring an informal environment to multiple entrepreneurial men and women across the length and breadth of the country. Our vision with Shopsy is to enable digital commerce for everyone across India.
This means we want Shopsy to become a platform where we take care of all the supply chain, cataloging, or other needs and empower entrepreneurs to set up their online businesses by leveraging all the competencies of e-commerce that Flipkart has built. It is great to see our vision panning out in smaller towns, where we want to unlock employment opportunities. The zeal of the people from these towns joining us in the movement helps us and them get well rewarded. We have received an overwhelming response and are further looking to enable several initiatives on the platform to accelerate growth.
The platform is demonstrating the behavior of a typical social app and virality is starting to kick in. To further expedite this, we aim to bring the best of e-commerce to social commerce as we progress in our journey. The Flipkart Group has been committed to constantly expanding the scope of e-commerce and Shopsy is an important step in that direction.
How is Shopsy relevant to entrepreneurs running a business, post-pandemic?
With the increase in internet penetration and social media users in India, resellers and entrepreneurs are leveraging this opportunity and making consumers more amenable to online shopping – while enabling access to products from someone the customer trusts. Shopsy's priority is to pay close attention to what customers need and provide them with exceptional offerings. Flipkart's established delivery networks and resilient supply chain go hand in hand in this regard.
Could you share some insights on Shopsy's latest ATL campaign?
Our priority with Shopsy since inception has been to pay close attention to our customers' nuanced needs and provide them with the best offerings leveraging Flipkart's established delivery networks, infrastructure, and technology. Today's shoppers prefer an expansive range of offerings that is both easily accessible and value driven. Our campaign is yet another step towards establishing Shopsy as a one-stop destination that caters to customers' varied needs while committing to deliver value. The campaign 'Prices aise lage free jaise' was launched to bolster Shopsy as a hyper value platform and amplify it as a preferred choice for customers across the country. The campaign brings to light Shopsy's accessibility and affordability with a focus on its expansive product portfolio. Through such campaigns, we aim to continue momentum in bringing benefits of digitization to community buying purchases that Indian consumers have increasingly taken onto.
With the number of sellers and users increasing, what is the ultimate vision for Shopsy going forward?
The idea behind Shopsy has been both bringing sellers who have not been part of the digital revolution into the fold and offering top-notch customer service. Our aspiration is to power a hundred million entrepreneurs who ideally would not have even thought about entrepreneurship because of the frictions like licenses, product onboarding, digital complexity or even the capital expenditure involved in the journey.
These hundred million entrepreneurs will then create tremendous value for consumers, who get a significant lifestyle lift as they engage with the digital community. This also becomes a source of living for these entrepreneurs. How we get to that and make lives better would be a key focus area for us over the next year or so.
By prioritizing customers' needs and providing exceptional value, Shopsy enables both entrepreneurship and democratization of e-commerce. The delivery networks and resilient supply chain established by Flipkart further support the goals of this social commerce platform. With Shopsy, Flipkart is committed to encouraging e-commerce growth in places yet unreached by digital retail by enabling sellers to begin online businesses seamlessly.
Click here to read more Q&As like these from Flipkart Stories