Heart-shaped jewelry to express matters of the heart? Now, we're talking!
Valentine's Day is when couples all over the world speak their hearts out. They celebrate love and togetherness, regardless of when Cupid struck them. This February 14, the usual balloons, chocolates and flowers may just not do justice to your sweetheart. Don't worry, though, we're here to help you find that special sparkle that does! If you're a traditionalist who likes to express your love, we've got you covered with these 7 pieces of heart-shaped jewelry that will make your sweetheart swoon.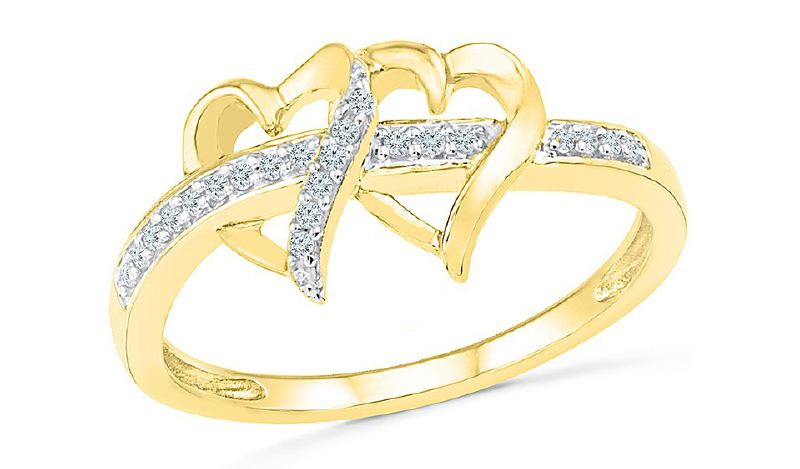 Hearts of gold
Let's start with the basics. Rings signify a lot when they're gifted as pieces of jewelry. If you're going grand this Valentine's Day, you need a gift that trumps everything in the past! Impress the person you love with this beautiful 14-carat ring from Radiant Bay (100% insured and certified). Designed with care, this piece of jewelry has two hearts intertwined on a base of diamonds, aptly symbolizing the merging of hearts.
Price: ₹10,910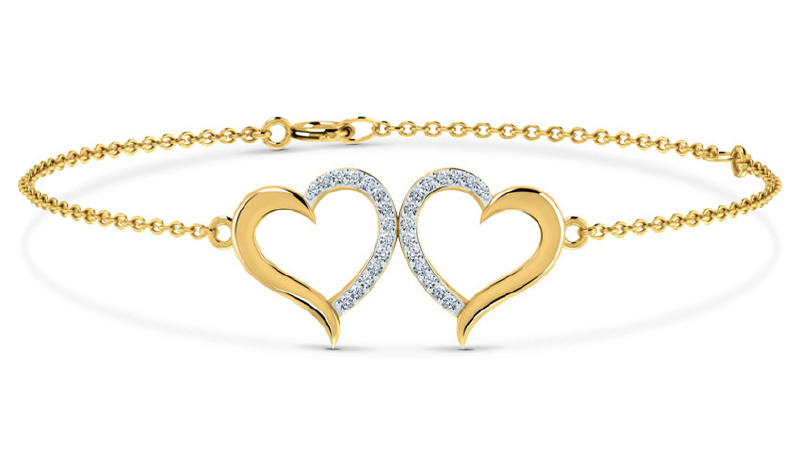 Celebrate with elegance
Nothing spells elegance quite like this delicate yellow gold and diamond bracelet by CaratLane. The two hearts, crafted half in gold and half in diamonds, represent love that flourishes despite differences. We're sure it will look striking on your lady-love's wrist, no matter the occasion.
Price: ₹16,817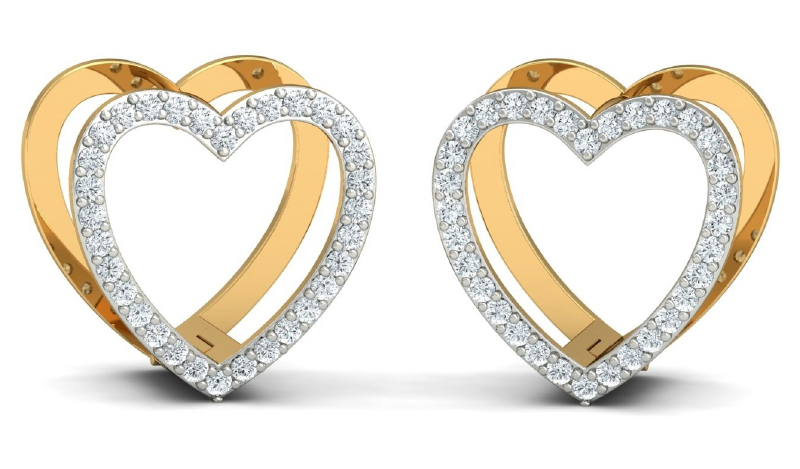 Earring it right
If you're on a lookout for something precious yet playful to suit your sweetheart this Valentine's Day, we recommend these heart hoop earrings with diamond detailing. These 2.25 g 18k yellow gold earrings have 32 white diamonds (totaling 0.2 carat). They come with a BIS Hallmark and SGL certificate, and are sure to convey those three little words to her ears with great clarity!
Price: ₹17,152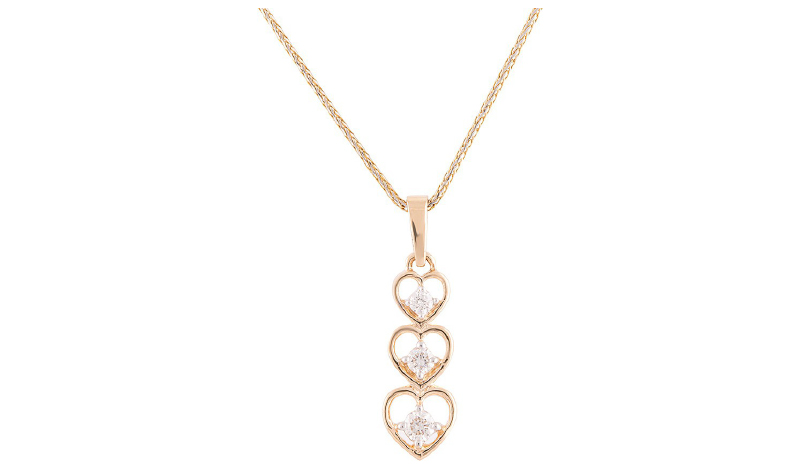 Levels of love
Love between two people that endures requires special symbols to celebrate it. This heart trilogy necklace by White & Gold is the ideal sparkle to commemorate love that has grown over the years. Crafted in 18 karat yellow gold and precious diamonds, it features a pendant made up of three hearts—with a diamond at the heart of each—in increasing order of size. Symbolizing love that blossoms over the years, this is a perfect present to celebrate a relationship that has lasted or will last for long.
Price: ₹20,513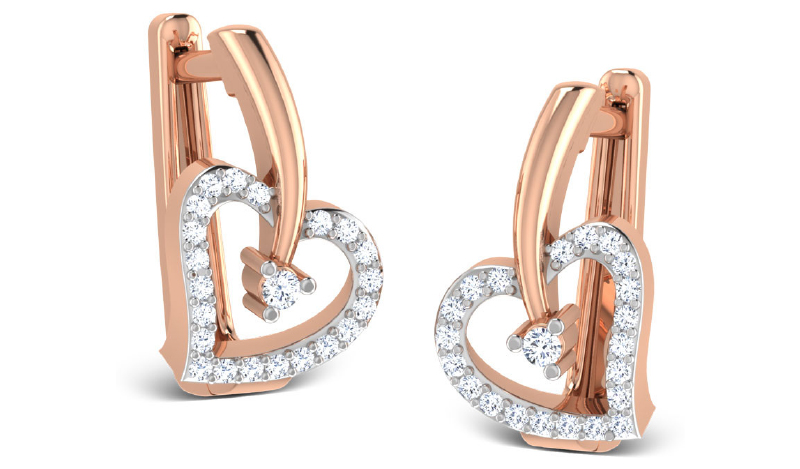 Shine on, crazy diamond
Is the person you're with unique, brilliant and makes your heart go sha-la-la-la-la? Celebrate this Valentine's Day with them by gifting them this attractive pair of gold earrings. With their delicate rose gold plating and diamond detailing on the heart-shaped hoops, these earrings might be perfect for them. Blending modern jewelry design with a traditional aesthetic, they represent the perfect duality for your partner. Beautifully designed using 18k gold (weighing 4.53g) along with white diamonds, these earrings come with a SGL and GSL certificate that proves their authenticity.
Price: ₹25,433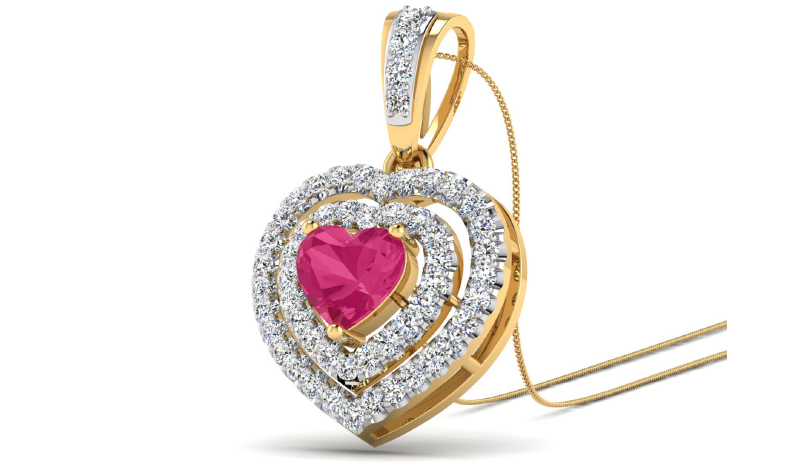 Celebrating infinite love
This striking pendant by PCJ features two golden hearts lined with diamonds and a ruby at the center. Crafted using 18k gold along with 54 natural white diamonds, this pendant is a beautiful way to celebrate enduring, timeless love this Valentine's Day. The pendant comes with a BIS Hallmark, Brand Certification and IGI certification so hold on to it. It may, some day, become an heirloom to pass on to your children.
Price: ₹36,848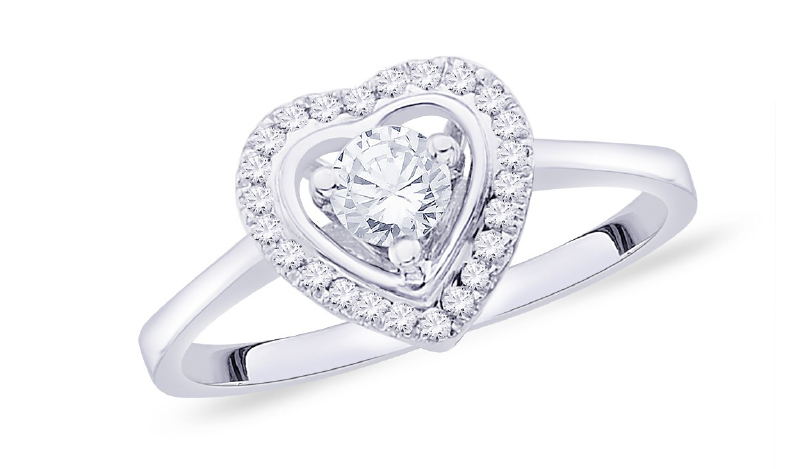 Put a ring on it!
Have you been looking for the right time to pop the question? Does Valentine's Day also seem like the best day to do it? This lovely diamond ring by Diti might do the trick. Featuring a solitaire (weighing 0.25carat) adorned by a heart of diamonds mounted on a band of 18k white gold, it has an elegant, clean and modern look. If the moment is right and you just need to do it, it might just be the perfect ring to pop that all-important question!
Price: ₹39,525